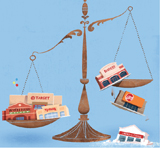 Power center owners have been taking it on the chin for what is beginning to seem like forever. Since late 2008, the market has seen one big-box chain after another face troubles. Some have stopped expanding. Others closed stores. A few merged. And a handful—including Circuit City, Linens 'n Things and Borders—liquidated entirely.
Register to view the full article
This article is part of our premium content subscription. You need to subscribe to gain access to premium content.
Why Register for NREIonline? It's simple and free, and here is what you get:
• Access to leading real estate industry research.
• Interactive rankings of commercial real estate professionals.
• Submit your own articles, (if approved) which will appear around the site.