Spooked by lackluster forecasts for holiday sales growth, U.S. retailers cut one- and two-year store opening plans in August, according to the National Retailer Demand Monthly report produced by RBC Capital Markets. The change involved less than 300 planned stores on a national basis.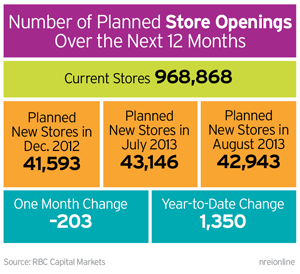 RBC analysts Rich Moore,
Register to view the full article
This article is part of our premium content subscription. You need to subscribe to gain access to premium content.
Why Register for NREIonline? It's simple and free, and here is what you get:
• Access to leading real estate industry research.
• Interactive rankings of commercial real estate professionals.
• Submit your own articles, (if approved) which will appear around the site.