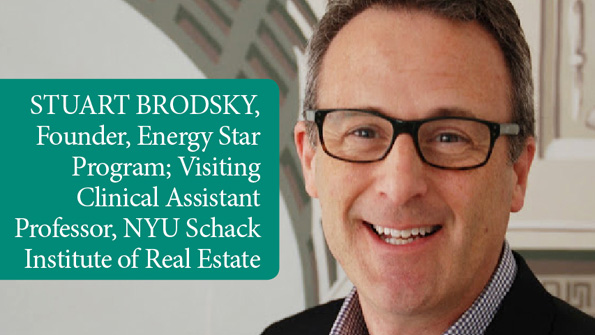 "In fact, I'm not committed to sustainability, per se. By itself, achieving sustainability is like learning how to break even. Real estate CEOs don't target that as a goal very often, so why should sustainability be the end-goal of real estate's transformation to environmental practices?
"As a precursor to a model of what the real estate industry can bring to society, however, sustainability is an excellent stepping stone to a state in which both the built and un-built environment contribute to each other's health and well-being and demonstrate a great society. In my targeted state—let's call it 'optimization' —greater synergies will result in vast and enduring benefits for buildings, their occupants and a very broad range of real estate's stakeholders, such as every member of highly developed nations. 
"In pursuit of sustainability as a very worthy milestone, my work targets optimizing and measuring the benefits of the relationships between human behaviors/practices and the outcomes of deploying select and appropriate technologies. With real estate operations as context, technologies have frequently been positioned as an alternative to personnel. It is challenging and stimulating to try to revise this antipodal and deep-seeded traditional relationship. In my work, I meet creative and imaginative professionals who are both far smarter than I am and rigorously committed to the bottom line. Without a commitment to the bottom line, much of what we have recently started calling 'sustainable' would be unsustainable: CEOs wouldn't be willing to commit to repeat their environmental work over and over again. So, traits of my ersatz commitment to sustainability are contradiction, invigoration and optimism. Sounds like fun to me."
—Stuart Brodsky, Founder, Energy Star's Commercial Property Initiative; Professor, NYU Schack Institute of Real Estate; Co-Chair, Urban Land Institute-New York's Sustainable Buildings Council; Member,  BOMA International's Energy and Environment Rapid Response Team
Full Biography:
Stuart Brodsky launched the U.S. Environmental Protection Agency's Energy Star program for commercial properties and led it from 1999 until 2008, overseeing the voluntary adoption of the federal program's tools and resources by stakeholders representing over 75 percent of all U.S. office inventory and 12 percent of all U.S. commercial space. Currently, Brodsky is a visiting clinical assistant professor at NYU's Schack Institute of Real Estate, leading graduate level instruction in sustainable real estate development. From 2008 until 2012 he was GE Capital Real Estate's senior sustainability leader, tasked with integrating sustainable practices throughout the property investment cycle of GE's $80 billion global portfolio. 
Brodsky is the co-chair of the Urban Land Institute-New York's Sustainable Buildings Council, a member of BOMA International's Energy and Environment Rapid Response Team and the New York Hub co-leader for the Garrison Institute's Climate, Buildings and Behavior project. His prior positions include: federal representative to the Real Estate Roundtable's Sustainable Policy Advisory Committee, industry member of the SPAC, columnist for Hotel Motel Management, and advisor to NAREIT on its development of the Leaders in the Light award. 
Brodsky has been honored by BOMA International, the Urban Land Institute and the Institute of Green Professionals. His recognition from BOMA was unique in that organization's 100-year history as the first non-BOMA member and federal employee to receive the prestigious BOMA Chairman's Award. Brodsky is a frequent speaker on the real estate industry's progress toward sustainability, and has presented at Wharton's Social Impact Conference, the Yale Center for Business and the Environment. He was featured in a Dept. of Energy-funded building manager certification program that is soon to be launched. Brodsky holds an M.S. in environmental design from Yale School of Architecture and a B.A. from Hobart College.