On April 29, the long-awaited Apple Watch was released. While there are many opinions on the ultimate impact of this product, there is also equal speculation on the impact that it might ultimately have on the Apple stores themselves.
As a brief history reminder, the first Apple stores opened in May 2001. They have become a transformative presence at U.S. malls and retail centers, generating the highest sales per sq. ft. of any chain retailer and ushering in an era of other brands and suppliers trying their hand at the retail business. Some estimates suggest that the presence of an Apple store alone boosts overall mall productivity by 10 percent.
While we are all very familiar with the minimalist look and feel of the Apple stores and their iconic features, like the Genius Bar, the stores have changed significantly over time and are likely to change again with the advent of new products and services. For example, the original Apple stores were hardware heavy. iPhones and iPads didn't exist and the iPod was a first generation product. Also, a theater was the primary focal point at the back, designed for group education classes.
Over time, new products began to drive significant changes at the stores and the advent of wireless checkout freed space that was once dedicated to hard physical checkouts. But the overall look and feel has remained constant with products displayed on large wooden tables.
The Apple Watch represents a new type of product and there is significant speculation that it could usher in a new type of retail store. There are many options and a very wide range of price points. The size (and potential cost) of the product doesn't lend itself well to Apple's traditional display techniques. It looks like it's creating a challenge and an opportunity to reinvent for Apple's retail team that is now led by Angela Ahrendts, formerly CEO of Burberry.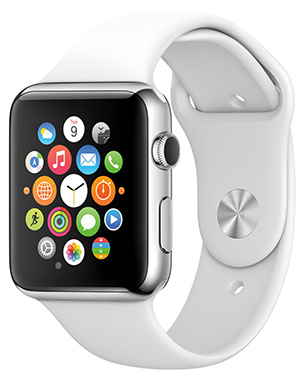 This product launch was a very different kind of experience. The Apple Watch is being displayed under glass (the first of any Apple product to not be easily accessible), and it seems that Apple is driving this product to consumers through a much greater omni-channel approach. In other words, customers are encouraged to order it online.
In a broader sense, we might expect new models of Apple stores to be more experiential as the nature of the company's products shift. As always, Apple is being closely watched as a bellwether for all retailers, whether the Apple Watch is ultimately a hit, or not.