EWB Development LLC appointed Daniel J. Cochran as a new partner and the head of the new tenant representation division.
Cochran brings 25 years of experience in the outlet and retail real estate industry to EWB, with a broad skill set including store planning and construction, legal, budgeting and forecasting, store location strategy and negotiation, mergers and acquisitions.

He began his career at Phillips Van Heusen in store planning in 1988, soon rising through the ranks at the retail firm to real estate manager and, ultimately, to senior vice president of real estate and legal, where he selected and negotiated all new stores for all divisions including Tommy Hilfiger, Calvin Klein, Van Heusen, Bass and Izod in both full price and outlet center locations. 
In that role, he managed all of the leases and renewals for more than 850 stores in North America and Canada. In 2010, Dan left PVH to serve as senior vice president of real estate and construction at Coach. There he selected and negotiated all new stores for North America in both full-price malls and streetscape locations, and in outlet centers.
NREI talked to Cochran about why he jumped from the retail side to developer, how investors feel about outlet and what the outlet industry can avoid oversaturation. An edited version of that interview follows:
NREI: What is the biggest difference between being on the retailer side and the developer side of the outlet industry?
Dan Cochran: On the developer side, I see the challenge of striking a balance between creating an ideal mix for the market versus the temptation for a brand to have tunnel vision and think of the interests of just that brand. Now that I am on the developer side, I am deeply involved in the intricacies of the overall presentation and economics of the center. At the end of the day, it is still the consumer that has to drive the industry, but the developer has many, many parties to bring together.
NREI: After all those years as a retailer, why EWB Development?
Dan Cochran: EWB has a strong commitment to be the biggest and best independent, third-party provider of services in the outlet industry. We have ownership in some centers, and a strong goal of ours is to expand that ownership stake in the industry. The company is truly full service, and I like the idea of having an impact on virtually every aspect of the business—site selection, development, leasing, design and finance. I am looking forward to being part of the growth of EWB Management, maximizing the productivity of every single asset, and spearheading the new tenant representation practice group. This is the golden age of the outlet industry and being at EWB really gives me a major role.
NREI: How do you think investors feel about outlet retail now? Compare that to traditional retail? 
Dan Cochran: I think that investors are much more familiar with the deal structures in the outlet industry now than they used to be, which is allowing capital to flow more freely into new development. It is understandable that years ago, investors were a little skittish about the outlet industry, but the business has grown and stabilized to such an extent over the last five years, that I think there is probably more investor confidence in this sector than in many other retail sectors. The volumes and profitability of the sector has not gone unnoticed, and I think it was inevitable that investors are now flocking to this industry.
NREI: How do you work around the emergence of so many outlet centers—new centers, traditional malls that go outlet because they are struggling in some way—so an area does not get over-saturated? 
Dan Cochran: We still have to be disciplined as an industry—not every site deserves to be outlet and that certainly goes for things that were developed as traditional retail and failed. We at EWB subject potential sites to very intense scrutiny before we even consider working with them. There is still a fine balance between full price presentation of the brands and the outlet channel, and that has to be respected or the brands will erode and not have a value in any venue. We have learned the lessons over the years that, just because a site has backing and a name behind it, it does not necessarily mean it is appropriate for an outlet center. 
I think that there are still a large number of markets in the U.S. that do not have outlet centers but warrant development. We are evaluating a number of them currently. I think that we are far from saturation in most areas, although a few are getting a little crowded. But there is always the opportunity for a "better mousetrap" and a newer, more exciting outlet center can certainly out-position an older one, especially if the older one has not had careful management and aggressive marketing and continuous leasing to keep it fresh.
NREI: What do you think is the biggest or most interesting trend in outlet mall retail in 2013? 
Dan Cochran: We believe that there is a need for any industry to grow and modify with time to stay relevant to the consumer. There are many variations on the outlet concept now, including some very strong urban projects, that could not have been contemplated in the past. But now consumers are more driven by convenience, and there are markets in which we can build close to the population and tourism centers and still not erode the wholesale and full price business. The fundamentals of the industry have to be there, though, including access to consumers, visibility, strong design to facilitate customer flow and good signage, at a minimum.
Forest City Announces Changes at the Top
MaryAnne Gilmartin, executive vice president of commercial and residential development at Forest City Enterprises Inc., will succeed Bruce Ratner as president and CEO of the company's Brooklyn-based subsidiary, Forest City Ratner Cos. (FCRC).
Ratner will serve as executive chairman of FCRC. The transition is part of the company's ongoing succession planning and is effective immediately.
Gilmartin joined FCRC in 1994. During her 18-year tenure, she has played a pivotal role in a number of the company's most highly visible projects in the region, including Barclays Center arena, New York by Gehry at 8 Spruce Street and the New York Times Building. She began her career in real estate in 1986 as a New York City Urban Fellow at the Public Development Corp.
Santee Named COO at Equity Residential
Equity Residential named David S. Santee its COO. He will lead both the company's operations and property management organizations.
Since 2006, Santee served as the company's executive vice president of operations with responsibility for the company's revenue, marketing, information technology, facilities and procurement groups. He joined Equity Residential in 1994 and has served in a variety of roles in the company's property management organization including having responsibility for the operations of more than 70,000 apartment units.
C&W Welcomes Managing Director
Cushman & Wakefield welcomed Deborah Jackson as managing director in the company's valuation and advisory practice.
She will focus on the delivery of retail valuation and advisory services for REITs, global retailers and major institutions involved with retail assets. Jackson brings nearly four decades of experience to C&W having overseen Landauer Realty Group's retail consulting practice for many years and most recently serving as a director with WeiserMazars LLP. Her extensive background in consulting services for retail and other commercial entities includes the delivery of unbiased real estate counseling services for numerous globally recognized REITs, pension funds, private equity funds, law firms and off shore investment companies.
The company's national financial consulting group welcomed Ruddyna Prochet Roldan as a senior financial consulting analyst. She will provide analytical support to the commercial real estate services firm's brokerage professionals, their clients and other service lines.
Prior to joining C&W, Roldan was with the firm's corporate occupier and investor services group where, most recently as a senior account associate, she provided analytical support on the GE Capital account and earlier worked as a project control analyst on the firm's UBS account.
Greystone Names EVP
Greystone appointed Marty Lanigan as executive vice president. He will oversee the company's portfolio lending group.
Lanigan comes to Greystone from Meridian Capital and also worked as an independent consultant, completing projects such as the recapitalization of a large hospital in Dublin, Ireland.
Cresa Welcomes Project Management Veteran
The New York office of Cresa appointed Jim Pirot senior vice president of project management.
Pirot has nearly three decades of experience in property management and operations for commercial, residential, hotel and industrial buildings. He will deliver a range of advisory and project management services to clients, especially during the build-out process for a new workspace.
Before joining Cresa, Pirot was the executive director of facilities at the School of Visual Arts in Manhattan.
M&M Promotes Four Pros
Marcus & Millichap Real Estate Investment Services promoted Chris Cunning to first vice president investments.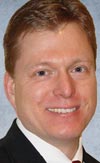 Cunning began his career with M&M in September 1997. He was promoted to senior investment associate in July 2003 and was named vice president investments in January 2008. He is director of special asset services, the national retail group and the net leased properties group.
M&M also promoted Kevin McCrann to associate vice president investments. Most recently a senior associate, McCrann joined the firm in January 2006, was promoted to associate in February 2008 and advanced to senior associate in January 2009. He is an associate director of the firm's national multi housing group and a member of special asset services.
The company also named Dan Danielak associate vice president investments. Most recently, Danielak was a senior associate. He began his career with Marcus & Millichap in February 2005 and was promoted to senior associate in February 2008. He has been a real estate broker for over 22 years.
Additionally, the firm named Kevin Boeve regional manager of its Ontario office.
Boeve joined M&M in June 1999 as an agent in the Ontario office and became a senior associate in October 2002. In July 2005, he was promoted to senior investment associate. Boeve rose to the position of vice president investments in January 2008.
Cohen Bros. Names SVP
Cohen Brothers Realty Corp. named Jeff Lasky senior vice president, director of leasing at the company's Pacific Design Center.
A 20-year Los Angeles commercial real estate veteran, formerly with CBRE Group Inc., Lasky has experience in providing advisory services and representing both corporate tenants and significant landlords in the West Los Angeles office market. Most recently he represented nearly 4.5 million sq. ft. of trophy office space in Santa Monica and Century City, Calif.
Colliers Welcomes SVP in Phoenix, Executive Director in NY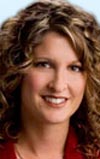 Colliers International in Greater Phoenix added Kathleen Foster as senior vice president the office properties solutions team.
During her 20-year career, she has completed transactions in excess of 8 million sq. ft. in more than 100 markets throughout the U.S. and Canada. Foster specializes in portfolio management and corporate real estate strategy, working on behalf of clients with significant domestic and global real estate assets. Areas of expertise include strategic planning, transaction implementation, site selection, lease administration, and project and portfolio management.
Foster comes from Cresa Phoenix where she was a principal, specializing in corporate real estate.
Colliers also added Craig Caggiano as executive director in the firm's New York office.
Most recently, Caggiano was the leader of the New York City practice group of Travers Realty Co., a premier, boutique tenant representation firm based in Los Angeles. He also spent nearly a decade with CBRE Group Inc. and while there completed hundreds of transactions totaling more than 3 million sq. ft. of retail, industrial, and office properties in 30 states and abroad. 
SD Retail Names Lynch SVP
SD Retail Consulting, a unit of Hilco Trading LLC, named Dick Lynch senior vice president of merchandising and strategy.
Lynch will be responsible for helping retailers create shareholder value through process, organization and technology enhancements in the key merchandising and inventory management functions. He will also assist management, owners and lenders in shareholder value creation assignments.
With more than 30 years of retail experience, Lynch brings extensive executive leadership expertise, having served as president and COO of The Sports Authority, interim CEO of Sur La Table and CEO (post-bankruptcy) of Hechinger.
Arbor Names Three Pros to CMBS, Syndication Platform
Arbor Commercial Mortgage LLC added three professionals to its CMBS and syndication platform. Barbara Duka, Peter S. Ginsberg and Richard Bianchi have been appointed senior vice presidents in the company's New York City office.
Duka will play a leading role in the credit approval process, the structuring and pricing of loans and the execution of the loans. Prior to joining Arbor, Duka held several key analytical and management positions during her 14-year tenure at Standard & Poor's.
Ginsberg will oversee the operational management for both businesses and be responsible for building out a market-leading loan syndication platform. He comes to Arbor from Arcturus, a boutique, real estate advisory firm where he was an executive managing director.
Bianchi will be responsible for assisting in the growth of a direct CMBS commercial real estate lending practice at Arbor. Most recently he was vice president of loan originations at Oritani Bank, where he originated fixed-rate loans across all asset classes in the Northeast and Mid-Atlantic.
Additionally, the company named Joseph Charneski to its CMBS business unit in order to enhance the integration of CMBS and syndication into the existing Arbor loan product infrastructure. He joined Arbor in June 2008 as a Fannie Mae DUS multifamily underwriter and most recently served as vice president of sales operations. He is now responsible for coordinating bridge and CMBS national production. He is based in Arbor's New York City office.
Johnson Capital Hires VP in Calif.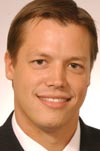 Johnson Capital hired Colin Chapman as vice president in the company's Sacramento, Calif. office. Chapman will focus on debt placement for income producing properties nationwide.
Prior to joining Johnson Capital, Colin worked in CBRE Group Inc.'s debt and equity finance group in San Francisco securing debt for institutional and private clients utilizing CBRE's Fannie Mae DUS, Freddie Mac seller/servicer and FHA lending platforms.
Plaza Welcomes Four Medical Office Specialists
Plaza Cos. welcomed four professionals to the firm, which specializes in medical office properties in Arizona.
Megan Sherwood joins as executive vice president brokerage services. She comes from Transwestern but had been with Plaza previously. Perry Gabuzzi, also formerly with Transwestern, will come on as vice president brokerage services. Michael Morton joins the firm as vice president brokerage services. He comes from Medical Office Brokers. That company's founder, Aaron Kuhl also joins Plaza as senior vice president brokerage services.
Support team members, Michelle Fischer and Coles Hoffman will also be joining the company.
Warhaft Promoted at Florida Firm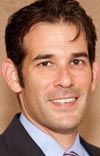 Florida East Coast Realty promoted Dean Warhaft, a land use attorney and professional surveyor and mapper, to vice president, development coordinator.
Warhaft began working with the company as contract professional on development projects in 2004, before becoming a development officer and assistant general counsel with the company in 2011.
He is responsible for coordinating the competitive selection of professionals, vendors, suppliers, development team of architects, engineers and other consultants for projects through entitlement, design and construction drawing phases before turning a permitted site over to the construction department. He also works closely with government agencies and consultants to develop new projects and acquire entitlements.
Eastern Promotes Moss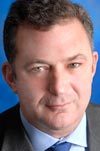 George F. Moss was promoted to senior director at Eastern Consolidated. Moss was formerly director at the firm.
Moss joined Eastern Consolidated in 2001 and has been involved in more than $900 million in transactions during his 12 years, of all product types including the sale of multifamily, development sites, residential conversions and commercial loft buildings. 
Prior to joining Eastern, he worked for a partnership that owned and converted residential co-op and condos, where he was involved in the management, sales and acquisition of more than 1,000 units.
Hudson Promotes Pros
Hudson Realty Capital LLC named Andrew Bloom, Grace Miller and Heather Mutterperl to managing director positions. Each previously served as a director, with Bloom spearheading the legal division and Miller and Mutterperl involved in asset management.
Bloom joined Hudson in June 2006. As general counsel, he is responsible for supervising all of Hudson's legal activities. Prior to joining Hudson, he practiced for eight years in the real estate department of Sidley Austin LLP in New York.
Miller and Mutterperl initially joined Hudson's asset management group in 2007 and 2008, respectively. Currently, Miller oversees all asset management activities related to Hudson's distressed debt portfolio acquisitions. Prior to joining the company, Miller worked at Questor and as an independent consultant, performing financial analysis and due diligence on portfolio acquisitions valued over $5.8 billion.
Mutterperl directs overall asset management-related operations. Prior to the firm, she was responsible for originating, underwriting and servicing mezzanine loans and preferred equity investments totaling $110 million for TriLyn LLC.
Sperry Van Ness Launches Restaurant and Hospitality Group
Sperry Van Ness has formed a restaurant and hospitality practice group in its Chicago office.
Industry veterans, Marcus Sullivan and Jim Martin started the restaurant resource group and have recently been joined by Timothy Rasmussen, a longtime Chicago restaurateur and real estate professional, together with Jonathan Tuttle, a member of the Les D'Amis Escoffier Society. Other team members include Scott Maesel, Ben Andrews, Andrew Gomez, Corey Black and Drew Dillon.
US Global Realty Capital Launches

Greg Genovese launched US Global Realty Capital LLC, a full service real estate investment, advisory, and distribution company specializing in real estate securities and investment funds. 
US Global has agreed to a strategic alliance with Dallas-based Capview Partners, an exclusive advisor and manager to institutions and private high net worth individuals that want to acquire single-tenant, net leased retail properties throughout the United States. Jointly, the companies will launch co-branded investment programs structured as Delaware statutory trusts. The investments will focus primarily on high-credit quality tenants in smaller to medium-sized net leased retail properties.
Over the course of his career Genovese has held executive management, distribution leadership, sales and marketing positions resulting in more than $4 billion in new equity investments for various REIT, LLC, 1031 exchange programs, debt and IPO offerings for financial and real estate securities firms.
Director of Capital Markets Joins Block
Scott E. Smith joined Block Real Estate Services as the director of capital markets for the Block funds team. Smith is responsible for raising capital and forming new institutional equity relationships. He has worked 25 years in fixed income trading, analysis and sales. Most recently he was senior vice president with Ziegler Capital Markets in Kansas City, Mo.
Alliance Welcomes Property Management Sales Director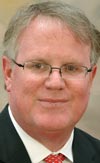 Alliance Commercial Property Management hired Allen C. Phipps as director of property management sales.
Phipps, who is based at the company's Greensboro, N.C. headquarters, is now responsible for expanding the firm's property management portfolio across the Southeast. 
Prior to joining Alliance, he served as real estate manager with the Daly Seven Hotel Group Inc., in Raleigh, N.C., where he managed property associations, leased company-owned rental properties, negotiated outparcel sales, and resolved property-related issues at the company's operating properties.
Two Appraisers Join Lee
Lee & Associates Valuation and Consulting Services added two appraisers in its Atlanta office.

Christopher Calhoun (left) and Bennett Sands join the firm as senior appraisers. With 13 years' valuation experience, Calhoun is responsible for real estate appraisals, rent analyses and market studies in the Southeastern Region. Prior to joining Lee & Associates Valuation, he was a senior appraiser at Metro Appraisals Inc. Sands' responsibilities include the preparation of real estate appraisals, feasibility studies and market studies of commercial assets in the Southeastern Region. Prior to joining Lee, he was an associate appraiser with The Appraisal Group Inc., an Atlanta-based firm.
Landauer Hires Hemingway
Landauer Valuation & Advisory, a division of Newmark Grubb Knight Frank, opened its Miami office, headed by William R. Hemingway.
Hemingway has been a designated member of the Appraisal Institute for more than 22 years. Most recently he operated his own appraisal practice, Hemingway and Associates.
CBRE Promotes Chicago Pros
CBRE Group Inc. named Jarrett Annenberg senior associate of Chicago tenant representation.
Annenberg joined CBRE in 2010 as an associate and has represented technology, private equity and new start-up companies in Chicago's central business district.
The company also promoted Michael Gold to senior associate of retail services, also in Chicago. Gold has represented Simon Properties, Kimco, Inland Commercial Property Management, Inland American, Ryan Cos. and Cole Real Estate Investments.
Opus Welcomes Real Estate Manager
The Opus Group brought on Bryan Farquhar to the Chicago office of Opus Development Company LLC. as real estate manager. 
Farquhar will assist in identifying and procuring opportunities in the multi-family, student housing and office sectors in the Chicago and Midwest markets. He joins Opus after more than seven years at The Alter Group, where he was responsible for marketing the firm's office buildings to corporate clients in the Chicago market.
Ryan Cos. Names New Division Manager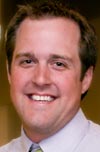 Ryan Cos. US Inc. promoted Jason Gabrick to division manager in the North Central region. He is responsible leading his group of project assistants and project managers through all phases of the construction process including site selection, due diligence, and analysis, design development, cost estimating and budget preparation, and interfacing with municipalities.
Since joining Ryan in 2003, Gabrick has been the lead on 25 Target Corp. projects over the past decade, varying from a loading dock re-grade to a fully-automated high bay warehouse food distribution center.
Alabama Firm Launches New Name
White-Spunner & Associates Inc. announced its new name, White-Spunner Realty. Since 1954, the White-Spunner team has provided experienced real estate services to clients in Mobile and Baldwin County in Alabama. Blacksher White-Spunner founded the firm and continues to serve as chairman of the board, having developed commercial and first-class residential properties throughout south Alabama over the past 50 years. He is also a founding member of the Mobile Commercial Real Estate Exchange Club.