Third quarter industrial results affirmed the continuation of a slow but steady recovery. Vacancy in the warehouse/distribution subsector fell 10 basis points to a post-recession low of 11.2 percent, which represents a 50-basis-point decline from one year ago and a 300-basis-point decline from the cyclical high of 14.2 percent in late 2010. Occupied stock increased by 18.3 million sq. ft., a drop-off of 20.7 percent from the 23.0 million sq. ft. absorbed in the second quarter. Despite the decline, demand remains healthy. Net absorption still outpaced the rate seen in each quarter of 2013 and the first quarter of this year. The year-to-date absorption total for 2014 is nearly 10 million sq. ft. more than it was at this point in 2013.
Developers continue to respond to tightness in the market for high-quality space with accelerating construction activity. Completions totaled 15.8 million sq. ft. in the third quarter, the highest quarterly figure since the recession. Construction activity through the first three quarters of the year amounted to 41.4 million sq. ft., which is already 10.7 percent more than the annual total for 2013.
Rent growth for warehouse and distribution centers was on par with last quarter's results; asking and effective rents rose 0.6 percent and 0.7 percent, respectively. Annual asking rent growth held steady at 2.1 percent while annual effective rent growth edged up slightly to 2.3 percent from 2.1 percent last quarter. While rent growth remains relatively restrained, the overall trend is clearly upward; annual rent growth is at its highest point since the recession.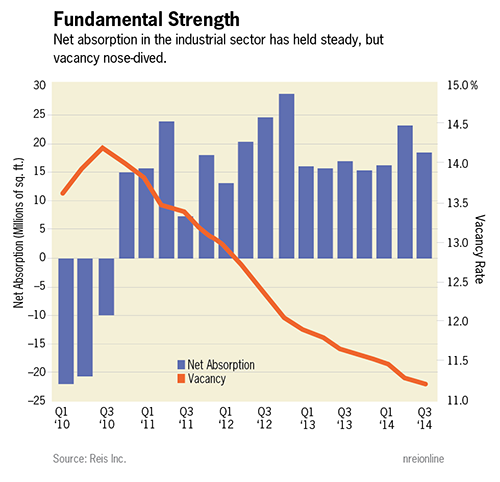 Flex and R&D
Vacancy in the flex and R&D market dropped 20 basis points for the third quarter in a row, declining to 13.1 percent. This represents a 60 basis point decline in the past 12 months and a 280 basis point decline from the cyclical high of 15.9 percent in late 2010. Net absorption declined slightly, falling 5.9 percent from the previous period to 2.6 million sq. ft. in the third quarter. Aside from last quarter, this was the highest level displayed since the fourth quarter of 2012. The pace of rent growth accelerated during the quarter, reaching the highest level on both a quarterly and annual basis since the recession. Asking and effective rents both increased 0.6 percent in the last three months. Annual asking and effective growth reached 1.6 percent and 1.9 percent, respectively, both of which are 50 basis points higher than the annual rates from the second quarter.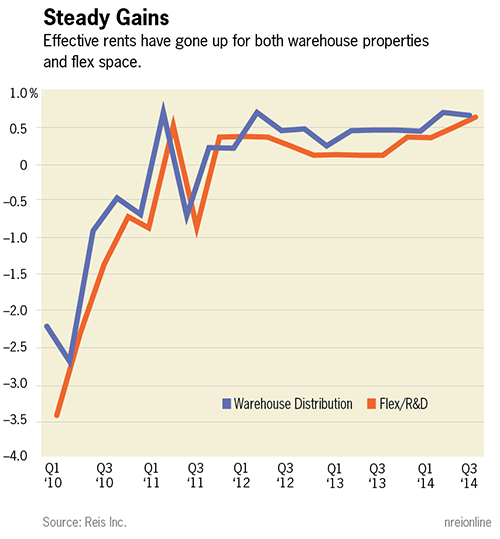 The Midwest Outperforms
Several transportation hubs in the heartland of the country, namely Kansas City, Memphis and St. Louis, have been among the top warehouse and distribution performers over the past three and twelve months. During the third quarter, Memphis (+1.8 percent), Kansas City (+1.4 percent) and St. Louis (+1.1 percent) all placed among the top seven metros based on effective rent growth, with Memphis being the top market. All three were also in the top 13 on an annual basis. Kansas City ranked first with annual effective rent growth of 4.4 percent. Additionally, Texas metros continue to outperform; Houston, Dallas, Fort Worth and San Antonio all rank among the higher rent growth markets.
Fort Worth was far and away the leader in warehouse and distribution construction activity in the quarter. 2.6 million sq. ft. of space was completed in the metro, of which 84 percent was accounted for by two large properties built on the same site. The neighboring Dallas market was also high on the list with 1.8 million sq. ft. of space being completed and two properties accounting for roughly 77 percent of the total. Indianapolis ranked fourth, entirely due to the completion of a 1+ million-sq.-ft. Walmart facility.
Further out west, San Bernardino/Riverside remains a popular site for developers as 1.9 million sq. ft. of space came online during the quarter. However, the huge amount of space completed in recent quarters may be denting rent growth. Effective rent growth fell to 0.5 percent this quarter from 0.8 percent in each of the past two quarters. The slowdown is also apparent across years; average quarterly rent growth for 2014 has been 0.7 percent, which compares to 1.1 percent in 2013.
Within the flex/R&D subsector, west coast markets dominated the quarterly effective rent growth rankings. Los Angeles (+1.1 percent), San Francisco (+1.0 percent), San Jose (+1.0 percent) and Oakland-East Bay (+0.9 percent) all ranked among the top six performers. However, Columbus, OH was the top performer with effective rent growth of just over 1.1 percent. Construction remains marginal with only five markets experiencing any new additions to supply during the quarter: Houston, Phoenix, Austin, Minneapolis and Denver.
Industrial Outlook
Still, we expect that strength in the domestic economy will continue to push vacancies down and rents up. Labor employment situation releases have been decidedly positive as of late. Given the blurring lines between retail and warehouse/distribution due to ecommerce and "omni-channel" retailing, the health of the U.S. consumer has never been more important to the industrial real estate market. As such, expanding employment and consumer confidence in the U.S. signals rising demand for industrial space.
Vacancy in the warehouse/distribution subsector will likely dip another 10 basis points during the remainder of 2014, and is projected to decline about 40 basis points in 2015. Annual effective rent growth for 2014 is projected to climb into the mid 2 percent range and top 3.0 percent in 2015. Developers will remain active through 2015, keeping completion levels elevated, though likely not as high as levels exhibited this year. Vacancy declines for flex/R&D properties will be more pronounced, with vacancy dropping into the high 12 percent range by the end of 2014 and nearing 12 percent by the end of 2015. Annual rent growth will likely hover around 2.5 percent through 2015. Industrial fundamentals are not improving at a breakneck pace, but the sector's recovery remains relatively healthy nonetheless.
Brad Doremus is senior analyst and Victor Calanog is head of research and economics for New York-based research firm Reis.