Industrial fundamentals continued to improve in the first quarter of 2013, but at a slower rate than was exhibited in the last half of 2012. 
A combination of Congressional wrangling over taxes and spending cuts and the economy's poor showing at the end of 2012 likely dampened firms' willingness to lease new space. Combined warehouse/distribution and flex/R&D net absorption was just 17.0 million sq. ft., the lowest total since the first quarter of 2012. This compares with the 30.3 million sq. ft. absorbed in the fourth quarter of 2012.  Supply growth also slowed, with 5.94 million sq. ft. coming online in the first quarter.
With demand receding at a slightly quicker pace than supply, occupancy gains were below those exhibited in recent quarters. The national vacancy rate fell 20 basis points to 12.2 percent. This comes after three straight quarters of 30 basis point declines.  Asking rent growth was flat at 0.2 percent, the same as last quarter. 
The macroeconomy
After disappointing economic growth of 0.4 percent in the fourth quarter of 2012, the year started off on a relatively good note. First quarter GDP growth improved to 2.4 percent: nowhere near robust but still welcome after the weak end to 2012. Encouragingly for industrial properties, personal consumption and residential investment were strong contributors to growth. A continued recovery in housing would certainly be a boon as warehouse and distribution centers will then benefit from demand for construction materials and durable goods such as furniture and household appliances.
Recent figures from April and May have been mixed. The recent retail sales figures have been underwhelming, as sales were up just 0.1 percent in April after declining 0.5 percent in March. But the one major detractor from April sales was at gasoline stations. Meanwhile, categories more important to warehouse and distribution centers, such as building materials, motor vehicles and clothing and accessories were all up 1.0 percent or more. However, the recent release of the ISM Manufacturing Index did not present any reasons to be as optimistic. The index fell for the third straight month, breaching the 50 mark and indicating contraction in manufacturing. The mixed bag of data releases continue to emphasize that the missing an end to this sentence!!!
Warehouse/distribution vs. flex and R&D
Vacancy among warehouse and distribution centers fell 20 basis points to 11.9 percent in the first quarter, below the 30 basis point dip in the previous quarter. The vacancy rate has now declined 110 basis points over the past year. Net absorption slowed to a positive 14.9 million sq. ft. from over 27 million sq. ft. in the prior period. Construction followed suit, with 5.38 million sq. ft. delivered versus roughly double that figure in the last three months of 2012. The fall in demand resulted in only marginal rent hikes. While asking rent growth held steady at 0.2 percent, effective rent growth declined to 0.2 percent from 0.5 percent in the previous period. Relatively weak demand left owners with little leverage to shrink concession packages.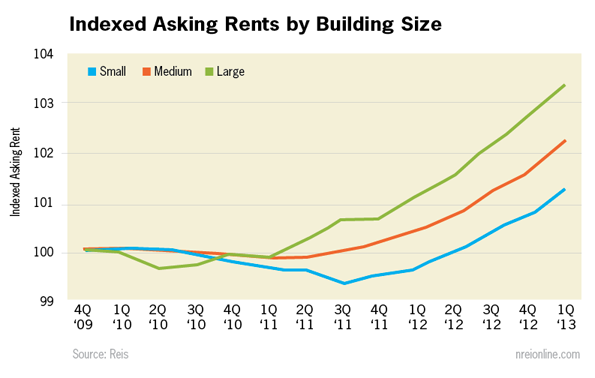 Demand for flex and R&D space declined for the second consecutive quarter. Occupied stock was up by just 2.13 million sq. ft., the smallest increase since the first quarter of 2011. New construction totaled 563,000 sq. ft., well below the 1.43 million sq. ft. delivered in the final three months of 2012. Despite slower inventory growth, vacancy fell by only 10 basis points, which is the slowest rate of vacancy decline since the first quarter of 2011. Not surprisingly, property owners were unable to increase income much through rent hikes. Asking rents were flat and effective rents inched up 0.1 percent.
Market highlights
On a metro level, the Inland Empire recorded another strong quarter of improvements in fundamentals.  Demand in the metro is reaching frothy levels as users are attracted to the its proximity to the ports of Los Angeles and Long Beach, its affordable rents and the prevalence of larger, high-quality buildings. The San Bernardino/Riverside metro led the nation in effective rent growth (at 1.1 percent) and net absorption (0.7 percent of inventory). The market also claimed the top spot for new construction, with completions roughly double the total of the next most popular metro. Developers of spec space are aiming to take advantage of this heightened demand.
Texas markets, especially Houston and Dallas, were also strong performers. The metros' effective rents were up 0.9 percent and 0.5 percent, respectively, for the quarter and both markets exhibited strong absorption figures.  At the other end of the spectrum, Orlando, Tampa, Philadelphia, San Jose and San Diego all had rising vacancy and flat or declining rents.
From a size perspective, large warehouse properties continue to outperform. The graph below shows indexed asking rents for small (under 50,000 sq. ft.), medium (between 50,000 and 500,000 sq. ft.) and large (over 500,000 sq. ft.) properties. Since the fourth quarter of 2009, rent performance has been correlated with the size of a property, demonstrating the excess demand for properties with more space. Still, small and medium properties are now showing decent increases as well. As the economy and housing market continue to improve and credit conditions for smaller businesses continue to ease, we would expect to see improvements in fundamentals quicken. But given the higher levels of vacancy at smaller properties, small building owners may continue to focus more on increasing occupancy, thus dampening rent growth versus their larger brethren.
Near-term outlook
While first quarter results were certainly underwhelming, we see demand for industrial space increasing in the final three quarters of 2013. First quarter figures were likely dampened by firms' reluctance to lease space after the poor performance at the end of 2012 and the political wrangling in Washington. More positive numbers in the first several months of 2013 will hopefully lead to stronger improvements in fundamentals in the coming quarters. Still, expectations of significant improvements for 2013 should be tempered; with the consensus 2013 economic growth forecast at around 2.0 percent, demand for industrial space is unlikely to be considered "robust." 
Reis forecasts a slightly faster pace of improvement during the rest of 2013. Vacancy declines should continue, with rent growth picking up moderately, likely registering an increase of about 2.0 percent for the whole of 2013. Construction activity will surpass 2012 levels, placing more supply side pressure on the market. However, with robust demand for newer, higher-quality space, new supply is likely to be absorbed without much problem. Fundamentals are heading in the right direction, but slow and steady is still the name of the game for the industrial market.
Brad Doremus is senior analyst, and Victor Calanog is head of research and economics, for New York-based research firm Reis.