By any measure, it's a turbulent world out there. The European Union can't seem to get on a path to consistent economic growth. China is experiencing a slowdown in its property markets. ISIS has emerged to further destabilize the Middle East. Russia is threatening Eastern Europe. The Ebola outbreak has yet to run its course and the U.S. stock market has been more volatile than usual of late. Yet for all the rancor, industry professionals don't expect any of these developments to disrupt the continued recovery in the U.S. commercial real estate sector.
This may seem a peculiar claim to make in view of recent headlines and the fact that the United States' own economic recovery has, up until now, been anemic. However, several factors have combined to protect commercial real estate from the ill effects of geopolitics.
With a dearth of new construction, property fundamentals in virtually every segment of the market have improved, helped by gradually accelerating job growth. By all accounts, that recovery is still in its beginning stages, and real estate economists predict fundamentals will continue to get better for at least another year or two. Credit for new acquisitions and refinancing has been free-flowing and cheap, driving up property valuations and creating robust demand in the investment sales market. Meanwhile, the renaissance in the U.S. manufacturing sector and the resulting uptick in exports have helped keep the dollar strong, staving off the dangers of inflation.
"In the past 12 months, we've gone from a slow to a moderate recovery and we are still seeing momentum on the macroeconomic side," says Calvin Schnure, vice president of research and industry information with the National Association of Real Estate Investment Trusts (NAREIT). "What was hurting us before was deleveraging, lack of consumer confidence and fiscal policy was [going] zig-zag. Those were the factors that really held the economy back, and those are gone."
Most importantly, with limited alternatives for where to put their cash, foreign investors have come to view U.S. real estate as a safe port in a storm, and will likely continue to park their money in commercial assets here.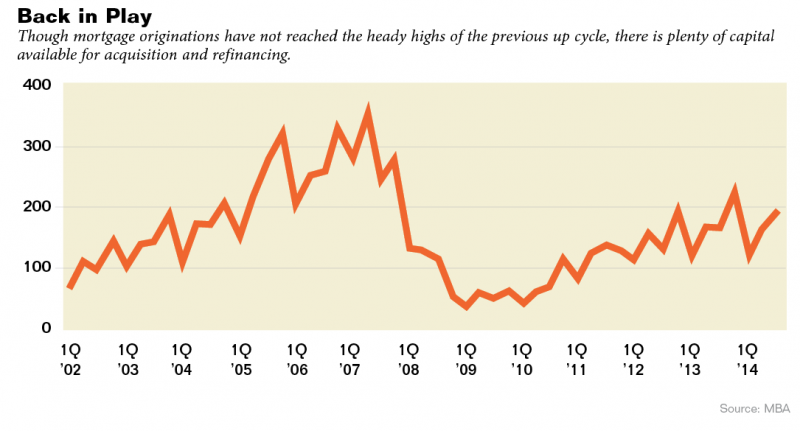 From January through August, acquisitions of major commercial properties in the United States., including office, industrial, retail, apartment and hotel buildings, have reached $246 billion, an increase of 16 percent compared to the same period in 2013, according to Real Capital Analytics (RCA), a New York City–based research firm. By far, the most prolific buyers overall have been private investors and listed REITs, accounting for 42 percent and 18 percent of the total dollar volume respectively.
But cross-border investors are catching up, already accounting for 12 percent of all commercial acquisitions this year. Of that group, Canadian investors have spent the most money stateside, at roughly $36 billion, followed by Asian investors at $31 billion and European investors at $29 billion.
"Across the globe, there is uncertainty everywhere, making the West appear as a shining star," says Tim Wang, director and head of investment research with real estate investment management firm Clarion Partners LLC. "Many investors see the U.S. as a growth story, and they also see stability and safety. We are attracting much more off-shore capital; we are talking about capital coming from the Middle East, Europe and Asia, as well as Australia and Canada. It's [becoming] harder to compete for deals."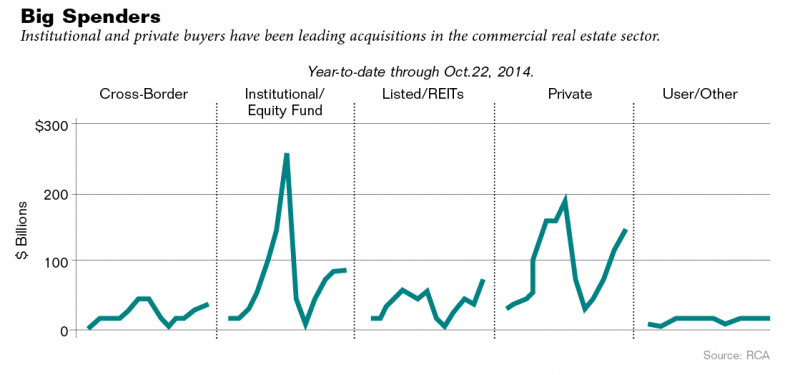 Chinese insurance company Anbang's acquisition of New York City's Waldorf Astoria hotel from Hilton Worldwide Holdings this October for $1.95 million is a good example of where things are heading, real estate economists say. The deal might end up being the highest-priced single-asset sale in New York this year.
For the past four decades, Chinese investors were saving their money rather than spending it, notes Richard Barkham, global chief economist with commercial real estate services firm CBRE. Today, they are finally entrusting it to insurance companies and pension funds, and those insurance companies have recently gotten permission from the Chinese government to allocate a greater percentage of their funds to foreign real estate. Barkham estimates that the Chinese have amassed $4.5 trillion in savings. "When the capital account is liberalized, $2.1 trillion will come out of China," he notes. "Not all of it will go to real estate, but a proportion of it will. That capital flow is supportive of U.S. asset values."
In fact, the only thing that troubles U.S. real estate economists today is the possibility of a sharp interest rate hike—a possibility that most consider very remote. While the consensus is that interest rates will rise in the coming year—and the Fed's announcement that it was ceasing its policy of quantitative easing this October served to confirm those expectations—the industry is likely to see a gradual increase in interest rates. Barkham forecasts that by the end of 2015, the Federal bond rate will be within the 0.75 percent to 1 percent range. If at that point inflation will be averaging 2 percent, "you still got a negative real interest rate," he notes.
Slow and steady wins the race
Part of the reason why the U.S. is likely to see limited fallout from global troubles is the sheer size of the country's economy, experts say. At $17.5 trillion, it's still far ahead of its closest competitor, China, with its $10 trillion economy, according to the International Monetary Fund figures. Being the biggest economy in the world means that growth here can be self-sustaining, claims Barkham.
Wang and others acknowledge that the recoveries in the economy as a whole and in the commercial real estate sector in particular have been on the slow side, with annualized growth of 2 percent to 2.5 percent per quarter. That being said, in the third quarter, the country registered an annualized GDP increase of 3.5 percent, according to the U.S. Commerce Department. Job growth, which boosts demand for office space and consumer spending, has been steadily improving. In October, the country added 214,000 new jobs, bringing the national unemployment rate down to 5.8 percent.
"There are a couple of trends in the U.S. that are needle-movers," says Walt Mercer, executive vice president of SunTrust Bank, an Atlanta–based institution with $175 billion in assets nationwide. "Across the country, manufacturing has stopped its decline and in some places is growing again. And the ability to come up with cheap energy is greatly benefitting the economy. That attracts folks like the large Internet companies to put their backup facilities in the U.S."
"Things tend to change on an evolutionary, not revolutionary basis," Mercer adds. "We are creating 200,000-plus jobs [per month], while the Chinese economy has slowed down and it looks like the European countries show much slower growth. We see fundamental demand in the U.S. for different types of job growth," in sectors including technology, energy and education, as opposed to financial and law services as in years past.
Besides, when it comes to real estate cycles, slow and steady is preferable to sudden spikes in deal activity, Wang says. That may have to do with the psychology of the real estate community, which tends to start building new projects as soon as there's evidence of sufficient demand. Part of what helped the market recover during this cycle, however, has been the fact that there's been so little new construction in any sector outside multifamily. A gradual recovery has made developers more disciplined. Even today, with decent occupancy levels, new building has gone from a level "way, way below normal" to "just below normal," says NAREIT's Schnure.
CBRE Econometric Advisors forecasts that in 2015, the market will see 27 million sq. ft. of new office supply, while net absorption will likely total 41 million sq. ft. In the industrial sector, there will be 141 million sq. ft. of new supply, against forecasted net absorption of 163 million sq. ft. The multifamily sector will see 288,000 new apartment units, with net absorption totaling 201,000 units, but apartment rents will still likely register a 2.5 percent increase. And during the recent REITWorld conference, General Growth Properties CEO Sandeep Mathrani predicted the country will probably see all of five new regional malls constructed in the next 10 years.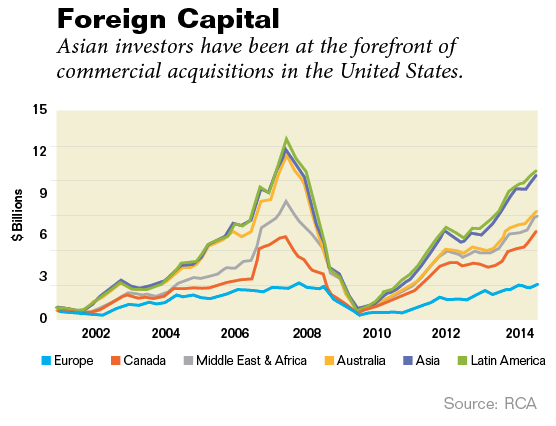 With new supply so constrained, there's little danger that events outside the U.S. will have any disruptive impact on the commercial real estate recovery, industry insiders note.
"I think in this cycle we are only in the first third and have some good runway ahead of us," says Thad Ellis, senior vice president with Cousins Properties, a diversified REIT with a focus on the Southern United States. "We'll need more extensive rent growth. But enough customers are expanding and adding jobs at a moderate pace. If everything remains as it is today, I think over the next 24 to 36 months [the environment] would be very favorable to office developers, both in rent growth and development opportunities. If you look at most major markets today, vacancy is getting to be below 10 percent. Even in the hardest-hit markets, it's at the 12 percent to 13 percent level."
That being said, Harvard University lecturer and retired CBRE global chief economist Raymond Torto cautions real estate industry professionals to put the current recovery into historical context. While demand for commercial space is coming back, it's not likely to reach previous highs.
"I advise clients to take a close look and realize that although there is growth in demand, the numbers are lower than they have been historically," Torto says. "So don't assume that the past is the future. Look at the office sector, for example—net absorption had the best year [in 2013] since the Great Recession and is on track right now to match those numbers in 2014. But if you look at absolute numbers, you'll see us running at about half of what [absorption] was prior to the Great Recession."
The reasons include greater space efficiency due to technological advances and cost-conscious businesses cutting real estate expenses wherever they can.
As a result, "you don't look at a project for 2015 and say 'net absorption is going to be the same as it has been for the past 20 years,'" says Torto. "I try to caution people about what cost containment and technology are doing to the overall demand for real estate."
Easy money
If there's any segment of the commercial real estate industry where the news is unequivocally good, it's the investment sales market. In August, year-to-date investment sales volume on all commercial property types in the U.S. totaled approximately $246 billion, a 16 percent increase compared to sales volume a year ago. Sales volume in the retail sector was up 37 percent, to roughly $50 billion; sales of office buildings totaled $69.2 billion, a 27 percent increase from a year ago; sales of hotels—not accounting for the Waldorf Astoria transaction—increased 29 percent, to $21.4 billion.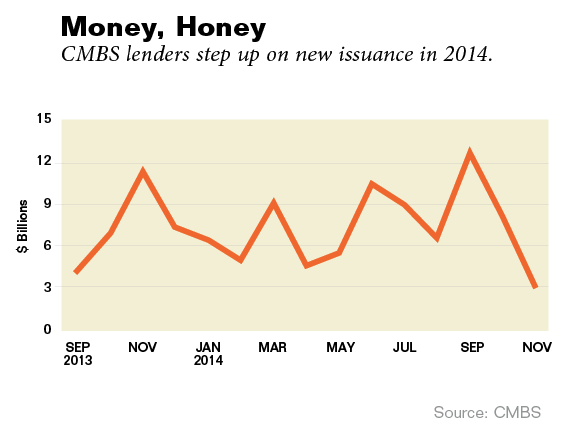 Part of what's driving acquisition activity at home is a dearth of attractive investment options outside real estate, and record low interest rates combined with greatly improved credit availability. As of Nov. 13, the 10-year U.S. Treasury rate was at 2.32 percent. At the peak of the previous real estate cycle, in 2006-2007, it averaged in the above-4-percent range. The Mortgage Bankers Association (MBA) reports that in the third quarter of 2014, mortgage originations for commercial/multifamily properties increased 16 percent compared to the third quarter of 2013. The volume of mortgage originations for multifamily properties rose 41 percent; for industrial properties, 22 percent; for office and retail properties, the increase totaled 11 percent each.
CMBS lenders registered the greatest increase in activity year-to-date, at 28 percent, according to MBA, while banks increased their commercial loan portfolios by 14 percent. Life insurance companies have been the only ones to curtail their spending in the first three quarters of 2014, by one percent.
In addition to the greater availability of credit for commercial real estate transactions overall, the type of loans being originated is also changing, according to Steve Renna, president and CEO of the CRE Finance Council, an industry trade association. He notes that lenders are originating more floating rate loans for value-add properties and properties in transition.
"Lending volume will likely increase next year relative to this year," Renna says. "Certainly the lending sector that will have the most flexibility to increase will be CMBS. Banks and life insurance companies tend to be fairly consistent year in and year out, and banks already account for about 50 percent of all commercial real estate financing. So the other two buckets you have are the CMBS industry and private capital lenders: private equity firms, hedge funds, etc. I think we could very much expect that in the CMBS and private equity sectors, financing volumes are likely to increase in 2015."
Huxley Somerville, managing director with rating agency Fitch, has a similar outlook. In the first nine months of 2014, CMBS lenders originated $68.8 billion in transactions, according to Commercial Mortgage Alert, an industry newsletter, up from $60.5 billion during the same period in 2013.
"We are very busy, the market is very buoyant," says Somerville. "There is a lot of deal activity in normal conduit multi-borrower transactions, but we are also extremely busy on deals that have a number of large loans in that. That is a more recent development in the last couple of months and we expect that to continue. What's driving that is obviously that interest rates are still low and refinancing—properties that have performed well over the last couple of years have increased cash flows. But there is also a lot of acquisition activity coming too, with new money to purchase assets."
London-based research firm Preqin estimates that in the third quarter, closed-end private real estate funds had $220 billion available for investment, approximately $113 billion of it earmarked for property acquisitions in North America. The figures represent both an increase from the money available for investment in December 2013, and a new record.
The record amount of capital available for new acquisition has resulted in stiff competition and asset values that have in some cases topped the peaks of the previous cycle, according to rating agency Moody's. According to the Moody's/RCA Commercial Property Price Indices, in September the national all-property composite index was 0.2 percent above its pre-crisis peak, with more than 40 percent of losses recovered since the cycle's trough in January 2010. Moody's/RCA researchers pointed to decreased cost of debt, improving property fundamentals and a fairly swift clean-up of distressed assets as reasons for the improvement.
The current crop of real estate investors, especially those from overseas, might also be willing to pay top dollar for their assets because they plan to hold them for the long term, unlike investors in the previous cycle, according to Raymond Torto.
"Some of these investors have lower expectations with regard to going-in yields and longer time horizons, and that could impact the way they price assets," Torto says. "They are investing, as opposed to trading, and I think it's good for the industry. But they are reducing the supply of investable assets, so I think [going forward, we'll see] more stability, less trading."