The recent increase in interest rates has caused alarm for many fixed-income investors. Many have said it is the end of the 30-year fixed-income bull run. Since the onset of the last recession and the attendant slow growth following, the Federal Reserve has been extremely accommodative.
In May, when the Fed at last signaled the beginning of the end of the super low-rate environment with the announcement of a gradually tapering-off of its bond-buying program, there was generally a sense of panic for fixed-income and yield-oriented investments such as REITs. Has the income which had been the investors' guiding light for five years, suddenly become an oncoming train? Does this spell the death-knell for commercial real estate? I don't think so.
First, rates are still very low by historical standards and do not appear in any immediate danger of wildly shooting upwards. The graph below shows that we still enjoy some of the lowest interest rates since the 1940s. Though rates have edged higher for commercial real estate debt, no one expected rates to remain at historical lows indefinitely. The current reaction to me seems to be mostly a short-term, knee-jerk reaction to the fact that record-low interest rates are behind us.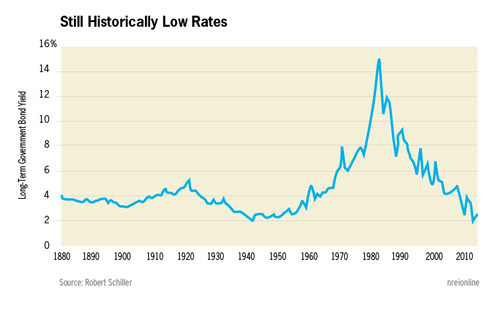 Second, the relationship between real estate performance and interest rates may be less obvious than conventional wisdom would suggest. Historically, periods of rising interest rates have been associated with stronger returns: From 1979 to 2012, total returns to the NCREIF Property Index averaged 9.3 percent annually, compared with 12.7 percent annually during periods of rising interest rates.
How could this be? The reason is that interest rates do not rise in a vacuum. They typically increase because the economy is improving, which can benefit commercial real estate in several ways: More job creation and consumer spending bolster occupational demand for commercial space and may allow building owners to increase rents (even if in-place leases do not allow rents to adjust immediately, expected future increases are priced into current values).
A healthier economy may reduce the risk that a tenant will default on its lease obligations, and if they do, improves the landlord's ability to re-lease the property (on potentially more favorable terms). As economic conditions brighten, the availability of credit typically expands (even if its price increases) and risk aversion abates, potentially promoting investor demand for real estate assets. And in a virtuous circle, rising transaction activity reduces liquidity risks, promoting further investment.
To be sure, cap rates have followed a gradual long-term decline over the past 30 years, coinciding with a long-term slide in interest rates. Yet this does not necessarily mean that rising interest rates will drive cap rates higher. Over the past 30 years, higher rates have typically corresponded with stable or falling cap rates as fundamentals and investor appetite strengthened: witness the mid-1990s and mid-2000s.
Going further back, in the late 1970s and early 1980s, investors were willing to acquire real estate at cap rates 600 bps below 10-year Treasury yields, although the draw in that case was the potential to hedge inflation rather than stronger CRE fundamentals. Cap rates could eventually rise from today's lows, but the catalyst, when it comes, will likely be a recession and deteriorating fundamentals, just as it was in the early 1990s, early 2000s, and 2008-09—not rising interest rates. Even then, the maturation of the real estate industry, which has structurally lowered the risk premium attached to real estate investments, will likely keep long-run average cap rates below historical levels.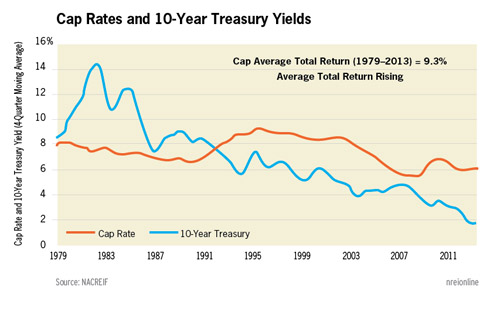 Third, there is still a tremendous demand for income—from both institutions and households—which I believe is a long run secular theme in the U.S. Many pension funds require fairly high current income to meet their distribution liabilities and they are certainly not doing that with an income composed of primarily fixed-income investments.
Despite household wealth re-attaining its previous high set in 2007, most people are wary of long-term investments that rely only on appreciation return. Moreover, low interest rates, are forcing investment in search of higher yields.
Current bank savings rates and Treasuries effectively produce a negative or negligible return in real terms. While investors may be willing to accept flat or negative returns in times of crises when capital preservation is the order of the day, in less dire times they seek reasonable returns—at least positive real returns.
With three years of a continually-improving economy behind us and an equities bull market, investors are assuming more of a risk-on attitude with respect to investment. While they are not rushing back to risky, opportunistic investing, they are seeking the kinds of higher yields found in commercial real estate. This begs the question, if investors really do flee commercial real estate, where would they go? What are the alternatives? To most investors, both institutional and retail, there aren't many—essentially higher risk and less liquid and less transparent vehicles such as junk bonds, high-yield debt vehicles and hedge funds.
Moreover, the population continues to age and retire. Baby boomers are retiring at a rate of 10,000 per day and there are 80 million of them. More than one-third of the U.S. population is over 50. As people age, and particularly when they retire, they are less concerned about the big, huge "someday" return and are more interested in current yield, especially if they need to live off their investments, as many do.
Fourth, one of the key metrics for real estate investors is the "spread." The spread is simply the average cap rate over the 10-year Treasury. Indeed many investors have been described as being "spread" investors during the last several years, because the spread margin has been so attractive and provided a straight forward investment rationale. As shown below, the average long-term spread of cap rates over the 10-year is about 280 basis points. The spread varies considerably as it is a function of the Fed's rate, market demand, capital flows and fundamentals.
Recently the spread was about 400 basis points—near an all-time high. While it has tightened during the last quarter, it is still about 320 basis points—remaining well above the long-term average. This means there is quite a margin of comfort for most investors. It also means that during the last few decades the spread has typically compressed before cap rates actually decompressed. In an environment of improving real estate fundamentals—i.e., rising rents, increasing occupancies, low supply, increasing availability of low-cost debt, and expanding investor interest—we should see more capital coming to commercial real estate, resulting in a tighter spread.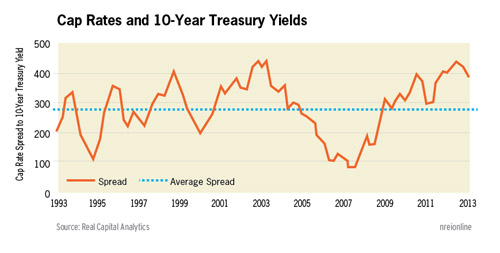 What about the future? I don't have a crystal ball, but at least in the near-term, I don't see runaway interest rates or inflation. The Fed has signaled clearly that it will continue to be accommodative. There are no extraordinary inflationary pressures either internal or external to the U.S. economy. As a service economy, labor is our largest factor of production (70 percent) and there is quite a bit of slack in this part of the inflation equation, with an unemployment rate stubbornly high at 7.6 percent.
Moreover, food and capital goods inflation is quite low and we still import many cheap goods from abroad which, in the case of many goods, is a form of imported deflation (think of the cost of your laptop six years ago). Moreover, the U.S. is becoming a larger supplier of oil and gas and will soon be the largest and most efficient global producer of both, further bringing this cost down. If anything, we have an overcapacity issue in many areas of our economy—an enemy of inflation.
All said, I think income-oriented investments will only become more popular once the surprise of slightly higher interest rates sink in and investors still find themselves in the same yield-seeking boat again. The perennial question will be "where do I find an attractive real rate of return of my money that is collateralized and does not involve inordinate risk?" The answer could be commercial real estate.
David Lynn, Ph.D., serves as executive vice president and chief investment strategist at Cole Real Estate Investments, Inc. The views and opinions expressed in this commentary are those of the contributor as of the date of publication and are subject to change, and do not necessarily reflect the views of Cole Real Estate Investments and/or its affiliates.