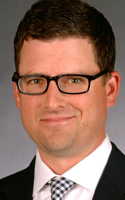 PALO ALTO, CA—Jones Lang LaSalle announced a further expansion of its services in Southern California with the appointment of 13-year leasing veteran Mark Bodie as senior vice president. He will be based in the firm's Palo Alto office and spearhead JLL's leasing services to institutional landlords and property owners throughout Silicon Valley.
Prior to joining JLL, Bodie headed the Northern California leasing effort for LBA Realty's 10 million square foot portfolio of office, industrial and R&D product. During his five-year tenure at LBA he executed leases totaling nearly 2.0 million sq. ft. in the Silicon Valley, San Francisco and the North & East Bay.
Previously, Bodie served as an asset manager at Prudential Real Estate Investors, with primary oversight of a 2.8 million-sq.-ft. Western portfolio for the flagship PRISA fund. Earlier, Bodie was responsible for market analysis research and economic forecasting at RREEF, with particular focus on the Silicon Valley, Peninsula and San Francisco markets.
"Mark has spent much of his career as an asset manager and landlord in the Bay Area, with a focus on creating value through the leasing process. His experience through a number of cycles provides him with valuable perspective and creativity, as well as a wealth of knowledge and expertise to draw on. We are excited that he chose JLL," JLL Managing Director Andy Poppink said in a statement.