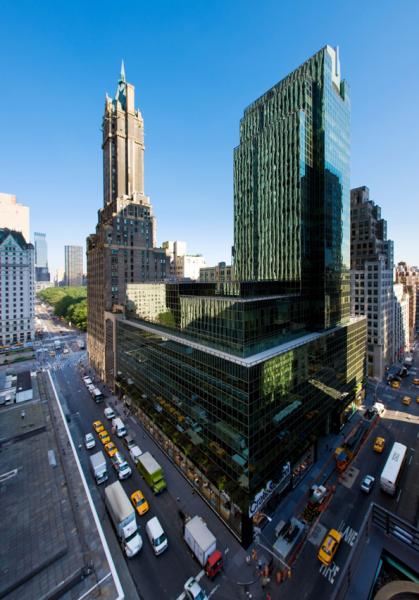 Crown Acquisitions and Highgate are under contract with global alternative asset manager The Carlyle Group to acquire the trophy 27-story, 600,472-sq.-ft. glass and steel office and retail tower at 650 Madison Avenue for a purchase price of $1.3 billion.
"650 Madison Avenue is one of the finest properties in all of Manhattan, a trophy in every sense," said Stanley Chera, founding principal of Crown on behalf of the partnership of Crown and Highgate. "The unmatched location – outstanding for office and retail use–and the superior quality of the asset solidify its position as a trophy for generations to come. We look forward to continuing the trend established by Carlyle of value creation and excellence in ownership."
Encompassing the entire westerly block-front on Madison Avenue between 59th and 60th Streets, the class-A property features three distinct components: a 425,000-sq.-ft. class-A office tower; a 100,000-sq.-ft. custom medical-office space and 75,000 sq. ft. of retail space, with 200 ft. of Madison Avenue frontage. Earlier this year, ownership completed a capital improvement program that created a bespoke lobby, marquis canopy, super-transparent glass curtain wall entrance, and new elevators and common areas all designed by Moed de Armas & Shannon Architects.
Carlyle has completed more than 400,000 sq.ft. of leases at 650 Madison Avenue since acquiring the property in 2008. Currently 92 percent leased, 650 Madison serves as the international corporate headquarters for Polo Ralph Lauren Corp., which leases 276,829 sq. ft. of the space, and has major retail tenants including Crate & Barrel and luxury designer Tod's in its Madison Avenue frontage.
"We are delighted to reach this agreement with Crown and Highgate, two of the smartest real estate owners around, on the sale of 650 Madison Avenue," Robert Stuckey, Carlyle managing director and head of U.S. real estate, said in a statement. "This is a great outcome for our investors and validates our opportunistic approach."
Originally designed by prominent architecture firm Harrison & Abramovitz in 1957, 650 Madison Avenue is one block east of Central Park and adjacent to the GM Building. It was initially built as a 10-story, corporate headquarters for the CIT Corp. The office tower in its current form was designed by Fox & Fowle and redeveloped by Hiro Real Estate in 1987, adding 17 floors atop the existing structure and boasting panoramic views of Central Park.
Adam Spies and Douglas Harmon of Eastdil Secured acted as exclusive broker in this transaction.