Chicago's iconic, 43-year-old Willis Tower (formerly Sears Tower), which at 110 stories is the tallest building in Chicago and the nation, is getting a $500-million facelift. The project, which is scheduled to begin this summer, is expected to be completed in the summer of 2019.
Originally designed by architect Bruce Graham as a concrete fortress to shut out the world, the building is being reimagined with porous walls that will blend it with the urban environment. The redesign will provide office users new opportunities for connection with each other, as well as for engagement with the surrounding community and visitors to the Windy City, according to Paul Kurzawa, managing director of development for Equity Office, a portfolio management company owned by the Blackstone Group.
According to Jon Gray, Blackstone global head of real estate, this is the largest capital investment Blackstone has ever made in repositioning an existing property.
Improvements to the building were designed to appeal to folks who already work here and attract new tenants, Kurzawa says, noting that the building is currently 85 percent occupied, with a broad range of tenants, from financial firms to tech companies.
"The new environment will make people feel happy and enrich their lives," he adds, noting that the ownership hopes the new tenant amenities, along with new dining, shopping and entertainment options, will help companies located at the building attract and retain the best available talent.
A total of 460,000 sq. ft. of existing space within the tower will be reconfigured. This includes 150,000 sq. ft. in new tenant amenities scattered throughout the building, bringing shared spaces close to tenant offices.
"We wanted to create neighborhoods within the tower where tenants can go to co-work, socialize or meet with clients," Kurzawa says. New common spaces include: a café lounge on the 33rd and 34th floors, a 30,000-sq.-ft. fitness center and spa on the 33rd floor; a hotel-style lounge with stratospheric views on the 66th and 67th floors, a private event space and a bar space.
The tower's transformation also includes a three-story transparent glass structure built on top of the existing granite plaza to provide 300,000 sq. ft. of destination retail on five levels—three above ground and two below.
This addition "brings together dining, shopping and entertainment around a winter garden under a curved-glass skylight that opens up a view of the tower from below," Kurzawa notes. The space will bring together local culinary stars and first-to-market restaurants, wines from around the world, craft beer from neighborhood microbreweries and the best local boutiques and global brands.
The retail structure also features a 30,000-sq.-ft. rooftop deck and garden, which Kurzawa says will be activated with music and various events and activities, as well as providing office workers with an alternative space to work, socialize and meet clients.
Blackstone and Equity Office's vision for the new Willis Tower was brought to life by the Chicago office of global design firm Gensler. Similar to its 1960s contemporaries, Willis Tower was originally built atop a base to separate the urban streetscape from the building and minimize pedestrian traffic near the entry.
Architect Benjy Ward, who led the Gensler design team, notes that this design not only isolated building occupants, it impacted the neighborhood in a negative way. The challenge in redesigning the fortress-like structure was to do it in a way that would begin interaction with the neighborhood, he notes. The hope is that an inverted design that blends the building into the neighborhood and creates a welcoming environment will serve as a catalyst to revitalize the surrounding area.
The building was designed in such a way that once inside, occupants were unaware of the tower, Ward adds.
"It is a bit of a maze; dusty, dated and nothing is connected," he says, noting that the original lobby was a place to get information, then move on. Additionally, tourists visiting the observation deck used a different entrance from office workers, so their paths never crossed.
The redesign provides three entrances that will be shared by tourists and tenants. The lobby redesign will create a hotel-like environment with comfortable seating inviting workers to socialize or engage in focused work on an iPad, rather than be shackled to a desk, Ward suggests. The lobby features a hybrid coffee shop/bar, depending on the time of day, and extends outside to patio seating.
Ward notes that the client also wanted to unlock value in underutilized spaces.
"We looked at these spaces in different ways and found interesting ways to create more value," he says, adding that when the place gets crowded, people don't mind going into a basement or to an upper floor. For example, the third floor of the retail structure will be utilized as a co-working and event space, which wouldn't have been possible a few years ago, and the two subterranean levels will be occupied by shops and entertainment venues.
In designing the retail structure, "we wanted to bring in a ton of natural light, so it feels like an outdoor public plaza," Ward notes. "We thought a dome-shaped skylight would create the most interest, and it is more structurally efficient, requiring less material."
He points out that the 75 x 90-foot curved glass dome provides an unobstructed view of the tower's 110 stories from below and creates a glassy knoll when viewed from above.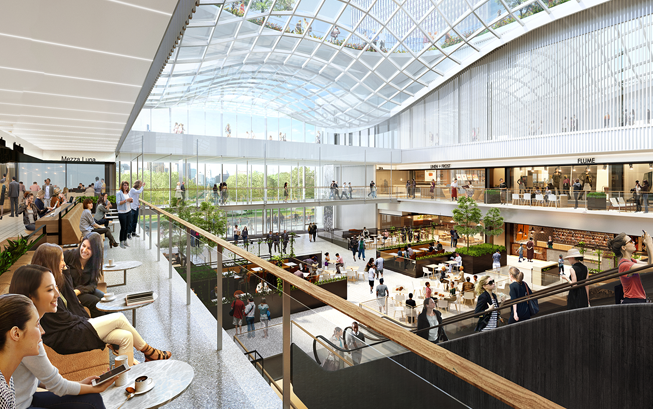 "We also wanted to celebrate the tower, display or showcase it," Ward adds, noting that the columns rising up from the foundation frame the tower, providing a view of the tower from all five retail levels.
Part of Blackstone's investment will also focus on enhancing the103rd floor Skydeck Chicago experience, which currently welcomes 1.7 million visitors annually.
This attraction received a multi-million-dollar makeover when the building was acquired in 2009. This included the development of The Ledge, a series of glass bays that extend out from the building to provide visitors unobstructed views of Chicago from 1,353 feet up; a new visitor center with museum-quality, interactive exhibits; and a 7,500-sq.-ft. retail and express cafe experience.
Equity Office now plans to expand the Skydeck experience with a first-of-its-kind digital interactive family entertainment venue on the second floor, which will be created by one of the world's largest entertainment companies (soon to be announced), according to Kurzawa.
In addition to Gensler, architects on this project included Savannah, Ga.-based Gonzalez Architects, which designed the tenant-only office amenities, and Los Angeles-based Hetzel Design, which is overseeing the design concepts for the Skydeck enhancements. Design-build firm Turner Clayco will oversee construction, and CBRE's Todd Siegel will handle retail leasing.