Skyrocketing rents in primary office and industrial markets have pushed tenants, and investors, into high-demand secondary markets. High on the list of such markets is Tennessee.
The Nashville office market currently has the nation's lowest vacancy rate, at 4.7 percent, according to a third quarter report from real estate services firm Cushman & Wakefield. As for industrial, Memphis is making noise after experiencing the biggest decline in availability quarter-over-quarter, at 260 basis points, according to a report from real estate services firm CBRE. Memphis, the second largest commercial airline hub in the world, has an overall vacancy rate of 3.3 percent, one of the tightest in the country, according to Cushman & Wakefield.
Nashville is one of the top five markets for office pre-leasing, according to real estate services firm JLL. Of the 3.8 million sq. ft. under construction in the market, about 72 percent is pre-leased, says Tom Hooper, the local executive vice president with JLL. The city serves as a draw for Millennials looking for a downtown area that includes entertainment, he says.
"We've been one of the fastest growing cities, with unemployment real low at 3. 9 percent," Hooper says. "We're similar to Austin—we compete with Austin,—but we have a lower cost of living."
Health care is the largest industry in Nashville, which houses the headquarters of Hospital Corp. of America. The region also includes the North American headquarters of Nissan and Bridgestone. Construction levels in Nashville are setting records, as the past fiscal year brought an increase in activity of more than 8.0 percent, with $3 billion of projects in the pipeline, according to JLL. The city has traditionally been dominated by local developers, but now national companies are bidding on deals, Hooper says.
Development started taking off after Nashville developed more of a 24/7 city vibe, according to J.T. Martin, a vice president at CBRE's Nashville office. "The urban core used to shut down around 5 p.m., but now there's much greater density to attract people to staying downtown longer," he says. "A big part of the growth is the cost of living. Our wages are roughly 10-12 percent above the national average, but our cost of living is about 10-12 percent below the national average. That delta brings in eager tenants."
In Memphis, logistics is the market driver. The city is home to Federal Express, with sizeable presence of United Parcel Service and USPS. The 230-million-sq.-ft. local industrial market also had limited new development following the recession, according to Tony Argiro, vice president in the local office of CBRE.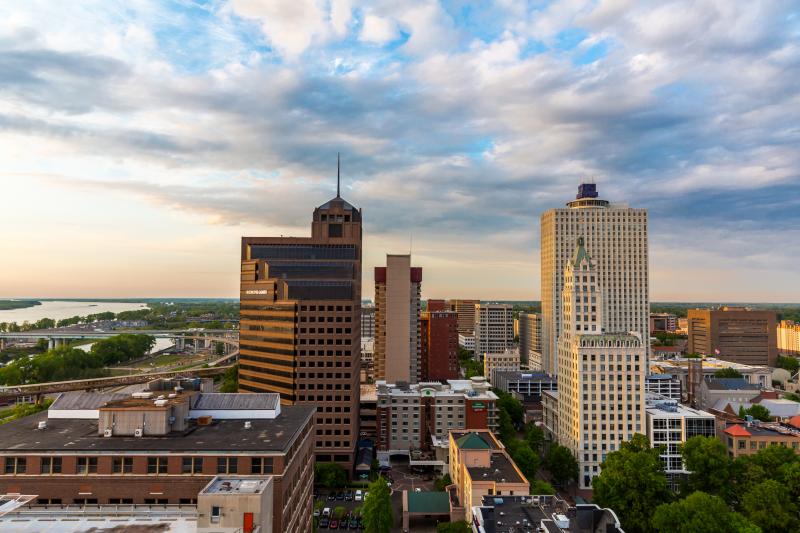 "We're still seeing new buildings going up, but they're trying to stay more in line with supply and demand," he says. "This has pushed rents up, and we're looking at about 6 million sq. ft. to be absorbed this year, not as good as last year's 8 million sq. ft., but still it's a strong year for us. There's a lot of prospect activity—we're tracking about 12 million sq. ft. of tenant needs, and if you have a large building going up, more than 300,000 sq. ft., you're getting multiple looks."
What's more, e-commerce is likely to drive demand for space for years to come, Argiro notes.
"The Internet delivery companies that are coming here, they are not signing one-, two- or even five-year leases, they're signing seven-to-10 year leases," he says. "They're the experts, and they're showing they're here to stay."