Like most commercial real estate values, seniors housing property values have been increasing. Favorable market fundamentals, a compelling investment thesis, an improving economy and obtainable credit at attractive rates all have powered values ever higher.
In the fourth quarter of 2014, the average sales price of a seniors housing unit was $147,000 on a twelve-month moving average, up 64 percent from its low point in 2010. Meanwhile, average cap rates for seniors housing continue to hover between 7.5 percent and 7.9 percent in the fourth quarter of 2014, down roughly than 130 basis points from 2010 (its notable that the most preferred properties are trading below 5 percent), while investor interest in seniors housing is strong, with 2014 transaction volumes projected to be the second most on record (2011 was the strongest). The risk premium for investing in seniors housing remains relatively high at 500 basis points compared with the risk-free 10–year Treasury rate, but strong capital flows may reduce this differential over time and thereby lend further support to valuations.
How is value created?
Seniors housing valuations are complex since they take into account both the value of the business enterprise, i.e., the tangible and intangible enterprise value and the value of the real estate, i.e., the market value of the land and the building. In general, the less service-intensive the property type, the greater the share of value that is attributable to real estate.
For example, a more service-oriented memory care property will have a larger share of its value derived from the enterprise value and less from the property value. On the other hand, a less service-oriented property that helps residents with lower acuity levels and fewer activities of daily living (ADLs) will derive more of its value from the real estate component of its value. In an article in the Seniors Housing & Care Journal in 2011[1], Anthony Mullen is cited as estimating the real estate portion of an assisted living property (AL) as 53 percent of its value, 74 percent for a less service-oriented continuing care retirement community (CCRC) property and 37 percent for a more service-oriented skilled nursing property.
The enterprise component of value
Lenders, appraisers, investors, and tax accountants, as well as accounting standards and regulations establish guidelines for allocating the value of an asset between its real estate and its business enterprise. The business enterprise component of value generally reflects a property's operations, intangible items such as big data systems, management teams and staff, services offered, and importantly, reputation; as well as quantifiable, tangible and depreciable items, such as furniture and equipment.
The value of the enterprise may also reflect:
whether the property is sold with a management contract in place and the length of that contract
the reputation of the operator
the extent of knowledge and number of contacts the operator has in the community to maintain a list of potential new residents
its niche among competitors
Some operators choose to allow residents to age in place up to and including hospice, while others choose to provide an offering that has lower acuity levels. Resident mix and the length of stay for current residents can also affect enterprise value because a property with older residents may indicate that their future length of stay could be less than properties with a younger resident mix. Staff turnover and reputation, quality of the service offerings and care, food offerings and dining options, health care offerings such as 24x7 nursing care and on-site medical offerings, physical fitness and rehab offerings, socialization options and events and general ambiance all affect values as well.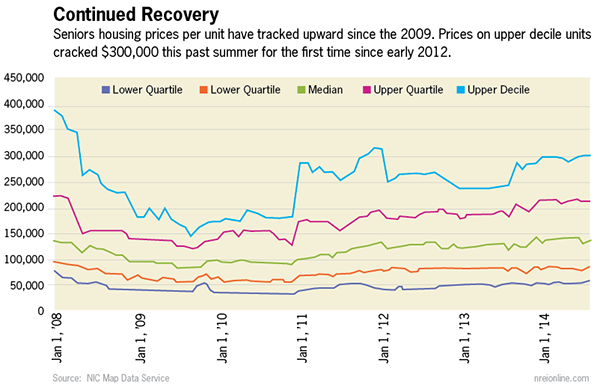 All of these factors, as well as the geographic location of a property and the availability of labor and its costs, affect margins, NOI growth potential and the enterprise value. Local area demographics and the supply/demand balance between potential new residents and existing and new competitors also affect the ability of an operator to move rents and affect NOI growth.
In addition, transaction value is affected by whether or not a property is sold as a stand-alone asset or as one property within a larger portfolio. Data from NIC and RCA indicate that there is a portfolio premium of as much as 20 percent. The portfolio premium is attributable to several factors, one of which is the potential cost advantages associated with the size of a portfolio and an operator's ability to more easily achieve best practices and economies of scale.
In fact, scale is likely to become even more important in an evolving and progressively more cost-conscious health care policy environment. Value will be created by those businesses that can best align themselves in the accountable-care environment (ACOs), where costs can be optimized between the post-acute care and acute worlds of hospitals, skilled nursing facilities, and seniors housing properties (memory care, assisted-living and independent-living care properties). Those operators that can effectively and efficiently integrate systems and big data that measure outcomes and reduce costs stand to benefit.
The real estate component of value
Many factors influence the real estate component of value for a seniors housing property. At its core is a property's location (i.e., the real estate axiom of "location, location, location" is in fact a truism) and the simple value of the land upon which the property is situated. The value of the land in turn generally reflects its highest and best use at a point in time. For seniors housing, several factors drive real estate value, including:
a property's proximity to adult children
high concentrations of residents older than 75 in close proximity
visibility and accessibility to population centers
distance from competitors
barriers to entry either in the form of entitlement and regulation challenges or physical land constraints
Land values in the U.S. have generally been on the rise for the last several years as the economy has improved and as opportunities for development have made economic sense. This in turn has supported property values.
The physical building, i.e., the bricks and mortar, are typically valued through the cost, income or comps approaches. Further considerations for seniors housing are questions of obsolescence in terms of the physical layout of the building and its functionality for an evolving consumer as well as questions regarding the materials used and whether they meet fire/life/safety code, i.e., wood –frame construction versus noncombustible steel or concrete.
National and local economic conditions also affect demand drivers and cost variables, which in turn influence rent growth potential and NOI growth assumptions in the pro forma. After some fits and starts, the U.S. economy is now positioned for solid growth in 2015, with employment gains projected at more than 200,000 per month, the unemployment rate slipping back to below 5.5 percent, and total output growth as measured by GDP projected to increase at its best pace in nearly ten years. Also important, confidence levels are relatively robust among both businesses and consumers, household net worth is rising, and income growth is increasing. As a result, move-in rates should be supported in 2015 and occupancy rates at the national level are projected to rise toward their highest levels in more than eight years.
Capital availability is also a factor that affects values. Today, there are many willing providers of capital to seniors housing operators. The sector has attracted growing attention from seasoned veterans in the sector as well as new entrants who find the fundamentals compelling and the investment thesis reasonable. On the equity side, this includes pension funds, insurance companies, universities, endowments, and high net worth individuals who provide funding to an ever-increasing roster of private equity firms. On the debt side, this includes Fannie Mae, Freddie Mac, HUD, large commercial national banks, small regional banks, commercial finance companies, life companies and CMBS lenders.
Public operating companies are also actively raising equity and debt through public markets that are an important source of capital for the industry. And finally, public and private traded and non-traded health care REITS are active providers of financing for the seniors housing sector. In recent years, the RIDEA structure has made seniors housing investments particularly attractive to REITs who now get to share in the upside of their partners operations.
In addition to availability, the relatively low cost of capital has also supported valuations in the sector. With the Federal Reserve's accommodative monetary policy, interest rates have been low for more than six years. All-in rates for debt often price off of short-term LIBOR rates, which closely track the Fed Funds rate, and are currently being quoted in a range 4 percent to 5 percent depending upon terms, coverage ratios, and the degree of recourse. Also affecting the cost of capital and its terms in this market are:
the type of property (IL, AL, MC, SNF)
whether or not a property has reached stabilization
property location
competitive positioning in the marketplace
sponsorship
Looking ahead, it's likely that the Fed's stance toward a zero interest rate policy will end sometime in mid- to late-2015 and interest rates will gradually edge higher. The execution of this policy change will be important since an unexpected, quick, or significant bump in interest rates could cause a sharp market reaction and produce sudden volatility in rates; slow, steady, and deliberate rate hikes will be more manageable for the market to absorb.
If rates do increase in 2015, there may be upward pressure on cap rates. And, if net operating income growth cannot offset this pressure, values may decrease. That said, despite solid historical and projected performance, a significant risk premium exists for seniors housing investments. Given solid operating and investment performance of seniors housing properties in recent years, especially the resiliency demonstrated during the Great Recession, as well as the potential portfolio diversification attributes that the sector can provide to investors, one could argue that seniors housing's spread over the risk-free rate should be narrower or compress with time.
If such narrowing spreads occur, seniors housing cap rates may not experience the same magnitude of upward pressure that expected rising interest rates could impose on other commercial property types. Indeed, with its compelling investment thesis, it's reasonable to argue that cap rates for seniors housing may be sticky and not follow interest rates higher in lock-step.
Conclusion
Valuations for commercial real estate have risen back to peak levels at the national level for many property types and geographies—multifamily in primary and secondary metropolitan areas and CBD office, among them. For seniors housing in general, valuations and prices are back at previous 2010/2011 peak levels by several measures. Cap rates are low and falling in some instances, unit prices are rising, and non-cap rate metrics such as debt coverage ratios and terms are very competitive. Two questions remain: Are these levels sustainable, and what events could cause them to unravel?
Among the largest risks to values for seniors housing are (1) the external events of the broad economy and its pace of expansion as well as (2) the movement and pace of increase in interest rates. As discussed, rising interest rates are a potential threat to today's values through their impact on the cost of capital and their effect on cap rates. However, as mentioned, a compelling investment thesis will draw new capital into the sector, and this new capital may help offset the increase in interest rates by reducing the risk premium of the asset class.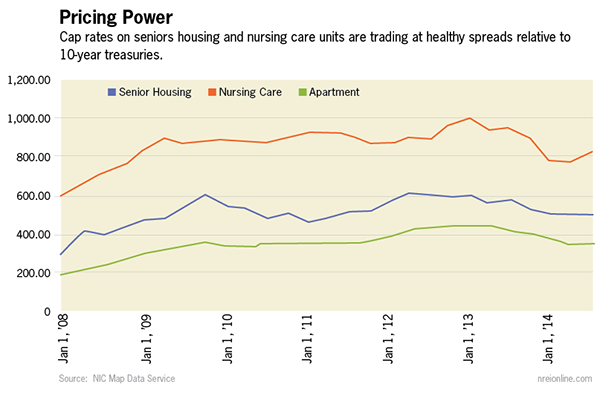 In general, the outlook for the economy going into 2015 is good. A steadily expanding economy along with growing confidence by residents and their adult children will support further demand for seniors housing in 2015. However, demand could be threatened if the economy were to go into a quick and unexpected downturn, related to a sharp recession in Europe, an expansion of wars in the Middle East or Russia, or other exogenous shocks.
In addition, development poses a potential risk to the sector's present valuations. At this point in the cycle, however, these risks are generally confined to local markets and are affected by the ability of individual operators to sustain margins and respond to new competition. Rising costs also pose a threat to operators, particularly those operators in areas such as the Northeast who may be affected by higher minimum wage levels or electricity prices. To sustain values, these operators will increasingly have to grow NOI and maintain margins through higher occupancies and rents.
On the upside and as part of the investment thesis for seniors housing are trends such as:
social policy changes towards health care
evolving demographics
rising penetration rates
increased interest by capital providers
greater liquidity and transparency of the sector
general knowledge and acceptance of the positive social and psychological benefits for residents in seniors housing communities
These are among the factors favoring investment and supporting values in the sector. As these trends become better understood, the seniors housing will increasingly become a more established real estate product offering for investors who seek to diversify their portfolios and add upside potential to their returns.
Beth Burnham Mace is the chief economist for the National Investment Center for Seniors Housing & Care.
---
[1] Beasley, W., Sparks, S., Bates, M. (2011) Valuation of real estate within senior living facilities, Seniors Housing & Care Journal, 2011, Volume 19, Number 1, 23-33; Mullen, A. (1999) A note on underwriting and investing in senior living and long-term care properties. Journal of Real Estate Management, 5, 291-294