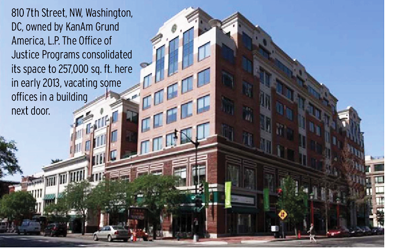 As the deadline arrives today for all federal agencies to submit reduced real estate plans, the continued office space freeze, consolidations and teleworking have combined for a historic event: an almost complete halt to national government office growth.
Each federal agency is required to submit to the General Services Administration a three-year Revised Real Property and Cost Savings and Innovation Plan by May 15. The plans are expected to narrow the focus of real estate spending and leasing to achieve efficiency and better document internal controls, while reviewing the compliance of the "Freeze the Footprint" policy.
Kurt Stout with Colliers Government Solutions says these sort of budget-cut requirements have ended a long reign of office growth by the government. "If you looked at the trend of federal inventory during the past 45 years, you'd find that while owned space is virtually unchanged, leased space has grown dramatically over that time, year over year over year, including a substantial growth since 2001. For the first time, we're starting to think that the growth may not continue."
The sequester began in March—$85.4 billion in automatic cuts that were a result of the Budget Control Act of 2011. The cuts in spending, which have included layoffs and furloughs, had largely been a non-event for office brokers. That's because there had already been a longer-term push by both the Republican-controlled House and the Obama administration to focus on more efficient use of government's real estate assets, leading to suppressed demand. The Office of Management and Budget also further expanded and defined the "Freeze the Footprint" policy, basically not allowing an agency to grow space unless it can reduce square footage somewhere else, and requiring more defined oversight and evaluations of office use.
But Stout says landlords that work with federal government agencies as tenants have yet to truly feel the pinch, as the efficiency requirements and the budget deficit will prevent all agencies from paying higher rents on renewals or spending money on office improvements. "If agencies want to redo space, it's just a lump sum they don't have. So agencies in some cases are either shrinking space, or kicking the can down the road, renewing at the lowest possible rent and for short leases," he says.
Instead, what landlords across the country will likely see are consolidations of opportunity, usually where a large agency has a headquarters office in one building but has one or a few smaller leases nearby. "I'd be very wary of buying or investing in that stub piece, because in this 'tightsizing' the government will likely try to bring that tenancy into the main building," Stout says. "The government is trying to find ways to bring small pieces into bigger space."
The offices that remain occupied, however, remain a popular target for investors, he says. His firm, for example, is marketing a 16-property portfolio on behalf of West Second Street Associates. The small offices, ranging from 6,000 sq. ft. to 40,000 sq. ft., are located in Michigan, Ohio, Florida, Texas and Colorado, with an estimated total value of $118 million. The government is still seen as a top-credit tenant, Stout says, as leases are not directly affected by the sequester and the countervailing forces keep agencies from altering plans.
Aside from another national emergency that would cast aside efficiency concerns, Stout says federal growth, for at least this year and the near term, will be substantially blunted.
"It's hard to imagine the need for GSA space declining to a depreciable degree, it's just I don't see any reason to expect growth until budget issues are worked out," he says. "Agencies operate by the budget, and without answers, they will have a confused long-term mission. The ability to make long-term investments in government-leased real estate will stay in a holding pattern."