The current climate highlights key differences between different property types. Survey respondents have disparate views on their outlook for property values in the coming year, as well as their view on whether it is a good time to buy, hold or sell. Survey respondents are more optimistic on their outlook for stable or improving values in industrial, self-storage, apartments and seniors housing, while views are more mixed on where better buying opportunities exist.
Investors remain bullish on improving industrial values and a majority think now is a good time to buy. Confidence in the sector is backed by solid fundamentals. During the second quarter a dip in absorption nudged vacancy rates 30 basis points higher to 5.5 percent, while rents continued to grow at an annual rate of 2.8 percent, according to Marcus & Millichap. Seventy two percent of industrial investors believe property values will continue to rise in the coming year with an average increase expected of 5.7 percent. Additionally, 60 percent think it is a better time to buy versus those who said it was better to hold (31 percent) or sell (9 percent)  [Figure 8].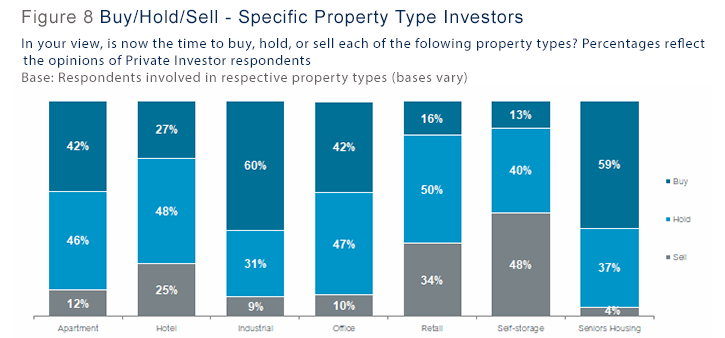 Industrial properties benefit from pandemic-driven structural changes, notably accelerated growth in the use of e-commerce. Shelter in place orders and fears about contracting the virus have kept people at home and pushed many online to buy essentials ranging from groceries to pharmaceuticals. They set up online accounts, they became comfortable with using the technology, and in many cases, they were happy with the convenience, which is going to result in permanent behavior shifts, notes Pontius. Industrial space demand has also been spurred by retailer's need to store increased safety stock of key items such as paper products and hand sanitizer to accommodate waves of consumer demand. In addition, elevated grocery sales, both online and in-person, are driving more demand for cold storage space. As such, changes to supply chains and a focus on reshoring manufacturing of critical products and safety equipment may spur industrial space needs going forward, he adds.