Remember the phrase "follow the money"—meaning that understanding a complex deal requires examines where funds are heading? Today, an appreciation of our elongated recovery might actually mean looking in the opposite direction, at the burgeoning source of real estate investment capital.
It's called capital flows, as international sources of money are increasingly being invested in U.S. real estate. While U.S. pension funds and banks have been traditional sources of real estate capital, that's changing. Today, government treasuries (AKA sovereign wealth funds), wealthy individuals and international institutions with their own pension funds are all aggressively chasing American real estate deals.
In fact, there is simply no lack of available equity capital these days for good real estate deals. U.S. real estate is considered safe and diverse and offers steady yields, and the ready availability of capital is making for a pretty healthy real estate market these days.
So, what kind of volumes are we talking about? The 2015 Preqin Sovereign Wealth Fund Review calculates total government treasury assets under management at $6.31 trillion today, up from $3.07 trillion in 2008, with some 60 percent of all sovereign wealth funds invested in real estate.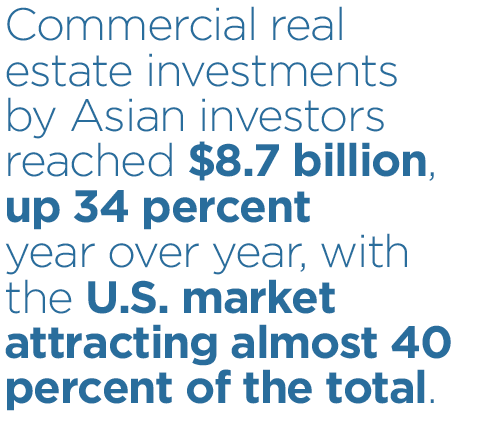 And while Canada, Germany, Norway and Israel, among others, are aggressive investors in U.S. real estate, the impact of Asian capital is looming ever larger. Commercial real estate investments by Asian investors reached a first-quarter record of $8.7 billion, up 34 percent year over year, with the U.S. market attracting almost 40 percent of the total, according to a report by CBRE Group.
The movement of capital from East to West is likely to remain the major influence on real estate markets this year, according to the Global Emerging Trends in Real Estate 2015, published jointly by PwC and the Urban Land Institute. Money from China and South Korea is set to continue to seek a home in international markets, and to be supplemented by pension fund capital from Japan.
High-net-worth individuals are active here, spurred in part by Hong Kong and Singapore regulations that discourage real estate speculation. Chinese capital, in particular, is moving to other destinations as the wealthy seek safety and diversity outside their home country.
And let's not forget the current reluctance of banks to make loans following the recent financial downturn. With banks on the sidelines, international capital is helping produce as well as extend a balanced recovery, providing domestic investors with new sources of partnership capital and confidence.
I'm not too worried about overbuilding, even with all this money available. For example, I think we're still a little under-housed, although there is a rebalancing underway among urban, suburban, mid-rise, high-rise and single-family construction. Further, capital flows are aiding—some would say driving—the desire for improved infrastructure in our cities, and with new infrastructure come lots of other new development.
International money is seeking deals that are not only in traditional destinations like office buildings, apartments, retail, etc. The money is also chasing virtually any vertical where significant hard assets are owned, including such sectors timber, and utility and telecom infrastructure.
Of course, things could go wrong to interrupt all this goodness. For example, we might see a major national default, perhaps like Greece, but on a larger scale, causing an investor retreat. A significant terrorist attack could slow down demand-use patterns and interrupt the recovery. And while the recovery has been elongated, it isn't all that robust. Job grow is steady but slow, and overall the economy remains fragile.
Nevertheless, because of this desire for hard real estate assets, we have a great opportunity to structure strong deals and help improve our infrastructure, all without worrying about the availability of money.
All capital flows have a home these days, so get out there and build something!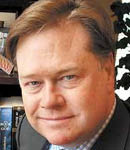 R. Byron Carlock Jr. is a principal and the national real estate practice leader at PricewaterhouseCoopers. He can be reached at [email protected].