Increasing pressures from the C-Suite are challenging corporate real estate departments' current resources and staff expertise, according to the biennial Jones Lang LaSalle (JLL) Global Corporate Real Estate Trends report, which polled 630 corporate real estate executives in more than 39 countries. The report identifies the top nine demands that corporate real estate teams expect within the next three years, and simultaneously tracks that many respondents collectively feel unprepared and under-resourced to fulfil these rising expectations.
Greater engagement with the C-suite and more alignment between business and corporate real estate strategy is a welcome challenge. However, our survey shows that a large percentage of corporate real estate departments have not been given the resources or training that they need to fulfil rising productivity expectations.
Of the executives surveyed, 68 percent face increased demand from senior business leaders to enhance portfolio productivity. Productivity improvement was an emerging trend in our 2011 report – now increased to a "high expectation."
Nine Rising Demands
Following are nine demands that corporate real estate executives are facing during the next three years – which they are challenged to realize: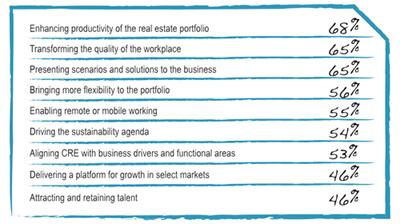 At the same time, only approximately one-third of global corporate real estate leaders surveyed feel "well-equipped" to meet the rising level of new demands being placed upon them.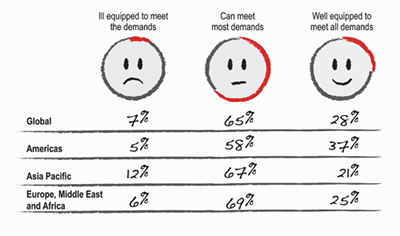 Equipping CRE teams typically requires investment, however, and entrenched resistance to capital expenditure can be a difficult hurdle to clear. Our survey reveals that 48 percent of CRE executives view financial constraints as their greatest limitation to adding more strategic value to their businesses, while 34 percent also cite lack of effective data and analytics. Many survey respondents stated that they lack the technology and resources to strategically transform their portfolio, while also cutting costs.
This deficiency is also noted by CoreNet Global in similar research. Our report's focus on cost-versus-revenue is connected directly to the corporate real estate industry's long-running paradox of efficiency-versus-effectiveness, according to Richard Kadzis, Vice President of Strategic Communications for CoreNet Global, the world's leading professional association for corporate real estate executives. As Kadzis has stated, CoreNet Global's Corporate Real Estate 2020 research forecasts how "the corporate conversation will shift from cost cutting to value creation," and our new study can help "shed more light on this important shift."
One broader strategy already being implemented is that CRE teams are working more closely not just with the C-suite, but also with other key support functions such as HR, finance and IT. As Global Corporate Real Estate Trends reports, the formation of collaborative organizational structures, such as shared services, is likely to increase over the next three years. This finding was also validated in Corporate Real Estate 2020, which reads, "the intersection of collaborating support functions will help ensure that enabled employees are more productive, better equipped and have higher satisfaction levels – resulting in significant returns for the corporation."
Wondering where your firm stands? Find out how your organization compares in key areas such as outsourcing plans, workplace strategy and resource capacity. Answer five quick questions via JLL's interactive online tool and receive an instant comparison of your responses with the survey result norms.To request a full copy of the report, visit www.jll.com/globalCREtrendsor download a presentation on JLL's Slideshare profile. Social media users can also engage in the conversation about the future of corporate real estate on Twitter using #CRETrends. 
Doug Sharp, is president of corporate solutions with Jones Lang LaSalle.