According to the most recent report from London-based research firm Preqin, a record amount. Preqin estimates that fund managers with closed-end private real estate funds currently have $245 billion at their disposal, the highest amount on record. Here's a breakdown of the figures:
How much money in total do closed-end private real estate funds have right now?
$254 billion, a new record.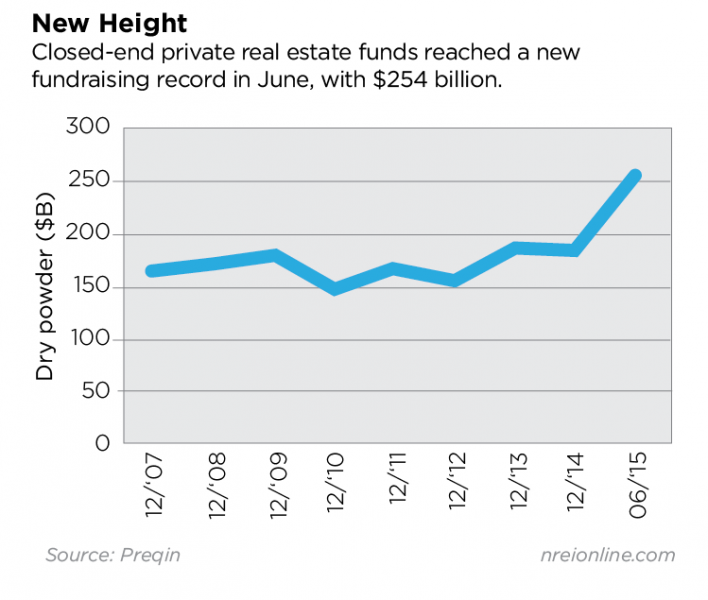 How many private real estate funds closed globally in the second quarter of 2015?
47.
What was the largest private real estate fund to close during the period?
Lone Star Real Estate Fund IV.
How much money did private real estate fund managers raise in the first half of 2015?
$60 billion.
What is currently the record for the amount of money private real estate fund managers raised in half a year?
$64 billion, in the second half of 2013.
Where do the funds that closed in the second quarter plan to invest the money?
Primarily in North America, with $133 billion in total earmarked for the continent at this point. Twenty two of the funds closed in the second quarter will focus on North America, with aggregate raised capital of $10.3 billion. However, though only half that number of funds (11) will focus on European properties, the region attracted the most money in the second quarter with $12.8 billion. Asian real estate was in third place, with 11 closed funds and $2.5 billion in raised capital, followed by the rest of the world (3 funds and $400 million).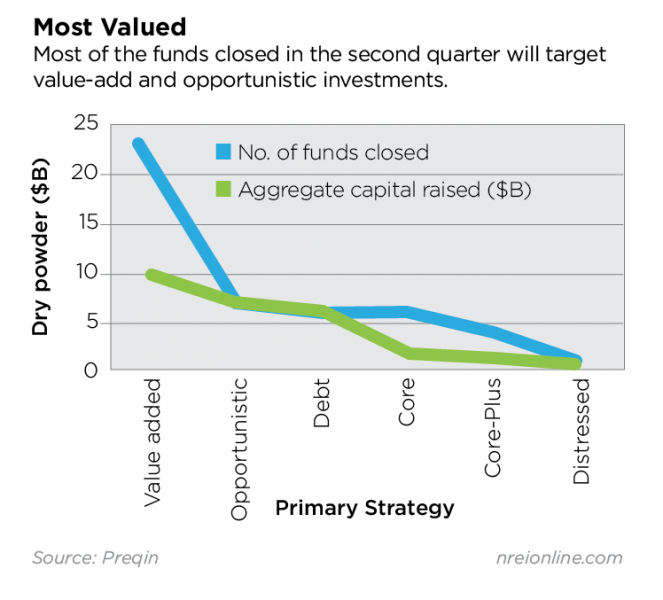 What types of properties do these funds plan to target?
Value-add seems to be the most popular investment type right now, with 23 of the funds closed in the second quarter planning to pursue that strategy, with $9.6 billion earmarked for it. Opportunistic investments are the second most popular option, with 7 closed funds and $7.2 billion of capital raised. Six funds and $6 billion will be devoted to debt investments, another 6 funds and $1.6 billion to core assets, 4 funds and $1.4 billion will target core-plus strategies and one fund with $300 million will target distressed opportunities.