Optimism prevails in the hospitality sector for 2015, as experts say all product types are showing improving fundamentals, from posh New York City properties to beach resorts, and even select-service assets in tertiary cities.
Michael Fishbin, global hospitality and leisure leader with consulting firm Ernst & Young, says the global travel and tourism industry is expected to grow by 3.9 percent in 2015, due in part to the overall economic recovery.
"Hospitality has been a high employer, a job generator. Just in the United States we're 10 percent of the GDP," Fishbin says. "Global revenue per available room is projected to grow this year by up to 7 percent, with many U.S. markets seeing growth at the larger end of the range due to low supply."
According to a new report from commercial real estate services firm JLL, global volume of hotel transactions will rise this year to $68 billion, from $60 billion in 2014, based on such trends as strong demand, increased liquidity in the debt markets, a high level of single-asset trades and more activity in secondary markets. The Americas are expected to garner the greatest share of the sales, at about $34.5 billion, as debt remains readily available and CMBS loans for hotels are starting to pick up again, JLL researchers predict.
Lauro Ferroni, global head of research with JLL's hotels and hospitality division, says he expects 2015 to be a year of upward movement.
"Some of the negative factors we saw after the downturn are truly a thing of the past," Ferroni says. "We're getting up to the highest occupancy levels we've ever seen, close to 65 percent nationally. This allows operators to drive average daily rates, increase profitability and increase value to the real estate asset."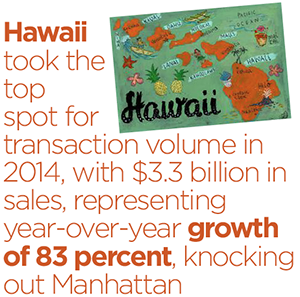 Ferroni says investors are disposing of U.S. assets purchased at the onset of the recovery cycle and taking capital gains. Private equity investors are under pressure to invest funds. Global funds and private equity groups will lead the buying charge this year, while single-asset properties will be the most sought after in 2015, he says.
The lack of new rooms has impacted all segments of mature global markets, including the U.S. and Europe, with the number of hotel properties under construction well below the long-term average, according to JLL. The average increase in supply for the U.S. is about 2 percent, with the most recent peak being 3.5 percent in 2009, Ferroni says. In the past two years, however, supply has increased by only 1 percent, and expectations for this year are for an increase of about 1.4 percent.
"Also, three years ago we weren't even ready to think about new development," Ferroni says. "Now we're starting to see an uptick in new construction again, but we won't get back to the regular supply numbers for two to three more years. That's one of the most compelling forces in the market today, the bifurcation between the lack of supply and the forceful growth in demand."
Money flows
NorthStar Realty Finance and Brookfield Asset Management were among the most active buyers of U.S. hotel properties in 2014, according to research firm Real Capital Analytics (RCA), with Cerebus, Clarion Partners and Inland Partners doing much of the selling. Blackstone and Hyatt Hotels were active in both acquisitions and dispositions. With the increased competition for assets, hotel prices increased by 14 percent in 2014, according to RCA's year-end report, with the price per key hitting up to $2 million for premium properties in the top six U.S. markets.
Discretionary investors, such as sovereign wealth funds and institutions, which don't face pressure to spend money quickly, will be the main bidders for prime properties in 2015. However, resorts assets, as well as hotels in secondary and tertiary markets, are also growing increasingly popular among investors. For instance, Hawaii took the top spot for transaction volume in 2014, with $3.3 billion in sales, representing year-over-year growth of 83 percent, knocking out Manhattan, according to the RCA report. Resort destinations, including those in Broward County, Fla., Miami and San Diego, remain very attractive to investors.
Portfolio deals are also on the rise. OTO Development just sold a 19-property portfolio to an affiliate of the Blackstone Group. Richmond, Virginia-based Lingerfelt CommonWealth Partners recently announced the acquisition of five hotels in Orlando, Atlanta and Charlotte, N.C. Merger deals, such as International Hotels Group's $430 million purchase of San Francisco-based Kimpton Hotels and Restaurants last year, are also expected to continue in 2015.
"This is a great time to be in the market as a seller, especially in the primary markets, as the visibility is still good," says Fishbin. "There are concerns out there about the year, such as when [will] interest rates increase and how that will impact cap rates, or the strength of the dollar for foreign travelers. But I think right now it's hard to be critical of being a seller."