In the industrial sector, the hot thing right now is small infill locations near major metropolitan areas, as retailers try to hit next-day and same-day delivery goals and need support facilities along their delivery routes. However, big-box distribution centers have become one of the most sought after investment properties in the country, after a deep slide during the recession.
According to a study by commercial real estate services firm Colliers released earlier this week, even though there was 61 million sq. ft. of big-box industrial space delivered nationally in 2015, the year ended with occupancy at about 93.0 percent, with net absorption making up for almost all the new space.
Another 74 million sq. ft. is under construction this year. In terms of demand, in the past year, just the top 10 leases totaled about 10.6 million sq. ft., and the top 10 sales netted about $470 million, according to the study.
The big-box industrial sector has made a 180-degree turnaround from where it was during the financial crisis, according to Jack Rosenberg, national director of logistics and transportation solutions for Colliers.
"This is the best time ever to be an owner of industrial, and I've been in the business since 1981," he says. "We've got record construction deliveries, but also there's huge positive absorption and increasing rental rates in all markets. The demand for space is pretty phenomenal."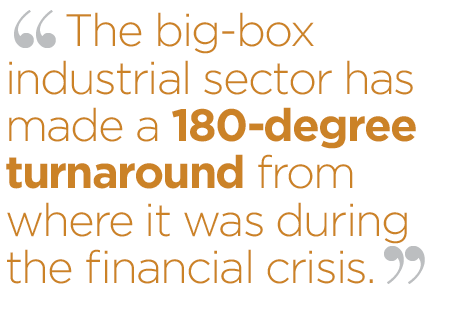 The big-box properties, typically defined as distribution centers larger than 300,000 sq. ft., have fared remarkably well since the recovery began. As recently as 2011, only 9 million sq. ft. of big-box space was built during the whole year, including only 623,000 sq. ft. of speculative space, across the entire country.
Today, those totals are matched by single markets. Atlanta has 10.7 million sq. ft. of big-box industrial space under construction, and about 71 percent of the 4.5 million sq. ft. built last year was speculative.
Chicago and Dallas are each seeing developers building about 9 million sq. ft. of big-box industrial space, while the eastern Pennsylvania-southern New Jersey market has 13.3 million sq. ft. underway and Los Angeles about 16.2 million sq. ft.
Investors of all types, from Prologis to CenterPoint to the pension funds, are looking for land for new big-box development in all the major markets, says Rosenberg. While the logistics companies are looking for the mid-sized "last mile" locations, there's still much demand for the large distribution properties that can cater to the needs of e-commerce companies, he says.
"E-commerce is becoming a huge driver of industrial absorption, and even the brands are looking at building their own distribution centers," Rosenberg notes. "Before where they might sell their products through Target and Walmart, now they're looking at just shipping straight to the customer."
Big-box industrial facilities aren't just going up in the major markets. Chicago-based Brennan Investment Group, for example, recently purchased 112 acres in Lakeland, Fla., midway between Tampa and Orlando. The company plans to build CenterState Logistics Park, to consist of two distribution buildings totaling 1.2 million sq. ft.
Florida's Interstate 4 corridor is seeing a significant increase in industrial big-box leasing, according to Bob Krueger, Southwest managing principal for Brennan.
"Demographically, the Orlando-Lakeland-Tampa area is becoming a mega-region with a current population of about six million people that is projected to more than double during the next 25 years," he said in a statement.