The growth in remote digital storage is pushing up demand for data storage properties globally and leading to a flurry of merger and acquisition activity among data storage facility owners and users.
Devices such as smartphones and smart TVs now give consumers and businesses the ability to store and retrieve digital files from what is now known as the "cloud." That data is physically stored in cooled computer servers in large, warehouse-type facilities throughout the United States. As a result, demand for this property type is booming, with the North American data center market expected to see its revenue grow by roughly 14 percent during the next two years, according to a recent report from commercial real estate services firm JLL.
What's unique about the data center sector, however, is just how young it is, says Jon Meisel, regional lead for the East Coast with JLL's data center solutions division. There wasn't a need for massive file storage properties until the Internet began to take hold around the turn of the century, and the rise of e-commerce in the past few years increased the need for third-party providers of data center space, he says.
"Five years ago, in my neck of the woods, there was only one or two major players in the market. Now there's eight or nine companies," Meisel notes.
Today, the top 10 markets for data center facilities each have more than 20 companies providing third-party data storage, illustrating the level of maturity and competition in the industry. Last year brought a tipping point when these companies began to partner up. Meisel says the larger firms seek to increase market penetration in a specific region, gain storage capacity and/or expand services offered.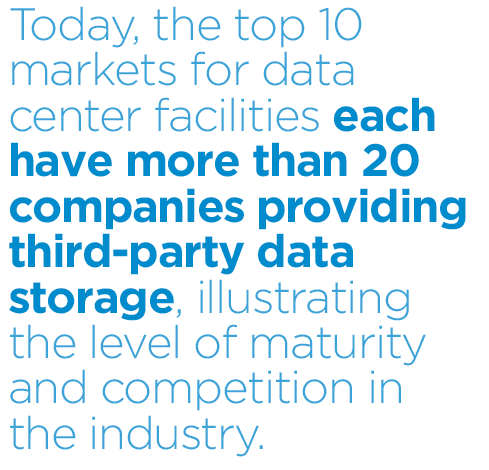 "For example, one company might be a strong fiber provider and will decide to become a player in connectivity," he says. "Or a Northwest-based firm might want to get into the East Coast market, or a wholesale digital space provider wants to get into providing retail. Cloud storage has really started everything up again following the recession, and who knows what's next."
Significant recent M&A deals include TierPoint LLC, which had been on a buying spree after its merger with Sequel Data Centers LLC in June 2014, agreeing to buy Windstream Corp., which has 27 data centers in 16 U.S. cities. Equinix announced plans to take over London-based Telecity Group for $3.6 billion earlier this year. CyrusOne bought Cervalis for $400 million to grow its presence in New York and New Jersey, and QTS Realty Trust acquired Caparthia Hosting for $326 million.
One of the largest merger deals was Digital Realty Trust. Inc.'s acquisition of Telx from ABRY Partners and Berkshire Partners for almost $1.9 billion. The transaction wasn't much of a surprise, as Telx already owned connectivity centers near many Digital Realty properties. Barclays Capital Inc. remarked that the Telx portfolio boosts Digital's footprint and provides lease-up potential in the acquired properties.
John Stewart, senior vice president of investor relations at Digital Realty, says he thinks the recession, when there was a glut in available space, marked the reset button on the data center demand/supply cycle. "We find ourselves operating from great fundamentals, where supply is in check and there's healthy demand. Data center pipelines have significantly shrunk and are highly pre-leased, even while the supply environment is improving," he says.
Meisel says investors from outside the data center sector have stayed out of it for the most part because of the particular specialization required for these properties and the critical mass needed to complete the billion-dollar deals. Eventually, industry consolidation will change the data center market by shrinking the overall number of providers and positioning those left to offer greater geographic coverage and service options, he notes.
"I think we're not near even having a situation where you've only got, say, the top eight or 10 firms. I think we've got another three-to-five years of maturing left," Meisel says.