The country's legal marijuana industry more than doubled in size in 2014, to $2.7 billion, and the commercial real estate world is starting to take notice. Reports on the industrial sector attribute extra-strong demand in places such as Denver to the growing, storage and distribution of the plants.
Investment banking firm Chardan Capital Markets recently rated annual marijuana consumption at up to $60 billion, with growth of about 8 percent annually, based on national drug data. Colorado became the new epicenter of the marijuana industry last year, recording about $805 million in combined retail and wholesale sales, according to a new report by the ArcView Group, which provides data on the legal cannabis industry. The company, a proponent of the industry, creates data on the sector for new investors. Troy Dayton, CEO of ArcView, says investors nationwide have turned their attention to marijuana as a future explosive growth market.
"It doesn't take a rocket scientist to see the industry is going to yield a lot of economic benefits," Dayton says. "One of the top business sectors to take notice has been the real estate sector."
Industrial brokers have also taken notice. Commercial real estate services firm Newmark Grubb Knight Frank, for example, said in a 2014 report that marijuana growers have absorbed more than four million sq. ft. of industrial space in Denver since the plants were legalized, lowering the vacancy rate in the region to 4.3 percent.  According to a 2014 report by Denver-based Bitzer Real Estate Partners, the marijuana industry single-handedly boosted industrial property prices in the region to levels never seen before. Investment sales transactions in the city of Denver and surrounding county reached the average price of $100 per sq. ft. last year for buildings between 10,000 sq. ft. and 30,000 sq. ft., about four times as high as prices paid before medical marijuana sales began in 2009.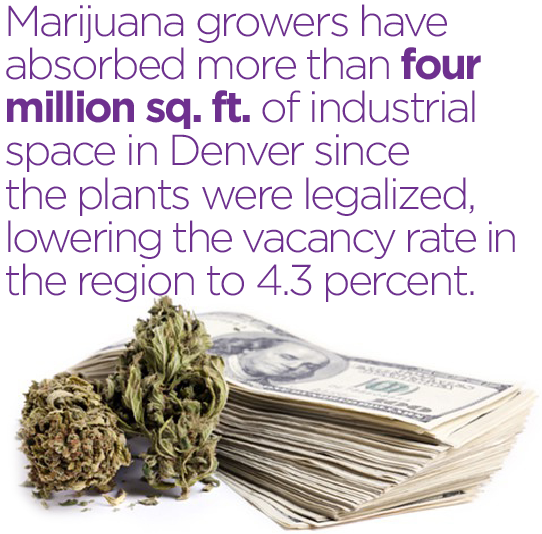 Barry Peek, an attorney with the New York City-firm Meyer, Suozzi, English & Klein PC, says marijuana will be another way that investors will enter the industrial and retail real estate sectors. Peek has become a national expert on laws pertaining to legalizing and employing those in the marijuana industry. "In New York, where it's allowed for medical purposes, it has to be grown in an enclosed greenhouse or warehouse, and that's really impacted real estate here."
Along with just the traditional social stigma of the industry, the fact that marijuana is still a Class One banned substance under federal law has kept many investors out, Peek says. Banks can't participate in the industry because of their FDIC-insured status, and there are multiple tax penalties as well, he adds.
"Even though the Feds say they will not be devoting resources to people legitimately in the business per each state law, lenders are wary because they don't want to be involved in money-laundering schemes," Peek says. "This creates businesses that only deal in cash, and that's not sustainable. It will take a while to evolve, as regulations take hold in the next couple of years. Once the banks and credit companies get involved, it should become a mainstream business."
This hasn't stopped a lot of firms from entering the sector. Las Vegas-based Medican Enterprises Inc., for example, said it recently bought a 67,000-sq.-ft. industrial facility in Phoenix for growing purposes and as a warehouse. The deal, along with another smaller property for a dispensary, is the first acquisition for the real estate and leasing business.
Dayton says his firm's new report, which will come out in full this month, now predicts annual legal cannabis sales will hit $10.8 billion by 2019, assuming a number of states now considering legalization push forward their plans. The biggest of these would be California, which Dayton estimates could double the current industry in size. He says he believes the government will repeal the federal ban by 2020.
"This is beginning of the next great American industry, you don't see multi-billion dollar industries growing at that rate," he says. "It's really a unique moment in history from an economic, cultural and political standpoint."