Though the U.S. logistics industry has recovered unexpectedly well from the last recession, reaching record highs in occupancy and absorption, experts believe the growth will peak sometime this year.
The improvement in the logistics property sector was tied to the simultaneous recovery of the global economy and increased demand for space created by e-commerce companies, who this year expect to see a 23 percent increase in sales, according to a recent report from commercial real estate services firm CBRE. Global online sales will grow to $3.5 trillion by 2019, the company said, pushing demand for industrial properties toward mid-sized and big-box distribution centers located close to major population centers.
"E-commerce is a game changer, and its impact goes well beyond the retail sector," said Richard Barkham, CBRE's global chief economist, in the report.
At the top of end-users' demand list are "last mile" infill locations in major markets, and as a result, land prices and lease rates for these properties have skyrocketed. These light industrial assets are representing a larger portion of total development, up to a third of all U.S. buildings under construction, according to CBRE. Hahmid Moghadam, chairman and CEO of Prologis, the largest U.S. industrial property owner, said in his firm's fourth quarter 2015 report that the new optimization of the supply chain has resulted in record occupancy levels.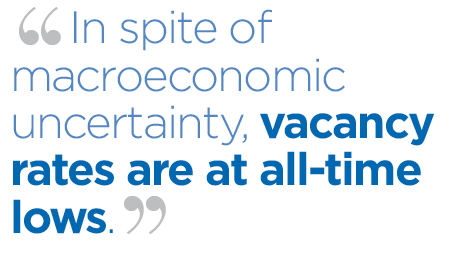 "In spite of macroeconomic uncertainty, vacancy rates are at all-time lows," Moghadam noted. "Discussions with our global customers support our view that the power of domestic consumption and the growth of e-commerce will continue to drive demand for well-located distribution space, particularly in the major gateway markets."
However, Moghadam also expects that industrial space supply and demand will reach equilibrium by the end of 2016. The market has already experienced 23 consecutive sectors of positive absorption, and for the past five years industrial completions have been at less than half of the long-term average. Developers have caught on, and speculative space is starting to hit various markets, though with seemingly more restraint than in previous cycles.
Last year was probably the peak for the growth surge in the space, and demand from tenants and building investors may temper in the next 10 months, according to Craig Meyer, president of industrial brokerage and capital markets for commercial real estate services firm JLL Americas. He says his prediction is backed by his firm's recent Global Logistics Sentiment Survey, which asked for opinions on the industrial property market from 650 logistics experts around the world. In particular, the sentiment received in the survey is that there will be a potential winding down of growth in the Americas this year. More than half of the respondents, 54.2 percent, said they believe rents will peak at some point this year, and most of the global experts agreed that capital values will peak in 2016.
"I think cap rate compression is over, I don't see how rates could go any lower," Meyer says. "I do think we've got just solid fundamentals right now, and we've seen average rent growth of about 5.4 percent across all major markets. Foreign investment is high, there's the growth of the urban logistics component, and the Panama Canal expansion should open soon, allowing larger ships with more goods to reach the coasts. For some markets, occupancy might be even too tight, like Southern California, where it wouldn't even really hurt to see a slight increase in vacancy."