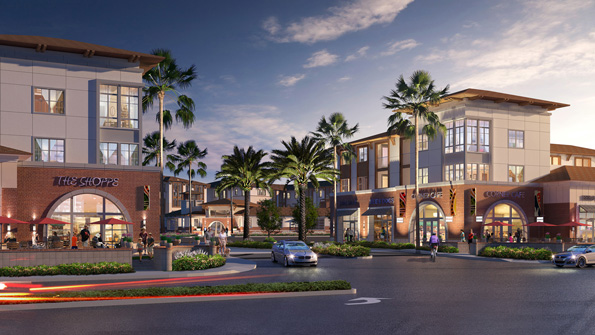 LOS ANGELES—Construction has begun on La Verne Village, a mixed-use development in La Verne, Calif. The $43 million project is being developed by Hutton Cos. and was designed by KTGY Group Inc.
Located on 7.69 acres, which used to be a car dealership, La Verne Village will have 172 luxury apartments as well as 15,000 sq. ft. of retail space.
"La Verne Village represents a collaborative effort with the local community and is text book infill, repositioning a blighted former auto dealership into the sophisticated mixed-use community this submarket is demanding," says Scott Felix, vice president of Hutton Cos., in a statement. "In a village-center atmosphere, we are creating 172 luxury apartment homes positioned above and around the retail village." 
The residential component will contain one-, two- and three-bedroom units, which will range in size from 670 sq. ft. to 1,198 sq. ft. Amenities will include a pool, fitness center, movie theater and business center.
"The design challenge was quite exciting," said KTGY's David Obitz, principal and lead designer of the project. "The result is a vibrant, fully-integrated mixed-use environment that addresses the pent-up demand for high quality housing and provides an array of retail services and dining opportunities along the Foothill corridor, and has further escalated the caliber and number of residential options and amenities in the community."
The retail space will consist of two buildings with suites ranging between 1,100 sq. ft. and 7,800 sq. ft. The developer expects cafes, restaurants, coffee, ice cream/yogurt business and hair and nail salons to be interested in the space. NAI Capital's Fred Encinas has been named the leasing agents for the retail portion of the project.