Demand for stabilized medical office buildings (MOBs) and new development is on an upswing, according to market experts, with cap rates matching pre-recession record levels.
The average cap rate for performing MOBs declined to 6.5 percent in the first half of 2015, almost reaching the record low of 6.2 percent achieved in the third quarter of 2007, according to a recent report from health care advisor firm Brown Gibbons Lang Real Estate Partners. Vacancy in the MOB sector has dropped to 10.9 percent, one of the lowest rates of any commercial property type.
The investment sales market is healthy from the demand perspective, according to the report, with 1,176 transactions completed through the first half of the year, totaling about $11.9 billion. In comparison, there were 950 transactions totaling $9.8 billion completed during all of 2014. Christopher Stai, managing director at Brown Gibbons, says among other trends, provider-based clients are conducting strategic reviews and looking closely at monetizing both core and non-core assets, transferring ownership and valuation risk, and redeploying capital towards growth opportunities and other core areas of their business, while maintaining a degree of control over the assets.
"We are witnessing an increase in provider-owned health care real estate transactions as a result of continued consolidation involving health systems and physician groups," Stai says. "This combination, along with optimal capital market conditions, is fueling investor demand for healthcare real estate, driving sale transaction volume and real estate valuations to unprecedented levels."
Keith Konkoli, an executive vice president in the healthcare division of Duke Realty, says he also sees significant interest from the investment community in the medical office space, as cap rates compress and more groups look to add this product type to their portfolios. Duke recently reported that occupancy in its MOB holdings are up from 94.2 percent in the first quarter to 94.9 percent in the second quarter. Konkoli says ambulatory facilities, including MOBs, make up 70 percent of new construction in the health care sector.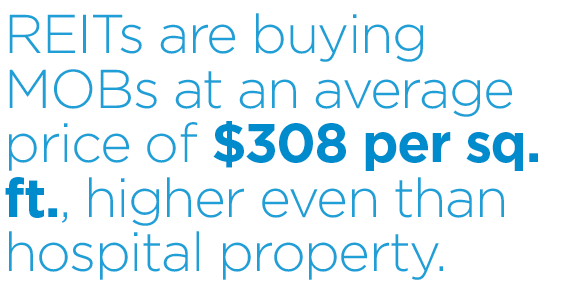 "In the case of aligned MOB product, the decision to develop or own is largely dependent on the strategy of the health system," he says. "I would say that there are more MOBs under development today than in recent past as many systems are implementing their updated strategic plans, and I expect that to continue."
There has been a lot of MOB trading recently, such as Oak Street Real Estate Capital's recent $79 million, five-building MOB portfolio sale to Carter Validus Mission Critical REIT. HFF handled the sale. Phil Mahler, managing director with HFF, says that in the past 20 years he's seen the MOB sector grow significantly from double-digit cap rates and only about a dozen investors and lenders. Today, sellers are negotiating pre-sales on their projects in order to lock-in rates. REITs are buying MOBs at an average price of $308 per sq. ft., higher even than hospital property.
"Two to four years ago, there was a healthy spread on what campus and off-campus property sold for. Now that spread has basically diminished when that MOB is well-anchored or strong tenant affiliate," Mahler says. "Even if interest rates do tick up, the demand imbalance is such that I don't think cap rates will move whatsoever."
Clinton Parker, another managing director at Brown Gibbons, says now that interest rates are not expected to go up, there should be a lot more investment activity through the next two quarters. Competition that previously included only a handful of firms has now grown to 15 to 20 top competitors, he says.
"We've seen the most cross-over in the REIT world, where typical triple-net retail acquisition groups have now stepped in and are doing deep dives into the clinical real estate acquisition model," Parker says.
"Though they're new, they're very accustomed to underwriting. It's great for sellers, as competitors coming in with more efficient cost of capital makes everyone sharpen their pencils, tighten up and get more aggressive."