Medical office investors today have to be thankful they're already in the game—vacancy in the sector is down, investment sales are at their highest and new construction is still falling behind current demand.
The national vacancy rate for medical office buildings (MOBs) is now at its lowest point since the recession, at 10.9 percent, according to a 2015 Outlook report by commercial real estate services firm Colliers International. That's down from nearly 12 percent in the second half of 2009. Ten-year lease terms and high move-out costs, along with fewer construction starts due to Affordable Care Act (ACA) concerns, have put sellers in the driver's seat for this year and the foreseeable future.
Mary Beth Kuzmanovich, national director of health care services at Colliers, says there has been a bifurcation in the market, with high demand for the newer, class-A MOBs and less demand for older facilities that lack the technology and open spaces now seen at many hospitals and health systems.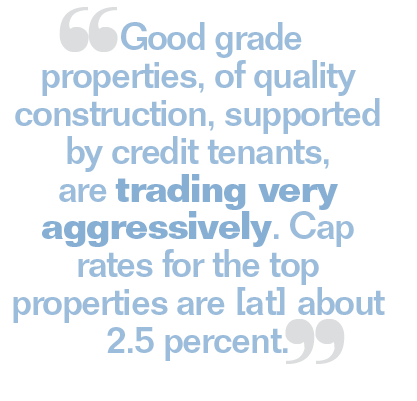 "There's definitely a shortage of good product now on the market," she says. "Good grade properties, of quality construction, supported by credit tenants, are trading very aggressively. Cap rates for the top properties are [at] about 2.5 percent."
MOB REITs, such as Ventas, Griffin-American Healthcare REIT III and Healthcare Trust of America, are circling every strong property, having dominated the acquisition market in 2014. Trusts accounted for 46 percent of the buyer volume last year, according to the Colliers report. Total transaction volume totaled $3.3 billion in the fourth quarter and $8.9 billion in 2014, both high peaks reached for the first time since the recession.
Kuzmanovich notes that though the REITs have plenty of capital, there will likely be a lull in their purchasing activity this year because there's just not enough portfolios left to buy. "I think there was this huge expectation that hospital systems would sell their properties, but that has gone very slow," she says. "The systems may want the capital, but they may see the long-term rent issue as more of a problem than a solution."
Turning to sale/leasebacks
Many health systems looked to consolidate after the ACA went into effect, and the amount of primary care physicians employed by hospital systems doubled from 10 percent in 2012 to 20 percent in 2014, according to a recent survey by Jackson Healthcare. However, there has also been an increase in bankruptcies, as technology costs skyrocket to meet ACA requirements and modern customer expectations.
Elisa Freeman, a principal at the MOB data firm Revista, says there are several recent examples of transactions involving sale-leasebacks that demonstrate that systems are more open to leasing. For example, Pinnacle Health System in Harrisburg, Penn. sold and will lease back $175 million worth of its real estate to the ARC REIT in 2014, and Good Shepard health system in Longview, Texas sold and will lease back $68.5 million worth of its real estate to Griffin American. There were also examples of hospitals and health systems being active acquirers in 2014, with deals that included St. Joseph's Mission Hospital in Orange County, Calif., which purchased five MOBs from LaSalle Investment Management, and Geisinger Health System, of Danville, Penn., which purchased about $50 million worth of MOBs in 2014.
Freeman notes there's a fair amount of construction and transaction activity for rehabilitation and long- term acute care hospitals. Companies such as HealthSouth, Select Medical, Post-Acute Medical and Landmark Hospitals have been actively developing such hospitals, and investors such as CNL Healthcare and CV Mission Critical REIT have been active acquirers of such hospitals in 2014.
"There is a high level of interest from investors in the medical office sector in 2015," Freeman says. "The sector is seeing increasing demand as a result of the shift towards more outpatient care, strong and stable tenant rolls, as well as strong and growing demographics."