Prices for apartment properties rose again in 2014 as investors bought a larger volume of properties than they did even in 2007—the biggest year of the last real estate boom for apartments.
"Investor demand for multifamily has not wavered at all," says David Young, managing director for JLL.
The market for apartment properties has matured well past the recovery from the Great Recession. Investors are looking beyond the safest core markets to find higher yields from their investment. They are also looking much more deeply into the individual details of the properties they buy—from the local employment outlook to parking in the neighborhood.
"When we are out there in a go-go economy, we tend to get analytical," says Young. So far, this analysis shows strong fundamental demand for many properties. "We feel that it is very sustainable," says Young of the demand for apartments.
These strong fundamentals continue to draw new buyers. Investors bought and sold a total of $112.0 billion of apartment properties in 2014, up 9 percent from 2013, according to data from Real Capital Analytics, based in New York City. That record-breaking volume of sales is 7 percent more than the volume traded in 2007.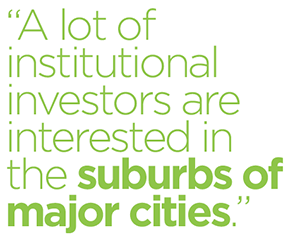 In the years since the crash, the volume of the apartment sales has grown tremendously, but the number of sales is unlikely to grow forever. The rate of growth has slowed every year. The volume of apartment properties sold doubled in 2010, rose by about one-third in 2011, increase by more than a quarter in 2012 and rose by roughly a fifth in 2013. In 2014, the increase was just over 9 percent.
That's partly because the apartment industry is later in the real estate cycle than most other property types. "The rate of growth has slowed for a number of reasons including a lack of sufficient quality product in the market, limits on agency lending, and the ongoing decline in yields," says Ben Thypin, director of market analysis for Real Capital Analytics.
Prices rise higher and higher
Property prices, which soared past the prior peak a year ago, continued higher with the Moody's/RCA Commercial Property Price Index for apartments expected to show a 15 percent increase for 2014. Capitalization rates for apartment properties ended the year at 6.0 percent on average, down slightly from 6.2 percent the year before.
Investors have already bid the prices for the most desirable properties very high. Average cap rates for high-rise and mid-rise properties in the top six metro areas fell 19 basis points to an average 4.7 percent, according to RCA.
Investors are bidding on a widening set of properties, looking at the outskirts of top property markets and center of secondary markets. "A lot of institutional investors are interested in the suburbs of major cities," says Young.
The best improvement in cap rates was for garden apartment properties in the six top major markets, which fell 42 basis points to an average of 5.1 percent in 2014, according to RCA. Average cap rates for high-rise properties in non-major markets fell 31 basis points to 5.9 percent. "These declines in cap rates can be attributed to two strategies that investors are executing in response to low yields in core high-rise markets," says Thypin. "Some investors are going out to the garden markets of the major metros and others are betting on urbanization and seeking yield in the high-rise secondary markets."