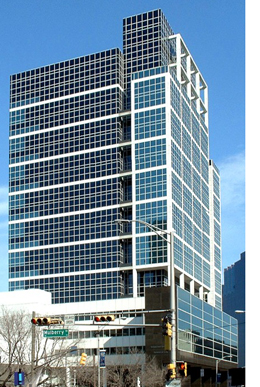 PARSIPPANY, NJ—Mack-Cali Realty Corp. has tapped Jones Lang LaSalle to serve as exclusive leasing agent for One Newark Center, 1085 Raymond Blvd. in Newark, N.J. In this role, Jones Lang LaSalle will provide a range of leasing and marketing services for the class-A, 416,000-sq.-ft. office property.
The Jones Lang LaSalle team overseeing the assignment is led by Jonathan Meisel, managing director, Aaron Ellison, senior vice president, and Chris Conklin, vice president. The team will work with Diane Chayes, senior vice president of leasing of Mack-Cali.
"One Newark Center is truly one of the premier office buildings in the Newark market," said Meisel. "The property has been more than 90 percent occupied since construction was completed in 1992. It offers the largest ratio of on-site parking of any other building in the city and provides easy access to and from the building during rush hour. We are also delighted to have been given the opportunity to work with New Jersey's preeminent office landlord, Mack-Cali Realty Corporation."
Located on Raymond Boulevard between McCarter Highway and Mulberry Street, One Newark Center was constructed in 1992. Standing 22 stories tall, the property includes amenities, such as a café with an outdoor patio, an on-site parking garage and close proximity to public transportation. In addition, the property offers access to the New Jersey Turnpike, the Garden State Parkway, Routes 1, 9 and 22, as well as Interstates 78 and 280.