Foreign institutional investors are spending heavily on U.S. assets this year, revealed JLL's global capital markets experts at the Urban Land Institute's (ULI) fall meeting, currently underway at New York's Javits Center. In fact, the inflow of foreign capital is so strong that JLL is raising its predictions on foreign investment into the United States for 2014, and is now forecasting nearly $50 billion, up from $38.7 billion in 2013.
This latest prediction follows JLL's having already raised its earlier prediction of total global direct investment transaction volumes from $650 billion to $700 billion by the close of this year. JLL now expects that the freely-flowing equity and steadily improving debt markets will cause deal volume to rise to 2006 levels.
By the end of the third quarter more than 685 U.S. assets were sold to foreign buyers with 21.3 percent of the investment taking place in New York City. While most foreign capital is flowing to gateway cities around the world, New York is particularly attractive because "compared to Hong Kong, London, Singapore and Paris, New York is cheap and probably the most liquid market in the world," says Peter S. Nicoletti, executive managing director of JLL America's capital markets group, based in New York.
Scott Letham, vice chairman of JLL's Americas capital markets president, also based in New York, agreed. "A great deal of investment activity has occurred in New York because it's a gateway for a lot of new investors. This is pushing transaction levels up beyond the previous cycle. We've already seen $30 billion in transactions so far for this year and there are another $12 billion or so in contract."
According to Latham, New York has been steadily popular with Canadian pension funds, but this year, Asian investors, especially from China, began gravitating to large office deals in New York, and alternatively to hotels.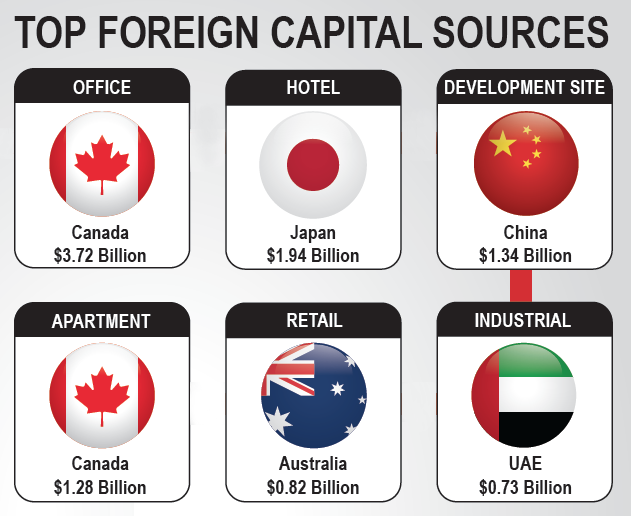 Latham said he attributes this trend to the fact that Chinese markets are "pooling." Big developers there, he said, are unable to sell the volume of apartments they expected to sell, so instead, they are placing some of their capital offshore.
In New York so far this year, foreign investment into office properties has accounted for 31 percent of the total volume; as well as 10 percent of all multifamily; 29 percent of land purchases; 27 percent of retail deals; and 62 percent of hotel purchases, although Latham noted that the recent purchase of the Waldorf Astoria from Hilton Worldwide Holdings by a Chinese insurance company for $2 billion has "obviously skewed that figure."
And this is "just part of the journey," said David Green-Morgan, JLL's director of global capital markets research. "The types of investors and ways of investment in 2014 are very different from 2006," he said. "There is a whole wave of new investment around the world. It' a perfect storm…Real estate could become a trillion dollar market around the world by 2020 to 2025."