CHICAGO- From swanky restaurants and nightclub dance floors to the world's most breath-taking scenic overlooks, faces in every crowd are locked on the screens of handheld devices. Rather than struggle for tenants' attention amid these ubiquitous distractions, commercial property managers are learning to engage building occupants virtually, building a sense of community even as they obtain valuable feedback and drive down operating costs.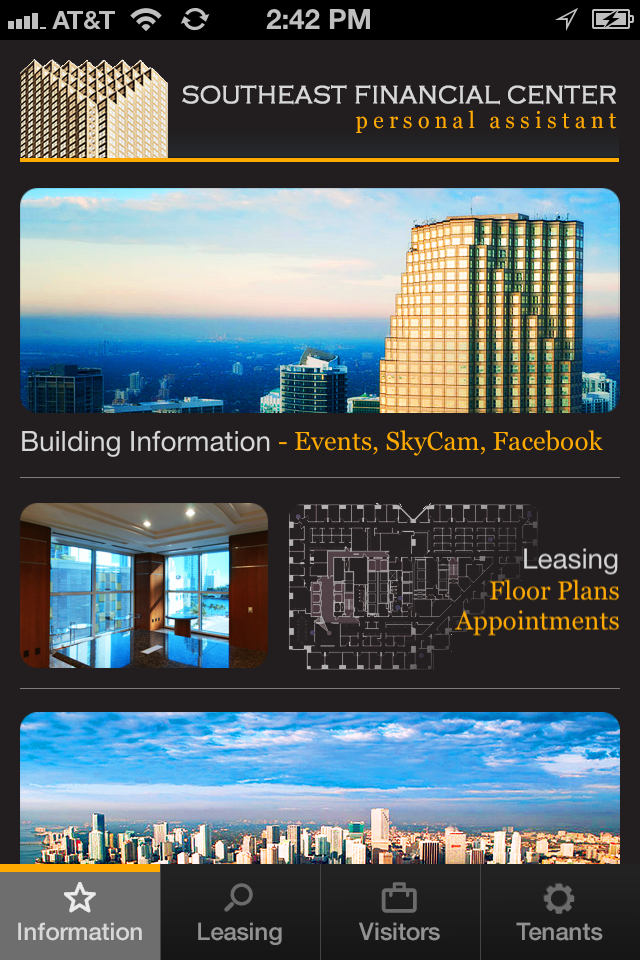 "Just as employers want to engage employees, property managers want to engage their tenants," said Emily Watkins, Senior Vice President of Innovation and Product Development for Jones Lang LaSalle. "Using mobile devices in concert with gaming and social media technology helps managers to do just that."
Jones Lang LaSalle researchers took a look at the innovative ways property managers are implementing new technology, making some interesting findings:
Appetite for Apps. Development and use of mobile apps, or programs for download on mobile devices, is exploding. The mobile app smart phone market will generate more than $35 billion by 2017, up from less than $1 billion in 2009, according to a report by Boston researcher Strategy Analytics. By 2018, users will have downloaded more than 350 billion smart phone and tablet apps, the company predicts.
At Southeast Financial Center in Miami, tenants can program heating and cooling even when the building is closed using the App for Commercial Office Buildings. The same app serves as a marketing tool for brokers and potential tenants, providing building images, space layouts and other building information along with links to local for business resources.
"We wanted to harness mobile technology to create convenience for our tenants, efficiencies for our management and engineering teams, and connectivity for potential clients and visitors," said Delber Mendez, Jones Lang LaSalle's General Manager at Southeast Financial Center. "The app has been hugely successful in reaching those goals."
Game On. Game platforms like Badgeville or Bunchball can engage tenants' employees with building operations and gauge opinions about building services while building a sense of community. Comparable to Games with Friends or Farmville, gamification initiatives might bring tenants into an energy conservation competition, or users might earn virtual badges or rank high on leader boards after completing tasks like reading documents about energy conservation, viewing business-specific videos, or offering solicited feedback.
Companies will spend more than $2 billion on gamification services by 2015, according to "Gamification in 2012," published by M2 Research. By the end of 2013, enterprise uses will overtake consumer demand as the dominant gamification drivers, M2 predicts.
Look Ma, No Hands! Machine-to-machine technology (M2M) enables machines to collect, process and share information without human intervention. Essentially, these building systems continuously monitor and can even automatically repair heating, ventilation and air conditioning operations and equipment, as well as water, fire and life safety systems.
"Machine-to-machine technology is preventative maintenance at its finest," said Bob Best, Executive Vice President of Chicago operations and product lead for Jones Lang LaSalle's Energy and Sustainability Solutions Group. "By addressing equipment issues before they occur, we can avoid shutdowns or uncomfortable building conditions—preventing productivity or revenue losses for clients. This is in addition to reducing energy use and maximizing property managers' and engineers' time."
The M2M industry will grow 23 percent annually over the next decade, the Carbon War Room predicts in its report, "Machine to Machine Technologies: Unlocking the Potential of a $1 Trillion Industry," published in February 2013. By 2020, some 12.5 billion devices will be M2M-capable, the company predicts.
About Jones Lang LaSalle
Jones Lang LaSalle (NYSE:JLL) is a professional services and investment management firm offering specialized real estate services to clients seeking increased value by owning, occupying and investing in real estate. With annual revenue of $3.9 billion, Jones Lang LaSalle operates in 70 countries from more than 1,000 locations worldwide. On behalf of its clients, the firm provides management and real estate outsourcing services to a property portfolio of 2.6 billion square feet and completed $63 billion in sales, acquisitions and finance transactions in 2012. Its investment management business, LaSalle Investment Management, has $47.7 billion of real estate assets under management. For further information, visit www.jll.com.