A gradual transformation from an economy led by the traditional FIRE firms (finance, insurance and real estate) to the current technology-led trend has forced office-using companies to update their employee attraction tactics.
The current acronym for investors in office properties to know is STEM—which stands for science, technology, engineering and math. Office building owners and investors looking for the next wave of growth need look no further than industries such as health care and energy, job markets where STEM dominates. In the next few years, however, the chase for employees with those skills will become more frantic. The U.S. is faced with a coming labor gap as baby boomers begin to retire. For example, almost 55 percent of the energy industry's current workforce may retire over the next decade, affecting both the office and manufacturing sectors, according to a recent report from commercial real estate services firm JLL.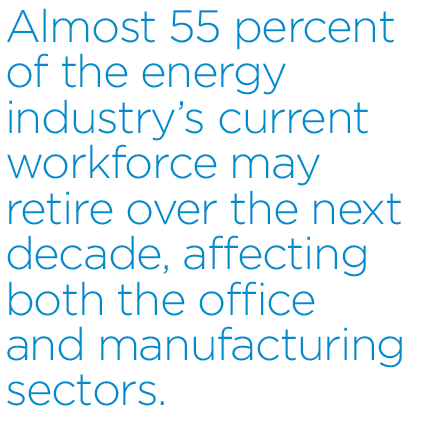 Companies, as well as cities and town struggling to find economic traction following the recession, are now competing to attract STEM-educated employees. For example, on Wednesday, Baltimore leaders released a study showing that the city must focus on providing STEM training to its residents to meet the coming global need. The report, commissioned by the Greater Baltimore Committee and Associated Black Charities, features interviews with top business leaders who stress how STEM workers will boost the city's attractiveness to office space users. Government officials in other areas are also reporting great need for STEM workers. The Florida Department of Economic Opportunity recently reported that STEM job needs increased in the state from about 50,000 in March 2011 to almost 75,000 jobs in November 2015.
The demand for these types of jobs shows in the staggering difference in pay scale. Workers with a STEM background typically earn about $58,504 on average annually, about 61 percent more than workers in non-STEM occupations with similar levels of education, according to the Baltimore study. Many college graduates with STEM degrees go on to earn six-figure salaries due to high demand.
The way this trend affects the office sector is that these types of working have been showing they are not moving to where the jobs are, but instead want to choose where to live and have the jobs to come to them, says Lindsay Brown, co-leader of JLL's global oil & gas group. He's tracked the STEM trend as it has boosted the energy sector. Brown says companies need to recruit STEM-trained Millennials by expanding into markets where these workers want to live.
"Twenty years ago, nobody went into energy jobs, it was all about the dot.com industry," Brown says. "Just in the past five to seven years, there's been this odd cycle where both energy and technology markets were in sync with growth, that doesn't usually happen. That's been a big economic driver."
Many job analysts have bemoaned the advent of technology as it eliminated many jobs and crippled parts of the U.S. economy by layoffs due to automation. However, another study released in November by James Bessen, an economics professor at the Boston University School of Law, shows that these machines are creating more jobs than they are destroying. The new jobs of building and maintaining the machines, however, require the STEM skill sets, Bessen said in his report. Colleges have responded to the challenge with a 25 percent increase in computer science and engineering degrees since 2001, to 146,000 degrees in 2012, according to the U.S. Department of Education.
Brown says office building owners and investors should focus on where the STEM talent is and build/own properties in those markets.
"Expansion into STEM-educated, Millennial, talent-rich markets like Denver, Pittsburgh, Nashville and Austin is being driven by Canadian and U.S. companies alike," he says. "This is a great time to tackle the industry's pending talent shortfall. Companies have no choice—if they don't follow the STEM workers, they won't get good people."