The national vacancy rate for the office sector remained unchanged at 16.8 percent in the third quarter. The vacancy has not budged all year, wedged at a level that is only 80 basis points below the cyclical high observed four years ago. On a year-over-year basis, vacancy has fallen just 10 basis points, with the only decline coming in the fourth quarter of 2013.
However, a few qualifications are necessary in this case. There has been some activity in office leasing, with net absorption in the third quarter totaling around 8 million sq. ft. This is not a particularly high level (it falls below levels seen in the fourth quarter of 2013 and the first quarter of 2014), but it did more than double the miniscule total from the second quarter of this year. It also outpaced the 5.8 million sq. ft. of completions for the quarter. Construction and absorption tend to be closely linked with each other at this point in the recovery because of the challenges of financing new office developments: most projects still need a significant amount of pre-leasing before lenders will commit.
Still, with vacancies hovering at 430 basis points above the cyclical low of 12.5 percent, last observed in the third quarter of 2007, the pace of improvement in office fundamentals has truly been glacial. Even with net absorption outpacing completions, leasing activity is not yet strong enough to push vacancies down. For that to change, payrolls need to expand. Fortunately, job growth continues to improve, at least based on year-to-date figures from the Bureau of Labor Statistics, relative to monthly averages from 2012 and 2013. Many employers still have unused space to be utilized by new hires, but as empty office space begins to fill, employers will start searching for new space if business continues to improve. Ultimately, this should cause vacancies to fall, but whether or not they will fall at a substantially faster rate remains to be seen—especially if we the economy remains in the 2 percent growth rate in the near term.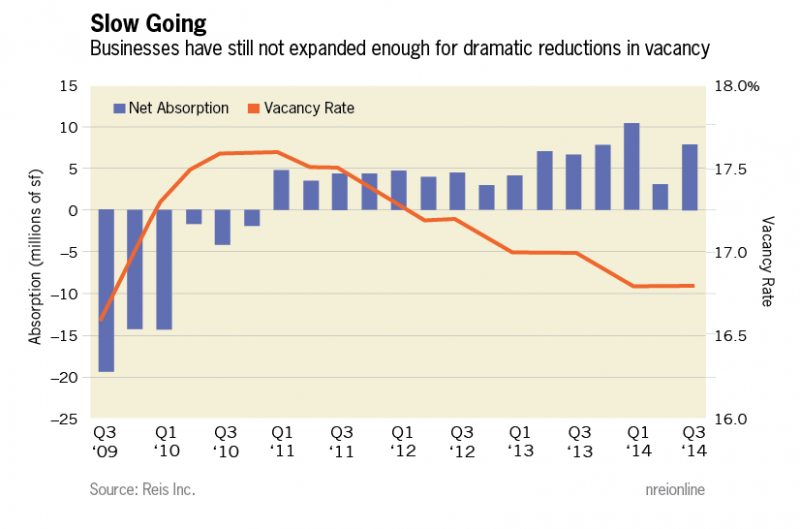 Rent growth pulls back in third quarter
Asking and effective rents grew by 0.4 percent and 0.5 percent during the third quarter, representing a slight deceleration versus the first and second quarters, when both asking and effective rents registered 0.7 percent increases. Rents have now risen for 16 consecutive quarters, and year-over-year growth figures show slow, but steady improvement. Asking rent growth averaged 1.6 percent in 2011, 1.8 percent in 2012, 2.1 percent in 2013, and 2.5 percent over the prior 12 months, ending with the second quarter of this year. During the third quarter, the 12-month change in asking rent increased just slightly to 2.6 percent. Given how elevated the national vacancy rate remains, we should not expect much acceleration in rent growth until the vacancy rate tightens to below 14 percent. Only then will landlords have the leverage to increase rents at a greater pace. Until such time, rent growth should only slightly outpace inflation, partially because many leases often come with inflationary clauses that cause nominal asking rents to increase by some commonly-used measure of inflation, typically CPI.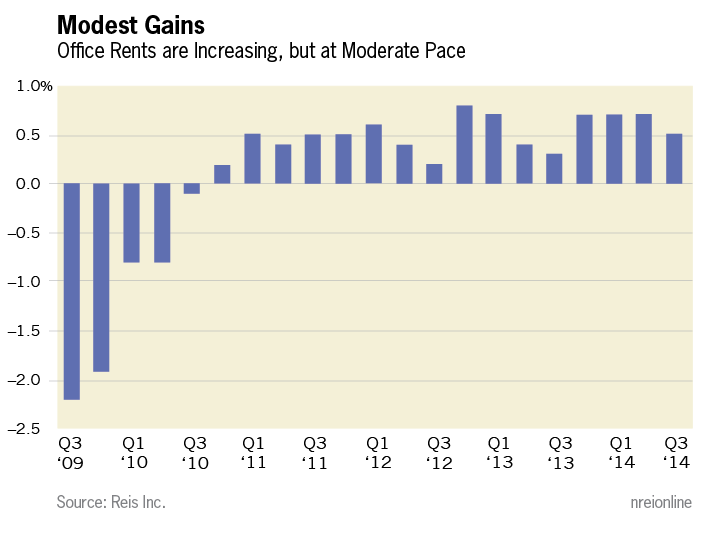 Handful of markets lead the way
Only a handful of technology- and energy-oriented markets, such as Raleigh-Durham, San Jose, Houston, Austin, and Seattle, boasted supply growth rising above 300,000 sq. ft. during this period. The same industries also drove absorption during the quarter, with the top markets including New York (thanks to Silicon Alley), San Jose, Houston, Seattle, Raleigh-Durham and San Francisco. Only Los Angeles bucked that trend, but  the city ranks near the top because of the absolute size of the market. The markets with the strongest rent growth during the most recent quarter also include many of the same names from last quarter, such as San Francisco (+1.3 percent), Dallas (+1.0 percent), San Jose (+0.9 percent), Seattle (+0.9 percent) and New York (+0.7 percent).
Also of particular interest is our nation's capital. District of Columbia retained its title as the tightest market (as measured by lowest vacancy rate) with a 9.4 percent vacancy rate at the end of the third quarter of 2014, down 20 basis points from one year ago. Effective rent growth of 0.1 percent for the quarter was only middle of the pack, but annual rent growth of 1.8 percent was decidedly better. Suburban Maryland and suburban Virginia exhibited effective rent growth of just 0.2 percent and 0.1 percent, respectively, during the quarter. Fundamentals in these two metros may be suffering from supply additions. Both markets ranked among the top 10 metros with the largest amount of construction activity during the quarter.
Expectations moving forward
Despite what appears to be somewhat stagnant results for the third quarter, there are reasons to look at the glass as being half full. The economic outlook for the end of 2014 remains optimistic, even more so than earlier this year. The weakness in the economy during the first quarter was clearly an anomaly. In three of the last four quarters the economy experienced grown between 3.5 percent and 4.6 percent, far in excess of its long-run growth rate and indicative of an economy that is finally showing some strength. The labor market data is also heartening. Through October, average monthly job gains have been roughly 230,000 jobs per month, well ahead of last year's pace. October's reading came in below expectations, but was still above 200,000. This rate of job growth, if it persists, should be strong enough to start pushing down office vacancy rates.
Therefore the economic backdrop is conducive for ongoing improvement in the office market. We still anticipate that rents will only grow by roughly 2.6 percent in 2014, but rent growth will pick up in 2015. Vacancy should continue to drift lower throughout the end of the year and in 2015, but vacancy compression will still be extremely sluggish.
Brad Doremus is Senior Analyst, and Victor Calanog is head of research and economics, for New York-based research firm Reis.