For the second consecutive quarter, the national vacancy rate for neighborhood and community shopping centers registered at 10.3 percent. This represents a decline of just 20 basis points over the past 12 months. In the three years since reaching its cyclical high, retail vacancy has only mustered a decline of 80 basis points. With the recoveries in GDP and the labor market only recently accelerating, retail has lacked a serious driver of growth, and the pace of vacancy compression reflects this. However, the sector is not retrenching, and the recent improvement in the economy portends a more robust recovery in the future, though not in the near term.
Weak demand remains the primary culprit behind the lack of acceleration in the improvement of fundamentals. The retail sector continues to grapple with a slow recovery in retail sales and competition from e-commerce. The improving labor market has yet to translate into any meaningful uptick in retails sales growth; retail sales fell 0.3 percent in September. Moreover, the fallout from store closures has not passed and continues to evolve. Dollar Tree's acquisition of Family Dollar during the third quarter creates the potential for store closures from a sector of the market that has been performing well. The combined entity will have multiple stores within the same trade areas, which will likely lead to closures. Hundreds of stores could be closed in the future, totaling millions of square feet that would be returned to the market.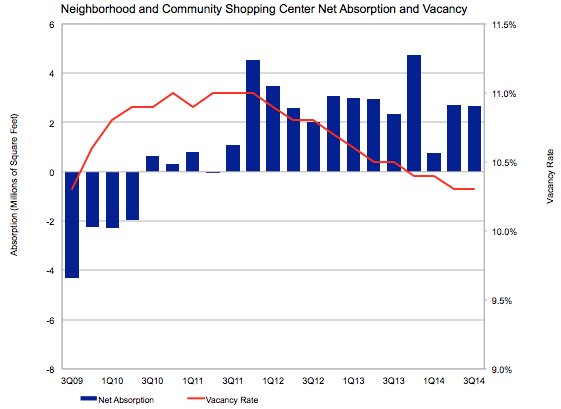 The weak demand mentioned above is reflected in recent net absorption figures. Net absorption totaled 2.7 million sq. ft. during the third quarter, a slight deceleration from last quarter. Absorption through the first three quarters of the year is about 25 percent below what it was at this point in both 2012 and 2013. Given these figures, there is little surprise that vacancy compression has been so slow. Demand is just too low at this point to support any meaningful leasing activity.
Slow build-up
Meanwhile, construction activity remains muted, totaling 1.4 million sq. ft. during the third quarter, which is roughly 16 percent lower than in the second quarter. With demand so depressed, investors and developers have little incentive to build new product in the current market. The few properties actually being constructed are greenlit due to the pre-leasing they obtain before developers break ground.
Speculative new construction remains virtually absent from the market. We expect this dynamic to persist for the foreseeable future. Speculative development is inherently risky no matter what the market conditions, but even more so when demand for space remains at the relatively low levels observed today.
Unsurprisingly, quarterly rent growth has not accelerated over the last year. During the third quarter, asking and effective rents grew by 0.4 percent. Quarterly rent growth has now been in the 0.3-0.5 percent range for seven consecutive quarters. Although vacancy is technically tightening, the rate remains far too high for landlords to have any real pricing leverage over tenants. Consequently, even on a year-over-year basis, rent growth has increased only marginally. Asking and effective rents grew by 1.7 percent and 1.9 percent, respectively. This is virtually unchanged from last quarter and only slightly faster than the pace in 2013. Until vacancy declines into the single digits, there will not be much acceleration in rent growth. Therefore, our near-term outlook has rent growth struggling to keep pace with inflation.
Momentum Slows for Malls
Regional mall vacancy remained at 7.9 percent for the fourth consecutive quarter while asking rents grew 0.5 percent, the seventh straight quarter with growth in the 0.4-0.5 percent range. Malls began their recovery sooner than neighborhood and community centers, but have stalled faster. Worryingly, vacancy has stalled above levels that are indicative of a healthy market environment. Much of the vacancy compression has come from low-hanging fruit as the best spaces in the best malls have already been leased. True, class-A malls have few vacant spaces remaining. What remains will be more challenging to lease, predominantly space in somewhat inferior malls. These malls cater to more typical consumers who continue to struggle. The challenge this poses for the overall mall sub-sector is that any further vacancy compression will need to arise from these inferior malls. Moreover, the ongoing store closures will only serve to put upward pressure on vacancy. This tug of war will determine future vacancy rates. Over the medium term, the ongoing economic recovery and the acceleration in payroll expansion should more than offset the negative impact of store closures and put downward pressure on vacancy. However, the recovery should be slower from this point forward.
Outlook
The recoveries in both the economy and labor market have shifted into a higher gear. This portends good things for the American consumer and the retail sector. A tightening labor market not only puts more people to work, which creates more discretionary income to spend in retail centers, but also results in competition for talent which ultimately causes income growth to accelerate. Although the labor market recovery has yet to reach that stage, we anticipate a return to full employment during the forecast horizon. Therefore, expect modest improvement in the near term, with inflation-like rent growth and slight declines in vacancy. Toward the end of the decade, we anticipate a far tighter labor market, vacancy hundreds of basis points below today's levels, and rent growth more than double the rate of today.