The U.S. commercial real estate market is famously attractive to foreign investors. These investors often seek "trophy" assets when they enter the market, not only because of perceived stability and liquidity, but also because they announce one's arrival at home and in the United States. The latter reason has long made hotels a "gateway" asset for foreign buyers, thanks to the ease with which they can be explained and publicized both here and at home. When one buys the New York Palace, for example, one duly garners the attention of both competitors and would-be sellers. These investors often follow their hotel investments with more traditional purchases in other sectors (a recent example would be Anbang, which followed the purchase of the Waldorf Astoria hotel with an office condominium).
Investors are beginning to awaken to the idea that there might be another form of gateway asset that offers many of the same benefits of trophy hotels or office buildings, as well as some peculiar advantages. That asset type is high street retail. Like a hotel, a prominent piece of high end retail is easy to explain at home due to the fame of addresses (Fifth Avenue, Madison Avenue and Soho are de facto global brands) and tenants (Gucci, Valentino, Zara and H&M are actual global brands). The large deal sizes of high street retail acquisitions garner publicity in the market in which high street retail is purchased. Furthermore, the exit market for these assets is very liquid and the depth of tenant demand creates stability. In addition to these similarities to trophy hotels, high street retail offers an advantageous distinction: simplicity.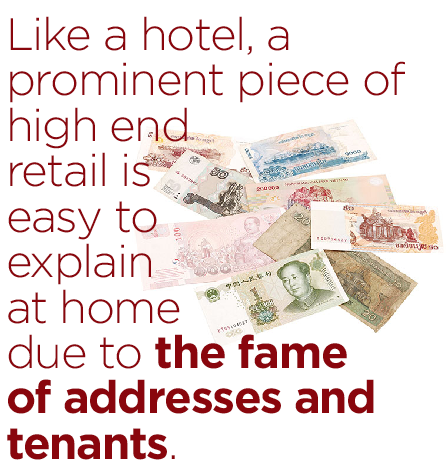 Foreign investors typically move slower than domestic ones with respect to due diligence, which can put them at a disadvantage in competitive processes. In effect, they often have to win by a wider margin in order to entice a seller to work with their timing. High street retail can remedy this challenge. Unlike an office building that may have many leases or a hotel that is also an operating business, diligence on trophy high street retail typically focuses on under a handful of leases and a condominium declaration (such spaces are often carved out of larger buildings). Most institutions can process this information quickly and not have to literally "buy time." This leveling of the playing field is enticing for investors.
Given this fact pattern, and the paucity of trophy hotels and office assets available in the market, I predict that foreign investors will begin to take a much closer look than ever before at high street retail. While the prices per square foot are the highest of any market, the rents and yields are commensurately strong. And retail benefits from a wonderful physical phenomenon that no other asset class enjoys: the island of Manhattan can get taller, but not wider. And every time it gets taller that means more people are shopping in the same amount of grade retail space.
Will Silverman serves as managing director and group head of investment sales in Hodges Ward Elliott's New York office.