After the second quarter came to a close, median retail cap rates held steady at 6.18 percent, as property owners and investors engaged in tougher negotiations over final pricing before closing sales, according to the latest net lease market report from The Boulder Group. Auto parts retailers were best-positioned as tenants in the quarter.
"It was just a matter of pricing," says John Feeney, a vice president at The Boulder Group, headquartered in Northbrook, Ill. Property owners have tried to take advantage of the low cap rate environment to get the most attractive pricing for their listings, according to the report. Investors, however, bargained harder to get what they feel is the best value for their capital.
That bargaining dynamic lengthened the timeline for marketing properties by approximately 11 percent, compared with the previous quarter, Feeney says. Despite the fact that investors pushed back on aggressively priced properties, the spread between asking and closing prices narrowed by two basis points, and now stands at about 26 basis points, Feeney says.
A DIY Spirit Drives Auto Parts Store Health
Thrift and do-it-yourself resourcefulness worked out to favor retail cap rates in the second quarter, ultimately. Auto Zone—the Memphis, Tenn.-based retailer with more than 5,000 stores—and Advance Auto Parts, based in Roanoke, Va., with 5,200 stores, had median asking cap rates of 5.0 percent and 5.9 percent, respectively, on stores built between 2011 and 2016.
The cap rates on stores as much as 10 years old were a little higher, but still in the single digits: 5.50 percent for Auto Zone and 6.75 percent for Advance Auto Parts. The auto industry is positioned to help keep auto parts stores in business and cap rates narrow, say industry observers.
Americans are driving older cars, putting the average age of cars on the road at 11-and-a-half years, Feeney says, citing data from IHS Automotive, driven by Polk, the combined company that tracks auto industry data.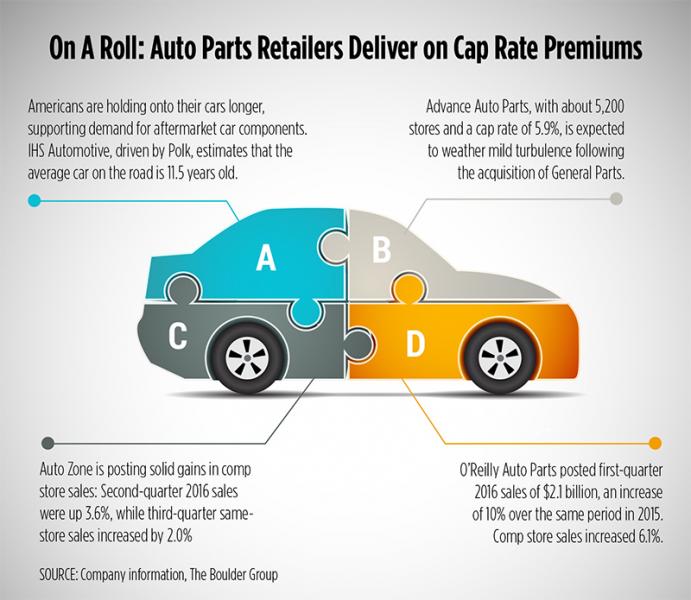 "They expect that the average will increase through 2018," Feeney says. "That bodes well for the auto parts retailers, as cars will need to be fixed and the DIY segment continues to grow."
In a recent research note about the auto parts sector, and Advance Auto Parts in particular, Morningstar noted that the retailer should continue to perform well in a market where demand for aftermarket car components is strong.
"Larger retailers are able to replenish store inventory faster than smaller industry participants," according to the note. "[They] are able to leverage inventories of infrequently purchased parts held at distribution centers across a vast store network, increasing turnover."
'A Safe Haven'
The scale of larger retailers encourages suppliers to extend attractive payment terms to the retailers, which essentially finance the firms' inventory investments. It enhances auto parts retailers' working capital in a way that smaller scale peers cannot replicate.
Advance Auto Parts is particularly undervalued relative to its peers, Morningstar notes. The company acquired General Parts in 2014, and integration of the latter has not been as smooth as expected. Initially, comp store sales picked up after the acquisition, but slowly flattened out until the company reported its second-quarter performance. Comp store sales from fourth quarter 2015 fell 2.5 percent. Losses were less severe on first-quarter 2016 comps, which dropped 1.9 percent.
Management turnover has been the most visible issue. Thomas Greco joined Advance Auto Parts as its CEO in April, replacing George Sherman, who had been interim CEO since January. Sherman succeeded Darren Jackson, who stepped down in November 2015. Jackson left the company after Starboard Value, the activist investment fund, obtained a 3.7 percent ownership of the company's shares and began pushing for changes.
Although recent senior leadership changes increased uncertainty at the company, according to Morningstar, it said it believes patient investors will be rewarded as the company overcomes sales declines associated with the General Parts integration and tightens other operational issues.
Meanwhile, Feeney says net lease promises are still considered a safe haven for investor capital.
"We still expect some upward pressure on prices going forward," he said. "In the near term, things will remain relatively stable."