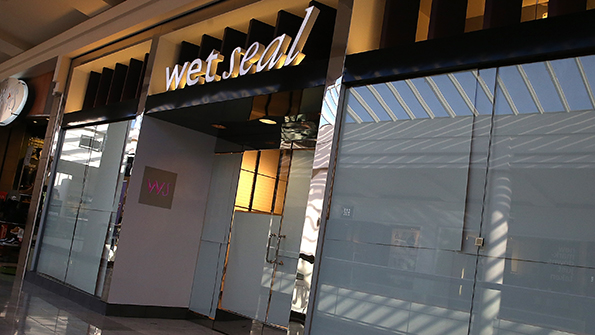 This year's first retail casualty may be teen apparel chain The Wet Seal. The Foothill Ranch, Calif.–based retailer, which was founded in 1962, announced on Jan. 7 that it is closing 338 of its 528 stores, which constitutes two-thirds of its portfolio. The chain plans to continue to operate approximately 173 stores and to keep its online business going.
According to Bloomberg, shares in Wet Seal Inc. surged in response to the announcement. After seeing its shares fall 98 percent last year, the chain's shares more than doubled to close at 13 cents yesterday.
According to CoStar Group, the retailer decided to close the majority of its stores "after assessing its overall financial condition following unsuccessful negotiations to wring meaningful concessions from its landlords."
Bloomberg reports that the closings are coming after the chain failed to win concessions from landlords, and nearly 3,700 jobs will be lost as a result. The 338 stores that Wet Seal plans to close represented approximately 48 percent of its sales between Feb. 1 and Nov. 1. Wet Seal had been trying to cut costs after losing over $150 million over the past two years, Bloomberg notes.
Wet Seal had warned on Dec. 10 that it was having trouble resolving its cash issues and may file for bankruptcy protection if it did not resolve its financial issues, according to the Associated Press.
The Associated Press speculates that the problems of teen clothing retailers like Delia's Inc. and Deb Stores, both of which filed for Chapter 11 bankruptcy in December, as well as similar chains whose sales are down, like H&M and Forever 21, are due to the fact that teens are "more interested in outfitting themselves with the latest tech gadgets than new jeans."
Reuters reports that Wet Seal's announcement follows on the heels of Sears' announcement in December that it planned to close 235 stores by the close of 2014, which was nearly double its projection of 130 made in August, in an attempt to return to profitability.
Retail mall vacancies rose from 7.9 percent in the third quarter to 8 percent in the fourth quarter, "marking the first quarterly increase since the third quarter of 2011," notes commercial real estate analyst Reis, according to Reuters. Meanwhile, in a report released on Jan. 6, Reis noted that asking and effective rents for shopping centers grew by 0.5 percent in the fourth quarter, increasing slightly faster than in the third quarter.
Wet Seal expects to pay about $5.4 million to $6.4 million in charges connected with its store closings, the Associated Press reports.