About six months ago, regional mall REITs began to scrutinize their portfolios even more intensely than before. Portfolio pruning among the retail REITs started in earnest a few years ago, but in light of the current low cap rate environment and increasing warnings about this year seeing the end of the commercial real estate bull run, these REITs saw an opportunity to both strengthen their existing asset holdings and capitalize on lower-quality malls. Most are holding onto their class-A properties. But what about class-B malls? Increasingly, over the past three months, the REITs began divesting of class-B centers in earnest, selling them off to institutional investors and private buyers.
In 2015, the REITs sold a total of 20 class-B and class-C malls, according to Newport Beach, Calif.-based research firm Green Street Advisors. This year, that volume will likely increase, the firm's researchers anticipate.
Class-B malls are expected to see short-term net operating income (NOI) growth of only 1.4 percent, and in the long-term growth might shrink to reach -.4 percent, according Green Street data. Compare that to the firm's projection of 3.9 percent short-term NOI growth and 1.8 percent long-term NOI growth for class-A malls. The firm also expects overall U.S. Mall REIT NOI growth to drop to 3.0 percent by 2020.
Yet the REITs are finding interested buyers for the class-B malls, even though many of the properties might be in need of heavy redevelopment to improve incomes. In the most high-profile example of this play, global alternative asset manager Brookfield Asset Management struck a deal to acquire Rouse Properties, a REIT with a portfolio of about 35 class-B malls, on Feb. 25. According to its website, Brookfield manages about $225 billion in real estate globally, in a mixed private and public structure. The deal will close in the third quarter of 2016.
Over the past five years, 40 percent of mall acquisitions were driven by private buyers and 21 percent by institutional investors such as pension funds, according to New York City-based research firm Real Capital Analytics (RCA).
The new owners are pouring large amounts of capital into the assets they've bought, which often require re-tenanting, redevelopment and renovation to reach their maximum profitability. Many private investors, not having the management and operating experience of REITs, lack the expertise to undertake these projects on their own, however.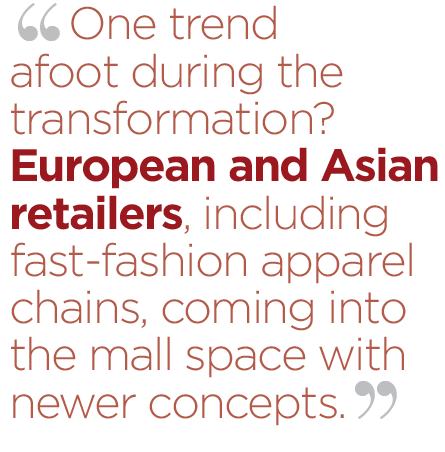 This trend is creating an opportunity for third-party managers to move into the regional mall business in a bigger way than before. For example, commercial real estate services firm CBRE is building out an operational team focusing solely on the retail sector. CBRE hired mall veteran Mark Hunter as its managing director of asset services, retail. Hunter's 35-year career included stints managing such megamalls as Chicago's Water Tower Place and King of Prussia Mall in Pennsylvania; he also closed over 15,000 leases valued cumulatively at more than $12 billion in minimum rent.
"Our strategy is dependent on the market and the client. Say the client needs to fill two anchor spaces, one can be retail sub-divided and [the] other can be torn down and developed into mixed use, multifamily and office," Hunter says about CBRE's potential strategies for improving performance at class-B malls.
Margaret Caldwell, managing director in the retail capital markets group of real estate services firm JLL, says she has also seen the pace of sales of retail properties picking up speed over the past year.
"Our hope is some buyers will reposition them," says Margaret Caldwell, managing director in the retail capital markets group of real estate services firm JLL. She has seen cases of total repositioning, where a property has been de-malled and turned into a power center.
Adapting to a changing world
The regional mall sector is changing, spurred on partly by the rise of e-commerce. "Physical retail properties had to adapt," Hunter says. "Retail is always evolving, always changing."
One trend afoot during the transformation? European and Asian retailers, including fast-fashion apparel chains, coming into the mall space with newer concepts, according to Michelle Panovich, a principal of asset management at Mid-America Real Estate Group, a full-service retail real estate firm. These retailers often help fill spaces left vacant as department stores and big box retailers close their less profitable stores.
Today, retail real estate professionals are also less intimidated by the threat of e-commerce competition, seeing it as a potential opportunity. Compared to total retail sales, valued at $3.2 trillion, online sales comprise only 9 percent, according to Scott Weaver, senior managing direct of asset services, retail, at CBRE. The remaining $2.9 trillion in sales are done offline. A recent report from research firm Forrester, "US Cross-Channel Retail Forecast, 2015 to 2020," found that multi-channel distribution is going to keep growing across both online and brick-and-mortar sectors.
Caldwell does not consider the advent of e-commerce a threat, saying it instead "makes retailers more savvy."
Panovich agrees. "E-commerce is a driver, a way to build marketing momentum."
Her firm is currently redeveloping southwest Chicago's 1.26-million-sq.-ft. Ford City Mall and looking at technology as a boon. Mid-America plans to add attractive technology features, such as property-wide Wi-Fi and e-coupons, to entice customers to visit the property.
But depending upon the market they are in, class-B malls—and even more so, class-C malls—can be tough to redevelop into successful retail assets. To be profitable, they might need the addition of alternate uses, such as medical offices. Class-B malls will follow the trend of becoming "destination centers," contends Caldwell, relying on the "social aspect of retail" to drive shopper traffic.
"You are going to see certain malls redeveloped to become lifestyle centers," says Weaver, who adds the destination center trend will also continue.