Struggling toy retailer Toys"R"Us Inc. appears to be shaking up its bricks-and-mortar strategy, adding play spaces to its stores and reportedly shuttering its iconic Times Square location.
The Wayne, N.J.-based company has not confirmed the closure of the 110,000-sq.-ft. flagship store, but it has confirmed the lease expires in 2016 and that it's evaluating options. Meanwhile, Chairman and CEO Antonio Urcelay detailed plans to open a prototype store this year that features floor space dedicated to play areas and new technology to engage children.
Urcelay, who took over the position in 2013 after running the Toys"R"Us European division, discussed the new strategy during a recent presentation for investors. The company, which was once publicly-traded but was taken private in 2006 by Bain Capital Partners, KKR & Co., and Vornado Realty Trust. The changes are part of a strategic plan Urcelay introduced in 2014 called "TRU Transformation."
"A year ago, we introduced a new strategic plan, with initial efforts concentrated on strengthening the foundation of the company so revenue and profits can grow in the future," Urcelay said in a statement. "During 2014, we made steady progress in implementing this plan, successfully delivering on our commitment to slow sales decline, stabilize cash flow and improve EBITDA."
Toys"R"Us operates 872 Toys"R"Us and Babies"R"Us stores in the United States, Puerto Rico and Guam, and more than 725 international stores. In addition, it exclusively operates the legendary FAO Schwarz brand and sells toys in the brand's flagship store on Fifth Avenue in New York City.
In 2014, net sales were $12.4 billion, an increase of $61 million, or 0.5 percent, compared to the prior year, excluding a $243 million negative impact from foreign currency translation. The improvement was primarily due to an increase in net sales from new international stores and comparable store net sales. Domestic comparable store net sales were down 1 percent, compared to 5 percent in 2013, while international comparable store net sales were up 1.8 percent.
Will play areas translate into sales?
When Bain, KKR and Vornado took the toy company private almost a decade ago, most people expected the investors to execute a quick turnaround of Toys"R"Us and cash out. But efforts at previous turnaround failed, leaving the company with a heavy debt load.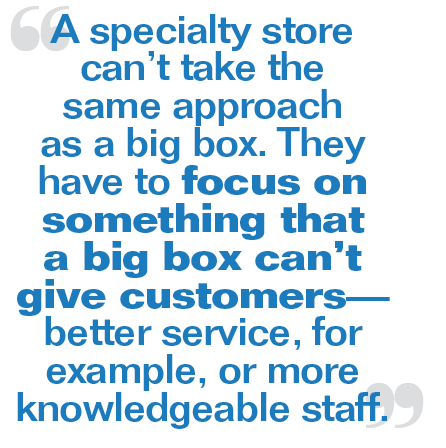 Industry experts doubted the retailer would be able to refinance its debt, but under Urcelay's leadership, it recently refinanced $1.4 billion of its near-term debt maturities. Currently, it has no outstanding debt repayments due until 2017. 
Over the past several years, Toys"R"Us has taken a huge hit from big-box discounters, including Walmart and Target, not to mention pressure from online retailers, including behemoth Amazon.com. The toy retailer has struggled to compete on price and product assortment, according to industry experts.   
"Historically, the game has been played on four dimensions: range of assortment, price, accessibility, and product knowledge/service, the latter particularly being the domain of independent toy retailers," notes Joe Jackman, CEO of Jackman Reinvents, a customer experience consultancy that has worked with a variety of chains, including Walgreens, Old Navy, David's Bridal and Dave & Buster's. "Today, assortment, price and accessibility are being redefined by Amazon and the competitive responses of rivals Walmart and Target, virtually eliminating the historic advantages of Toys"R"Us."
Jackman contends that the toy industry is being transformed by consumers' increasing comfort with shopping for toys online and the absence of any truly compelling reasons for consumers to want to continue to visit stores. "It's notable and frankly surprising that in a highly emotional category—what could be more emotionally fertile territory than child's play, entertainment and learning?—is the almost total absence of highly-differentiated and deeply engaging customer experiences," he says.
Urcelay said Toys"R"Us will continue to execute the TRU Transformation strategy with a focus on four key areas: transforming the customer experience in-store and online; optimizing the e-commerce business; growing internationally; and creating a more cost-effective organization.
Since Ucelay took over in 2013, he's focused on improving the in-store shopping experience including better customer service and cleaner, more attractive stores. In a press release, he said the initiatives underway to improve the shopping experience will expand over the course of the year. Additional stores have been identified for investments in interior and exterior physical improvements, and the elevated maintenance and lighting standards introduced last year will continue in all stores.
While Urcelay seems convinced that adding play areas to Toys"R"Us stores will entice parents to open their wallets, retail experts are far less confident the strategy will have any real impact on the toy chain's bottom line.
"I just don't think a play area is going to translate into sales," says Mel Redman, a former Walmart executive with 37 years of experience, who was responsible for the firm's Canadian expansion in the 1990s, and founder of Redman and Associates, a Bentonville, Ark.-based retail consulting firm. "I would have a hard time giving up square footage for a play area. I would pack every square inch with merchandise that draws people into the store."
Jackman agrees. "I applaud Toys"R"Us for looking for ways to create customer experiences that go beyond simply products on shelves, as this is where bricks and mortar retail is headed and what the millennial consumer values," he says. "That said, I don't believe adding in play space alone will be sufficient to change their trajectory. A more holistic overhaul of their brand purpose and place in the world along with their value proposition and customer experience is required to return them to growth and category leadership, which is their birthright."   
Redman supports Toys"R"Us' move away from trying to compete on price. "A specialty store can't take the same approach as a big box," he says. "They have to focus on something that a big box can't give customers—better service, for example, or more knowledgeable staff."
Time to close up shop at Times Square?
Since the beginning of 2015, Toys"R"Us has closed approximately a dozen stores in the U.S., primarily due to lease expirations. Urcelay says it has no plans at this time to close a significant number of stores during the balance of the year, but the company has identified potential cost savings of $150 million to $200 million.
Closing the Times Square location might be one way for Toys"R"Us to save some cash. Current rental rates for such a desirable location have increased to $2,500 per sq. ft. for the ground floor, according to industry estimates.
"The economics of flagship stores can be very challenging," Jackman says. "They work and can be justified when a brand is actively redefining itself and growing momentum, or already has sustainable momentum. They become boat anchors when that momentum in lost."