Investors' thirst for self-storage facilities has taken them into secondary markets in the first half of 2015, as the sector continues to post high occupancy, improved leasing velocity and limited supply.
Private owners, which make up the bulk of the self-storage facility ownership, are reporting occupancy rates of 89 percent, according to Marc Boorstein, of MJ Partners, a real estate brokerage and investment banking firm based in Chicago. More impressively, the five major publicly-traded firms reached 92 percent occupancy on their thousands of units, Boorstein notes. Leasing is going gangbusters, he says.
"We've never seen all-time record occupancy like this in the industry," says Boorstein. "Cap rates are even plunging in the second- and third-tier markets. Leasing at new opening properties used to take four years to fill up; now it's taking three years or less. Developers are able to finance any project, and investors are buying new properties before leasing even starts."
Boorstein adds that there doesn't seem to be a clear reason for increased demand, other than it has been easier for consumers to find and rent space thanks to digital marketing and rental applications available on smartphones. Also, executives at the publicly-traded firms have improved their timing for price increases.
"It seems today that customers also tend to stay longer than they anticipated. They think they'll only be in for a couple months, and they end up keeping the unit for a year," Boorstein says.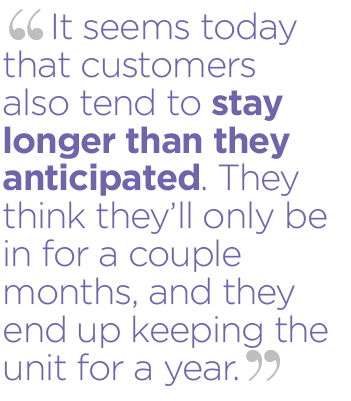 There has been a bidding frenzy for portfolios, and much talk of consolidation, he notes. Extra Space Storage Inc., based in Salt Lake City, is purchasing Ladera Ranch, Calif.-based SmartStop Self Storage for roughly $1.4 billion in stock trades and asset sales. National Storage Affiliates Trust has joined the four existing major public firms: Public Storage, Extra Space, CubeStmart and Sovran.
"Over 50 private equity firms want to invest in self-storage, it's unprecedented," Boorstein says.
Investment firm Aries Capital, for example, has increased its focus on self-storage, recently joining the Self-Storage Association. The company also owns a new 657-unit property in Mount Prospect, Ill.
Rushi Shah, senior vice president with Aries, notes that there is more competition in the self-storage sector today than there ever was before. The reason, he says, is the availability of capital for this asset class.
"Self-storage sector experienced one of the lowest declines of any other real estate asset class during the last downturn," Shah says. "This was mainly driven by the strong fundamental demand drivers for the storage and somewhat limited supply. Investors (both lenders and equity investors) find this very attractive; hence there is increased competition to enter the self-storage sector today."
Shah adds that some of the macro trends that are making this sector popular among end-users include re-urbanization, leading to lack of available space; ever-growing personal belongings for growing families with increasing discretional earnings; the need to store seasonal items that can't be easily stored in a home (such as boats, motorcycles, etc.), and the likelihood of tenants to remain longer than their original contract.
"Aries believes that self-storage is valuable to finance today because of the strong economics around sustained demand for the storage space from the end consumers and high availability of capital from institutional investors that we work with, including all of the CMBS and bridge lenders for non-recourse loans," Shah says, "It provides for a great diversification for the lenders' balance sheets against some of the other higher returning asset classes, such as hospitality, retail and office."