Specialized facilities for memory care patients have been the most sought-after asset type for seniors property investors and developers for some time now, and they'll likely remain at the top of the wish list in 2016, industry experts say.
Memory care facilities rose in prominence in the past three decades due to improved understanding and more sophisticated techniques in how to care for elderly patients suffering from dementia and other progressive brain disorders, particularly Alzheimer's disease. Operators and developers have further specialized the properties, allowing for high-tech, dorm-style additions onto current or new assisted living complexes.
Respondents to Lancaster Pollard's recently released Seniors Housing and Care Survey predict, by a wide margin, that memory-care-related facilities will see the most investment sales activity and development this year. The respondents expressed the same confidence in the property type in 2015.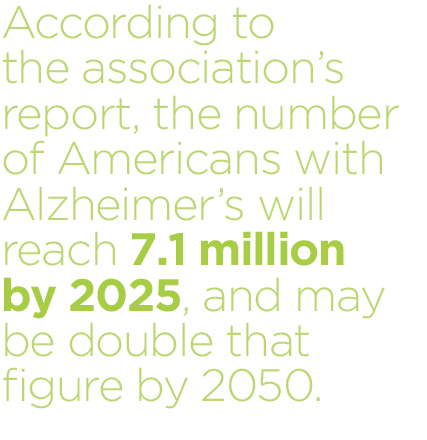 "It's definitely the most commonly wanted property," says Steve Kennedy, a senior managing director with Lancaster, which provides financial advice and financing solutions for the seniors housing industry. "Clearly, the projected demographic trends support that it will remain popular for some time, though it's hoped that there will be enough affordable properties built when the baby boomers begin needing that care."
Statistics show that there could be a need for triple the amount of memory care facilities now offered in the United States. About one in nine American seniors is now living with Alzheimer's disease, the most common cause of dementia, according to a 2015 report by the Alzheimer's Association. That's about 5.1 million people. The numbers are expected to go way up by 2030, as the baby boomers will begin turning 85, when the chance of having a dementia disease rises to about one in three.
According to the association's report, the number of Americans with Alzheimer's will reach 7.1 million by 2025, and may be double that figure by 2050. The high water mark could be as much as 16 million people living with the disease in the next few decades, barring medical breakthroughs, according to the report.
Currently, that swelling need for more memory care facilities is far in the future, but developers and owners are getting ready. They are planning for the increase in demand now, with a full-on construction frenzy expected to start in about five years, according to Chad Lavender, a senior managing director with financing intermediary HFF.
"It's a true need-based product, and there will be a lot of need for this type of complete care," he says. "There's already a whole host of investors, public and private, looking to acquire or build these assets. We've seen some memory care properties sell north of $600,000 per unit. The value creation through lease-up is substantial."
Memory care has been traditionally married with assisted living, at roughly a three-to-one bed ratio, as it provides a continued care model that doesn't force residents to move far as they age. However, Lavender says the new "sweet spot" for developers is a stand-alone memory care facility with about 45-60 units on average.
"We're seeing more purpose-built facilities that cater to specific dementia needs," he says.
Cody Tremper, a managing director with Greystone Real Estate Advisors Inc., a financial services and private investment firm, says there's so much demand for memory care assets that developers may end up causing over-supply in markets such as Chicago, Dallas and Miami.
"It's really frothy on the construction side, only because we're just slightly ahead of the curve before the generation gap hits," he says. "We're seeing more stand-alones, but I think the assisted living combos are providing a bigger value, the cap rate is more compressed."
So far, lender restraint, with banks more likely to reject unknown sponsors/operators in favor of properties with established operators, has kept the market from overheating, Tremper says.
"They've become much better at understanding when to put the governor on, and they know the best properties will be those to be run by the current major operators. It's just so specialized; it's too hard to build without any experience."