As prices rise for skilled nursing facilities, properties that offer long-term care are being overshadowed by increased demand for short-term, acute-care facilities, with regional and national firms taking advantage of changes in health care laws and financing methods to pick up independently-owned properties.
Since the advent of the Affordable Care Act (ACA), which increased both oversight of patient care and the complexity of payment options, more attention is being paid to short-term skilled nursing facilities that offer newer amenities and have partnerships with local or regional healthcare systems. Investor demand has followed, and quality skilled nursing properties have posted record average prices, with deals around $100,000 per bed becoming more frequent, according to Irving Levin Associates, a market intelligence firm.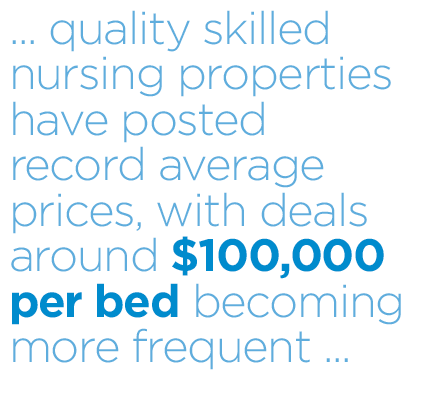 A lot of smaller care providers are consolidating or being absorbed by regional and national firms, to better manage risk and meet hospital systems' increased requirements for quality of care, says James Michel, senior director of Medicare research and reimbursement at the American Health Care Association, a non-profit federation of affiliate state health organizations. Prior to the passage of ACA, nursing homes could survive without too much effort by relying on hospital referrals, with not much oversight. The new health care rules, however, are forcing properties to meet stringent requirements to attract hospital partnerships, or possibly go out of business. Hospitals are becoming picky about who they send patients to, as they can now be penalized for having too many patients readmitted for improper care.
"With the changes with managed care and the proliferation of new payment structures, it's really driving the demand for the ability of providers to accept more financial risk, something the larger providers are more able to manage as they can spread it across larger volumes of patients," Michel says. "There's also this pressure to increase quality. Hospitals are being held financially responsible for a patient's care for a longer period of time, even after they walk out the front door."
In addition, there has been an emphasis on more modern thinking about after-care for seniors. In prior years, a patient could remain in a long-term skilled nursing facility with no incentive to leave. The new model is to take care of a senior patient at the facility in the short term, but to get them back to their homes and communities, Michel says.
Developers and investors in short-term skilled nursing facilities are definitely taking notice of the new requirements, notes David Stordy, chief operating officer of Mainstreet, an investment company. His firm, for example, just opened the 70-bed Springs of Richmond in Indiana, a property that includes a large therapy gym, an outdoor rehabilitation courtyard, a movie theater, a game room, an on-site pub and restaurant-style dining. Zeke Turner, founder and CEO of Mainstreet, says the new goal is to provide "less hospital and more hospitality."
While the move to luxury seniors care facilities mirrors what's happening in the multifamily sector, the short-term healthcare facilities are also trying to match the more modern, private-room amenities and care that seniors are already receiving at newly developed or recently remodeled hospitals, Stordy says. The goal for today's skilled nursing facilities is to at least match the amenities that the patient had access to at the hospital, and not have it be a step down in the quality of care, he says.
"That story resonates with most people today, around the country," Stordy says. "I've got personal experience, as I was recently trying to find short-stay care for my mother who was having knee replacement surgery. There are these converted nursing homes, or mixed-use seniors facilities, but there's a lagging need in many cities for modern, quality transitional care properties."