Invitation Homes, a real estate company of The Blackstone Group, sold 1,300 homes in July. It's part of the new normal, as the biggest investors in single-family homes for rent perfect their portfolios.
"They are pruning their portfolios of properties that do not match their requirements as far as returns," says Daren Blomquist, vice president for data firm RealtyTrac Inc. "They picked up a lot of chaff. There's not a ton of bad properties, but there was some chaff with the wheat."
Large investors continue to buy single-family homes, though not as many as they bought just two years ago when home prices were lower and many of these investors were building their portfolios to reach a critical mass that they could operate and finance effectively. The biggest investors seem to be settling in for the long haul as property managers of these rental homes. They are trading any properties that don't quite fit.
Invitation focuses on management synergies, school districts
"As we buy assets, we are very tactical, looking for synergies," says John Bartling, CEO of Invitation Homes. "We will also constantly be looking to sell a certain percentage of our portfolio."
Invitation Homes is still buying homes to manage as rental properties, totaling hundreds of homes every month. "That sale of 1,300 homes represents about a month or a month and a half's worth of acquisitions for us," says Bartling.
The company plans to continue buying as strong opportunities present themselves and selling about 5 percent of the portfolio a year. An entity owned by Invitation Homes, IH5 Property Florida LP, is the largest single buyer of single-family homes so far in 2015, with 559 homes purchased, according to a July tally by RealtyTrac. Other top institutional buyers include Fundamental REO/Progress Residential, a subsidiary of homebuilder Ryan Homes and Starwood/Waypoint Homes.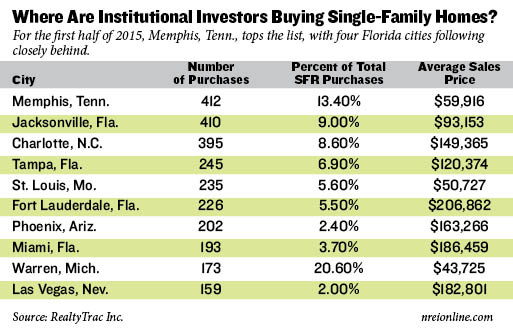 More opportunities may present themselves as a business of renting single-family homes consolidates over time. Of the millions of single-family rental homes, only 500,000 are now owned by institutions, says Bartling. "The market is very fragmented."
Invitation Homes looks for homes in infill markets in transportation corridors with good school districts, high walkability scores and strong job growth. "We like to be in markets where we don't see the pressure of new home starts," says Bartling. "We tend not to be further out in the suburbs."
The company currently has a portfolio of 48,000 homes. "We are happy with our size now," says Barlting.
Overall, the rush to buy single-family homes is over. In May, only 2.4 percent of all single-family homes sold to institutional investors, down from 3.7 percent in April and 5 percent the year before. At the peak, in January 2013, institutional investors bought 9.4 percent of all homes sold, according to RealtyTrac.
"Institutional investors have definitely slowed down their purchase activity," says Blomquist. "They have hit that critical mass and now it is about refining those portfolios … 2014 was the last year of their earnest acquisition phase."
New markets
Some investors are also changing the markets where they invest in single-family rental properties. "Mid-sized operators are willing to go into secondary and tertiary markets," says Blomquist.
Institutional investors bought 412 properties in Memphis, Tenn., in January through May 2015. That made Memphis the market with the most home sales to institutional investors over that period, accounting for 13.4 percent of all homes purchased, according to RealtyTrac. Home prices aren't rocketing higher in Memphis, the way they might rise in California or Florida. There is no reason to think these investors will be able to quickly flip the homes at a profit. Instead, secondary and tertiary markets like Memphis can show good demand for rental housing and relatively inexpensive home prices.
In the first half of this year, the top markets where institutional investors bought homes also included St. Louis, Mo.; Charlotte, N.C.; and Warren, Mich., in addition to more conventional, hot markets for investment like Jacksonville, Tampa, Fort Lauderdale and Miami, Fla., and Phoenix, Ariz.
"There are more purchases in Midwestern markets," says Blomquist. "The rental yields in some of those Midwestern markets are very favorable."