Invitation Homes, one of the leading owners and operators of single-family home rentals, is preparing to sell $853.9 million of asset-backed securities. The transaction will be the biggest sale ever of securities backed by loans on single-family rental homes.
Top single-family rental companies are cashing in, raising billions of dollars on Wall Street by securitizing the loans on their portfolios. The single-family home rental sector is doing well, according to analysts like Moody's Investors Service and earnings announcements from top companies like Colony American Home, Invitation Homes and American Homes 4 Rent. With strengthening occupancies and rental income, these companies are taking the opportunity to sell "single-family rental pass-through certificates," based on the loans to the properties.
High occupancies help Invitation Homes
The Invitation Homes transaction is secured by a giant loan on 7,265 properties valued at $1.5 billion, located primarily in Florida, California and Georgia. The homes are 97.1 percent rented, with an average monthly rental payment of approximately $1,461, according to Morningstar Credit Ratings.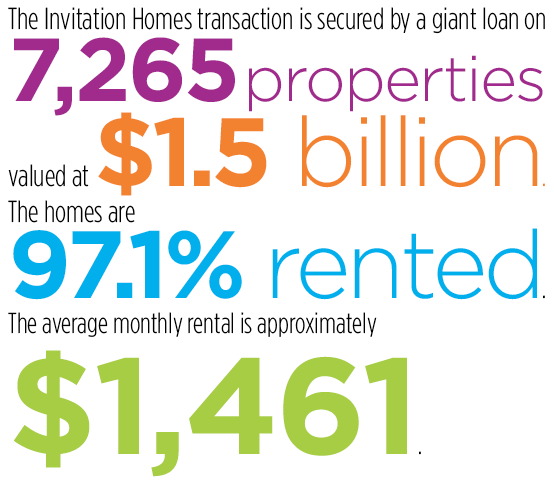 The company has "superior technology systems," in addition to "a strong ability to effectively handle the day-to-day business of managing a national single-family rental platform," according to Moody's.
Large investors like Invitation Homes have been increasingly picky about the single-family homes they buy, though they continue to grow their portfolios as they improve their operations. Entities that purchase at least 10 properties in a calendar year bought a total of 14,621 single-family homes in the first quarter of 2015. That represents 3.4 percent of all sales -- down from 6.2 percent a year ago, the lowest share in four years, according to data firm RealtyTrac, Inc.
Colony earns solid reviews
The latest bond offering from Colony American Homes earned solid ratings from both Morningstar and Moody's. The company "has demonstrated its ability to effectively handle the day-to-day business of managing a national single-family rental platform," according to the June 12 ratings release from Moody's.
Colony's latest securitization, now underway, totals $486.3 million in securities backed by a single, floating rate loan on nearly 4,000 single-family rental homes. That represents about a quarter of Colony's total portfolio of 16,000 homes in 10 states.
"Colony American Homes has a disciplined approach to acquisitions and initial renovations," according to Moody's. "It has adequate technology systems that allow it to efficiently manage employees, control labor costs, track and monitor repairs and maintenance and, most importantly, to attract, respond to and retain tenants."
Last March, American Homes 4 Rent raised $552.8 million by securitizing a giant loan secured by 4,661 single-family residential properties. It was just the latest of four securitizations for the REIT since May 2014, raising a total of $2.05 billion.
Strong performance helped American Homes 4 Rent sell to Wall Street. Of the firm's houses that had leased before or had been ready to rent for more than 90 days, 93.4 percent were occupied in the first quarter. The firm's net operating income from its 36,588 rental homes grew to $76.5 million in the first quarter, up 60 percent from $47.7 million the year before.