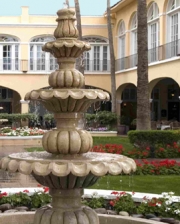 CHANDLER, AZ—Newmark Grubb Knight Frank has sold the Crowne Plaza San Marcos to an unnamed California investor group. Details of the deal were not made public. The 249-key hotel sold out of receivership as real estate owned by the seller, Guarantee Bank and Trust Co. of Denver.
"The San Marcos resort has provided a resort oasis for the world's travelers for nearly a century, and Newmark Grubb Knight Frank is delighted to place this much-loved property with a new owner that is enthusiastic about its future," said Sam Winterbottom, NGKF Hotels senior managing director, in a statement.
The 6,626-acre resort includes 35,000 sq. ft. of meeting space, a restaurant, lounge, and 18-hole golf course. The sale also includes 46 casitas on six acres, a golf school and six acres of surplus land.
The San Marcos Hotel opened in 1913 as is listed on the National Register of Historic Places. Over the years the property has been renovated and expanded. Most recently the resort saw extensive renovations in 2006 when it became the Crowne Plaza San Marcos Resort. The buyer plans to keep the Crowne Plaza affiliation for the hotel and golf course.