It's been a requirement for all New York City buildings larger than 50,000 sq. ft. since 2011.
Philadelphia and Washington, D.C. are making similar requirements of their commercial buildings this year. Chicago is on the cusp of issuing its own law. And thousands of owners and managers across the U.S. are doing it at their buildings even without the threat of regulation.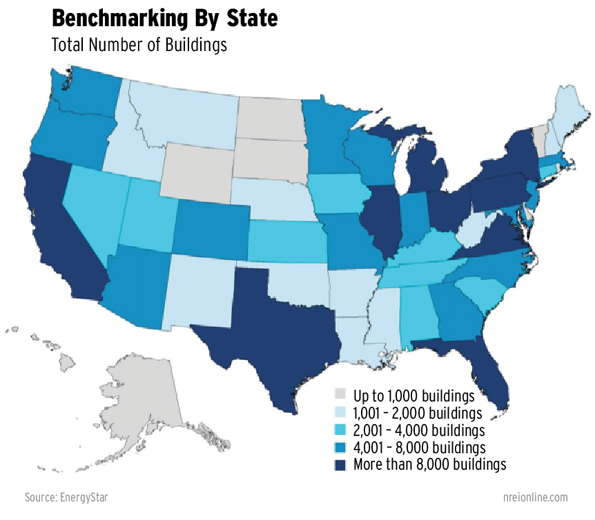 Benchmarking is being embraced by American cities and commercial property owners and managers one by one. Benchmarking is an umbrella term for the process by which a building owner or manager submits energy usage data into a computer program to track their energy and/or water use. The building can then be compared to similar buildings to see how green it is.
"It's going to answer four questions," says Dustin Gellman, CEO of Chicago-based energy consultant Green Per Square Foot. "How am I doing? Am I getting better or worse? Did the things I just did to improve my performance pay off? And where are my opportunities to improve?"
The point of benchmarking is that once the data is made public—as most benchmarking laws require—it can nudge building owners to do something to make their buildings more efficient.
The numbers are staggering: There are an estimated 4.9 million commercial buildings in the United States and they consumed almost 20 percent of all of the country's energy in 2011. Energy use in commercial buildings accounts for 17 percent of greenhouse gas emissions.                                  
The most widely-used benchmarking tool, the Environmental Protection Agency's Portfolio Manager, has been running since 2011. If your energy use nets you a score of 75 or higher (out of a 100-point scale) you can apply to have your building as Energy Star certified. There are 260,000 buildings benchmarking in Portfolio Manager and 20,000 of them are certified as Energy Star, says Leslie Cook, public sector program manager for the EPA's Energy Star program.
So what do buildings do with all that benchmarking data? An Energy Star survey showed that buildings that consistently participated in Portfolio Manager used 7 percent less energy over a three-year period ending in 2011.
Energy Star does not track which of its participating buildings undertake which energy-efficiency retrofits after learning of their benchmarking scores, but Cook says the numbers make it clear that owners and managers are taking action.
Approximately 20 different states, cities and municipalities have benchmarking laws with different requirements on reporting. California's law, set to go into effect in July 2013, requires benchmarking before a non-residential building can be sold, refinanced or leased. Several states have benchmarking laws for state-owned or leased buildings and a 2007 law requires annual benchmarking at certain federal government buildings.                     
New York City has been requiring annual benchmarking since 2011. Most benchmarking laws don't require buildings to act upon the information they learn in the process. New York does have a companion law that requires periodic energy audits and retrocomissioning to bring a building up to certain standards.
"It does put some teeth in the benchmarking law," says Phil Vos, business development manager for Bright Power, an energy consultant that focuses primarily in the multifamily sector.
"Some people see the laws as a government intrusion and a scam to collect fines from buildings that fail to benchmark," Vos says. "What we try to tell them is that this information is telling you your costs are too high."
As with many sustainability issues, the U.S. lags behind most European countries, many of which have had national benchmarking laws in place since 2008 or 2009. The reasons for this are simple, says Nils Kok, an internationally known benchmarking expert.
"Traditionally, building codes have been at the state and local level," says Kok, who is currently a visiting scholar at University of California, Berkeley. "There just is not the political will to do it at the federal level."
Kok has extensively researched the value of energy efficiency beyond the bottom-line savings achieved from using less energy.
"An investor wants a building that will lease out well," he says. "The value of a building is the willingness of a tenant to be in the building, and to pay. If the building is more efficient and you can better attract tenants to the building, it's more valuable. Investors would also be more willing to pay more for a building that is more efficient."
Green buildings collect higher rents, Kok has found. For LEED buildings that's 5 percent higher rents compared to otherwise identical buildings; for Energy Star-certified properties it's 3 percent. Selling prices of green buildings are 11 percent higher (Energy Star) and 19 percent higher (LEED) compared to traditional counterparts.
Benchmarking is good for investors, agrees Gellman, of Green Per Square Foot. His company uses Portfolio Manager, along with its own benchmarking tool. He works with REITs and institutional owners who want to know how their portfolios are doing.
"These companies want to raise another round of money to buy another bucket of buildings," he says. "In order to do that, they need to say 'These are good assets, but how do we prove it?' Well, that's [done through] high occupancy, cash flow and now, increasingly, energy efficiency."
Gellman recalls the recent example of meeting with "a big REIT" that had not yet done anything with benchmarking, but knew the time was nigh.
"They wanted to try to attract European and Asian investors and they knew they needed something to show for it. They didn't want to do it, but their peers were doing it, and that's where I think benchmarking plays a role," he says.
"The best thing we get out of benchmarking is that it plays to the competitive nature of the commercial real estate industry," Gellman adds.