Encouraged by Los Angeles' positive economics and high real estate values, big money investors from around the world are pouring billions of dollars into commercial multifamily residential real estate development throughout the Los Angeles region.
The region is experiencing strong job growth, according to a Los Angeles County Economic Development Corp. (LAEDC) report, with employers adding 105,000 in 2014 and potentially 104,000 more jobs this year.  
Strong demand for housing, specifically in the Los Angeles area multifamily housing, set off a construction boom beginning in 2013 that has steadily accelerated.  The other construction accelerator in Southern California has been hospitality projects. According to numerous sources, new multifamily/mixed-use development is expected to remain robust for at least the next few years, as robust rental rates and for-sale property values remain strong. 
The upswing in new development  projects is evidenced by the 9,920 new construction jobs created since the recession ended, noted the LAEDC report, which predict that nearly 16,000 more construction jobs will be created across  the region through 2019.
Apartments, lofts, condominium and residential mixed-use developments are the biggest investor plays due to high demand, low vacancy (3.8 percent), elevated rental rates, and the return of a strong condo market. Los Angeles County developers will deliver 10,000 rental units in 2015, surpassing last year's 9,300 units, and another 50,000 units are planned, according to the latest report from the brokerage firm of Marcus & Millichap.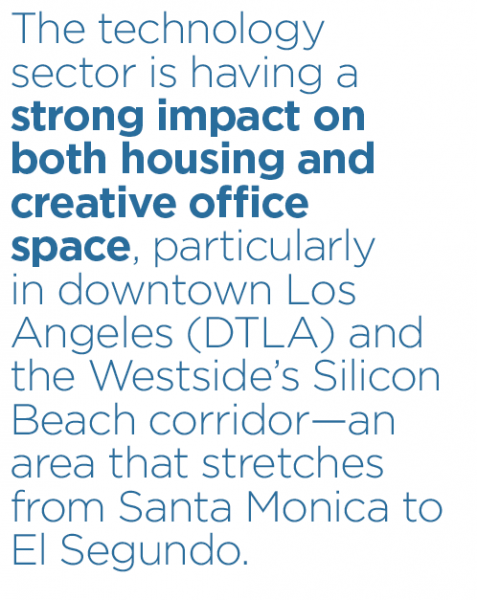 The technology sector is having a strong impact on both housing and creative office space, particularly in downtown Los Angeles (DTLA) and the Westside's Silicon Beach corridor—an area that stretches from Santa Monica to El Segundo. There are more than 1,000 tech-related companies in Los Angeles County, more than half of which are located in Silicon Beach, including digital giants Google and Yahoo!
DTLA also has a growing tech sector, with nearly 100 tech and e-commerce companies located in the central business district, including green/clean-tech startups, thanks to the city establishing a green/clean-tech incubator in the Arts District and pledging of $10 billion in funding over the next decade for R&D projects that promote sustainability.  
Tech-related companies provided 9 percent of all jobs [368,580] in the region in 2013 and 17 percent of wages, noted the LAEDC report. These companies tend to hire young, millennial-age professionals and pay on average 68 percent higher wages than other industry sectors. The entertainment industry, which also employs lots of young professionals, is the exception, paying on average $90 per hour, according to a 2014 U.S. Bureau of Labor Statistics report.
The LAEDC report notes that these good-paying jobs enabled young professionals to move into their own rental units, which has driven production of highly amenitized residential projects in hip urban neighborhoods.
As new rental product comes online, slightly higher vacancy is expected to hold rent increases on the Westside at 5.3 percent, or on average $2,780 per month, and DTLA rents will rise 5.6 percent to $2,235 due to growing demand by Millennials and empty-nesters. Overall, Los Angeles County rents climbed 6.5 percent last year to $1,796 per month and are expected to rise 5.2 percent in 2015 to $1,878.
Adding to the positive economic equation, stiff competition for creative office space in the limited number of industrial buildings in the highly sought-after west side of Los Angeles boosted overall office rents on the Westside to $4.24 per sq. ft.—the highest in the region, according to a mid-year CB Richard Ellis report. Similarly, in the DTLA Arts District, vintage office buildings are a hot commodity.  Case in point is an historic building at Fourth & Traction streets in the Arts District that was bought by one developer in 2014, entitled to add a sizable parking structure, and sold in 2015 to another developer that is about to begin a renovation of the vintage building and new parking facility. DTLA developer-owners also are repositioning office towers as creative space, which helped to push overall office rents to $2.99 per sq. ft. The Ratkovich Co., for example, is converting a 32-story, 750,000-sq.-ft. office tower at The Bloc, a $421-million mixed-use redevelopment in DTLA's Financial District, to creative space.
As overall office vacancy dropped to 15.6 percent, rents ticked up 3.7 percent to $2.78 per sq. ft., from $2.72 per sq. ft. the previous year, and nearly 2.3 million sq. ft. of new office space got under construction.
With the region's improved economics, workers had more disposable income, which boosted retail sales 4 percent over the last year, according to a mid-year CBRE report. Los Angeles County retail vacancy declined to 5.1 percent, and 1.5 million sq. ft. of new retail space is under construction.  
DTLA is adding considerable retail amenities. The Fashion District is getting a new 278,147-sq.-ft. retail center, the Stanford Regency Plaza; The Bloc is converting a dated mall anchored by Macy's into an upscale, 400,000-sq.-ft. retail destination; the Historic District is seeing an influx of hip boutiques along Broadway and Main streets—as are the Arts and Industrial Districts; and top-tier retail is planned at the $1 billion Metropolis and $500 million Circa mixed-use developments.
The hospitality market sector is experiencing continued momentum in many of the Los Angeles submarkets. In DTLA, two new hotels have recently opened adjacent to Staples Center, and another was announced last week by a big Chinese developer. Once the City of Los Angeles approves funding for the renovation and expansion of the LA Convention Center, which is currently under design and planned to be built adjacent to LA Live and Staples Center, developers have plans for new nearby luxury hotels that will add about 5,000 rooms.
Steve Pellegren, DBIA, is executive vice president of Bernards in Los Angeles.