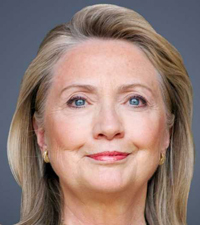 The U.S. Green Building Council (USGBC) has announced that Former Secretary of State Hillary Rodham Clinton will give the opening keynote address at its 2013 Greenbuild International Conference and Expo. This year's conference will take place Nov. 20-22 in Philadelphia at the LEED Gold-certified Pennsylvania Convention Center. Registration opens June 5, 2013.
Hillary Rodham Clinton served as the 67th U.S. Secretary of State from 2009 until 2013, after nearly four decades in public service. Earlier, as First Lady and Senator from New York, she traveled to more than 80 countries as a champion of human rights, democracy and opportunities for women and girls. Clinton also worked to provide health care to millions of children, create jobs and opportunity and support first responders who risked their lives at Ground Zero. In her historic campaign for President, Clinton won 18 million votes.
Greenbuild is the world's largest conference and expo dedicated to green building, attracting 30,000 attendees and 1,000 exhibitors annually from across the green building sector, spanning commercial and residential professionals, architects, building owners and operators, students, advocates and educators. This year's theme, Greenbuild Nation, celebrates green building as a global movement. Today's green building leaders unite behind a shared sense of how a sustainable built environment can contribute to a healthy, prosperous future.
Previous keynote speakers have included Morning Joe's Mika Brzezinski and Joe Scarborough, Twitter Founder Biz Stone, Thomas Friedman, Ret. Gen. Colin Powell, Archbishop Desmond Tutu, Vice President Al Gore and President Bill Clinton. They join an impressive roster of master speakers and hundreds of building experts who share their knowledge and their ideas, their passion and their vision with the growing global green building movement.
CoStar Group Awarded LEED Platinum Certification for D.C. Headquarters
CoStar Group Inc., a national commercial real estate provider of information, analytics and marketing services, announced that the remodel of its headquarters at 1331 L Street N.W. in Washington, D.C. has been awarded LEED Platinum CI certification for commercial interiors, the U.S. Green Building Council's highest level of LEED certification.
CoStar's best practices are among the most progressive in green building technology. In addition to its newly Platinum-Certified space in Washington, D.C. CoStar's 25,000-sq.-ft. Boston office was awarded LEED Platinum CI in 2010, and its 27,000-sq.-ft. office in Atlanta and 29,000-sq.-ft. office in San Diego are both pending LEED Platinum CI certification. Currently, CoStar's offices in Chicago, Dallas, Houston, Boston, Atlanta and Washington, D.C., are maintained in LEED Gold-Certified buildings. CoStar is also an Energy Star Partner and was honored in 2009 with an Excellence in Energy Star Promotion Award.
The company's Los Angeles, Chicago, Houston, Denver, Phoenix and Boston offices are all Energy Star certified.
CoStar also provides transit subsidies to encourage employees to take advantage of public transportation options, reducing automobile use in and around the metro areas surrounding many of its offices. In addition, the firm uses a fleet of customized, eco-friendly hybrid field research vehicles, equipped with state-of-the-art technology to collect comprehensive commercial real estate information and high-quality property photography. Each Toyota Prius in the CoStar fleet gets approximately 50 miles per gallon in the city, reducing fuel consumption by approximately 161,000 gallons per year. In 2010, CoStar added the fully electric Chevrolet Volt to its fleet of field research vehicles, further reducing its carbon output while enhancing its extensive field research capabilities.
CME Group Hires NGKF and HDREP to Market LEED-Certified NYMEX Headquarters
CME Group, a global derivatives marketplace, in partnership with its strategic global real estate advisor Holly Duran Real Estate Partners LLC (HDREP) of Chicago, has retained Newmark Grubb Knight Frank (NGKF) to explore the sale of the NYMEX Building, the headquarters to the New York Mercantile Exchange (NYMEX). The 16-story, LEED-certified building is located at One North End Avenue overlooking the Hudson River immediately west of Brookfield Place (formerly the World Financial Center) and Goldman Sachs Tower.
The company will continue operation of its NYMEX trading floor in New York regardless of whether the NYMEX building is sold. In the event of the sale, CME may lease back a portion of the building, including the trading floor. NGKF Vice Chairman Neil Goldmacher and HDREP's Holly Duran will investigate a sale-leaseback scenario as well as the possibility of relocating NYMEX to other properties in lower Manhattan.
"CME Group remains committed to our floor based membership and open outcry trading services in New York, which continue to be a profitable part of our business and serve our customers well," said Jamie Parisi, CME Group Chief Financial Officer. "The sale of the NYMEX building will help us continue to reinvest in our core derivatives business, just as we did following the sale and lease-back of office space in the CBOT building in Chicago last year. Going forward, whether we decide to retain occupancy at One North End or relocate within Lower Manhattan, we are committed to updating our New York offices to reflect the innovation and quality of our CME group offices around the world."
James D. Kuhn, NGKF president and head of the firm's capital markets group, and NGKF Capital Markets Senior Managing Director Jennifer Schwartzman, in partnership with HDREP Principal Holly Duran and Associate Jeff Mulder, will market the property for sale.
"This is a modern, iconic office tower with extraordinary infrastructure and systems," Duran said in a statement. "Accordingly, we expect strong competitive bidding and a large pool of potential buyers, including potential end users."
CME Group acquired the NYMEX Building, along with the exchange, in 2008. NYMEX has occupied the building since 1997. CME Group owns the building on a ground lease from New York's Battery Park City Authority that expires in June 2069.