Over 150 people attended the ESCOT (Enabled Sustainable Community of Tomorrow) Sustainability Symposium, presented by the New York Chapter of CoreNet Global, IFMA NYC, Urban Green Council and AGRION, on June 4. The event was held at Teknion, 631 Avenue of the Americas.
Attendees heard presentations on new green technologies and services and spent one-on-one time with sustainability experts in an exhibit hall setting. Experts discussed a wide range of topics, including intelligent job sites, tenant energy efficiencies, BIM for lifecycle building management, building management efficiency and HVAC improvements, renewable energy/co-generation, climate change and building design,  innovations in solid waste management, the intersection of sustainability and technology, supply chain and product sourcing, LED retrofit funding, and the Living Building Challenge.
In addition, Robert Luckey, corporate senior vice president of pre-construction services at Skanska, and Elizabeth Heider, AIA, LEED AP, senior vice president of green markets, discussed the advantages of sustainable structures, such as operational benefits, cost containment, and health benefits for tenants, which in turn affect workplace productivity.
Noting that in the past, some owners have been reluctant to build green because of high costs, Luckey cited an overall trend toward reduced design and build costs as the market has matured.  He added that the initial investment in sustainability can have a powerful impact on the future operating costs of a building. For example, the reduction of energy and water consumption can significantly lower long-term maintenance expenses.
Building on Luckey's comments, Heider stated that the financial benefits of creating a  sustainable structure can be realized in six to 11 years. She also reminded the audience that a flourishing economy requires a healthy environment, and emphasized that today's developers, engineers, builders, planners and architects must take responsibility for the built environment. 
Quoting an ancient proverb—"We do not inherit the Earth from our ancestors, we borrow it from our children"—Heider pointed out that sustainability is not simply a smart business initiative, it is the right course of action that will have far-reaching impact on society as a whole.
The Commons at Southfield Highlands Breaks Ground on New Eco-Living Multifamily in Weymouth, MA
John M. Corcoran and Co. will break ground on construction of an $18.2 million apartment building at the 1,400-acre SouthField development in Weymouth, Mass. Construction of 72 new apartment homes, which represents the second phase of The Commons at SouthField Highlands, is expected to be completed in the summer of 2014. Upon completion, Corcoran's investment at SouthField is expected to be over $ 60 million. 
The Commons at SouthField Highlands presently offers deluxe eco-living in 226 well-appointed apartment homes in Weymouth, MA at the vibrant 1,400-acre SouthField community. Located just 25 minutes south of Boston, residents enjoy convenient commutes just minutes from Route 3 and walking distance to the MBTA Commuter Rail while taking advantage of SouthField's array of open green spaces.
"We are excited to begin the second phase of development at The Commons at SouthField Highlands," Richard J. High, president of John M. Corcoran and Co., said in a statement. "This project represents the latest advancement of SouthField, which remains the region's premier transit-oriented community, providing residents an ideal place to enjoy the benefits of South Shore living and a short train ride or drive to Boston."
The new community will consist of 72 beautifully designedapartment homes that feature wood flooring, granite countertops, a roof deck, smoke-free living, eco-friendly green building design and a WiFi Café with outdoor patio. Residents will enjoy an array of additional on-site amenities, including a saltwater swimming pool, sundeck, poolside grill, fitness center, clubroom and game room.
W&H Properties' 501 Seventh Avenue Receives Energy Star Certification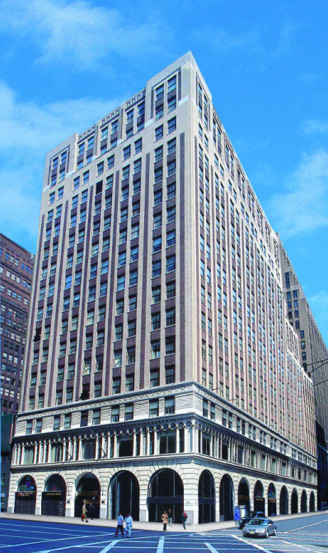 Energy Star certification has been awarded to 501 Seventh Avenue, announced Anthony Malkin, president of Malkin Holdings, which supervises the W&H Properties portfolio.
"With the award at 501 Seventh Avenue, a majority of the W&H Properties' buildings have Energy Star certification," Malkin said in a statement. "Our intention is to attain this distinction for the remaining four buildings in the portfolio, in keeping with our goals of energy efficiency and sustainability, set first at the Empire State Building.  We are investing to achieve these awards, not just qualifying without making any effort.
"Energy Star certification is a key indicator for us," he added. "We measure our success not only by the competitiveness of our buildings, but also by the competitiveness of our buildings' performance."
New York City Climate Change Adaption Plan Revealed
Last week New York City Mayor Michael Bloomberg shared the city's plan for adapting to climate change—a move the Union of Concerned Scientists called "the way of the future." Without support from Congress, cities are forced to take steps on their own to protect themselves from the impacts of climate change.
"New York City is at the forefront of this work," Rachel Cleetus, a climate economist at the Union of Concerned Scientists, said in a statement. "The city has a team of people working on this issue and has dedicated time and energy to determine what needs to be done to minimize risks. For example, they have carefully mapped the city's flooding risk using the latest science on sea level rise projections and exposure to storm surge. Scores of smaller municipalities, especially those along coasts dealing with sea level rise and worsening storm surge, are still trying to assess their risks and are struggling to figure out what to do to adapt."
In April, the Union of Concerned Scientists convened a roundtable in New York City of county and city officials from throughout the East Coast to share best practices for protecting their coastal communities. "New York City officials were clearly attuned to the problem," Cleetus said. Protecting residents, their homes, and critical infrastructure, like energy, stormwater, and mass transit systems, requires good long-term planning, in addition to emergency preparedness.