The technology industry, which led the U.S. office sector recovery since the recession with growth of more than 5 percent a year, is now encouraging owners of warehouses and manufacturing sites in high-demand areas to sell their properties for high-profit conversions.
In December, LinkedIn reportedly purchased the 6-acre Lester Industrial Park in Mountain View, Calif. for future office use. Earlier this month, Prologis Inc. announced it sold a 21-building industrial complex near San Francisco to Facebook. Prologis officials said they spent the past several years planning the conversion of the 56-acre Menlo Science & Technology Park to a "higher and better use," which according to some reports, may include an office complex with additional retail and a hotel component.
"Land constraints and increased urbanization pressures in markets such as Silicon Valley support the monetization of select infill assets," said Michael Curless, Prologis chief information officer, in a statement.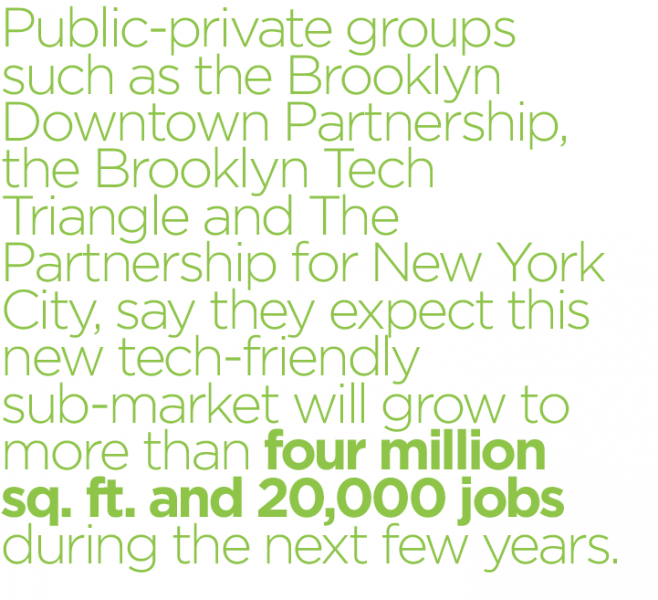 James McPhee, executive director of the San Francisco office of commercial real estate services firm Cushman & Wakefield, says that as tenant demand has increased in the Bay Area, developers have looked to provide new office buildings and convert existing facilities to office use. One example is Ellis Partners' conversion of a 225,000-sq.-ft. Emeryville industrial building into an office property, which now includes Clif Bar's 100,000-sq.-ft. headquarters and the Children's Hospital Research Center.
McPhee says that on Orchard Parkway in North San Jose, a number of developers, including Ellis Partners, Bixby, Lane Partners, LBA Real Estate, Ridge Capital and MWest, have all been buying and converting single-story concrete tilt-up properties, which up till now have been primarily used for assembly-type production, warehousing and modest office support functions.
"This approach/conversion has allowed developers and investors to purchase a potentially convertible product at a basis that allows them to make the necessary improvements for higher-end office and research and development product, while securing current and future rents that are much pricier on the occupancy food chain," McPhee says. "The most successful of these conversions, like the Clif Bar headquarters, has been conditioned upon providing a quality space that includes creating lots of window line and natural light, plenty of inside volume, interesting sightlines, good infrastructure, reasonable efficiencies, an attractive lobby, indoor and outdoor amenities, plenty of parking (often a challenge) and, of course, a geography desired by, and supported by, a highly sought after technology talent pool."
Claiming new territories
Similar industrial-to-office conversions have been going on in other major cities that have seen increasing class-A rents and limited infill space. High Manhattan office rents pushed New York City's tech sector into Brooklyn, such as the industrial areas near the borough's downtown, the DUMBO area and the Brooklyn Navy Yard, forming the new Brooklyn Triangle sub-market. Public-private groups such as the Brooklyn Downtown Partnership, the Brooklyn Tech Triangle and The Partnership for New York City, say they expect this new tech-friendly sub-market will grow to more than four million sq. ft. and 20,000 jobs during the next few years.
For example, Vice Media announced last year that it will move into a 60,000 sq. ft. former industrial building on Kent Avenue, across from the Domino Sugar Factory. Other tech office users are going into areas now nicknamed Industry City and DUMBO Heights, including WeWork moving into 90,000 sq. ft. at the former Watchtower Properties, now owned by Kushner Cos.
In Chicago, Google is relocating its downtown offices into 200,000 sq. ft. in a former cold storage warehouse in the former meatpacking area of Fulton Market, and more office users and retailers are now flocking to another new office sub-market. Jeff Havsy, chief economist for the Americas with commercial real estate services firm CBRE, says this type of re-use shows the evolution of functionally-obsolete space, though there has to be other forces at work for a successful sale/conversion to be viable.
"You've got old warehouses not really even used going for the office rate of $30 per sq. ft. instead of the industrial rate of $5 to $10 per sq. ft. We'll make that trade all day long," Havsy says. "But you still need to be near transportation nodes, and have amenities such as retail and even hotels."